NESTING INSTINCT
A Q&A with Susannah Gebhart, Founder of OWL Bakery
BY KAY WEST | PHOTOS BY ERIN ADAMS
***
OWL Bakery founder Susannah Gebhart is going places, both literally and figuratively. After being named a semifinalist for a James Beard "Outstanding Baker" Award earlier this year, she's following up this much-deserved recognition with the opening of a second location of her beloved bakery. 
In 2015, having built a devoted following for her artisanal sourdough breads and purist pastries through pre-orders and sales from a case at High Five Coffee, Susannah Gebhart felt the time was right to open a brick-and-mortar shop for her business, Old World Levain (OWL) Bakery. She chose a storefront on Beecham's Curve in East-West Asheville and was deep into negotiations with the landlord when the building collapsed. Fortuitously, another property owner took note of her dilemma and offered to help her get started in the little cottage he was developing just across Haywood Road as part of a parcel that now also includes Gan Shan West and Pizza Mind.
Gebhart took it as a sign. "I love that little yellow building. It's south-facing, so it gets such amazing light. It's nice to be a standalone—we have so much outdoor space for seating and gardening, and the little back grove is so dreamy. I think it was meant to be OWL's home all along; it just took a few steps to get there."
Gebhart, who was a semifinalist this year for a James Beard Award in the Outstanding Baker category, recently signed a lease on a second OWL location at 197 Charlotte Street in North Asheville with plans to open by mid-summer. During a recent vacation in the United Kingdom, Gebhart took time to talk with Edible Asheville about how she's built her baking business and what's on the horizon.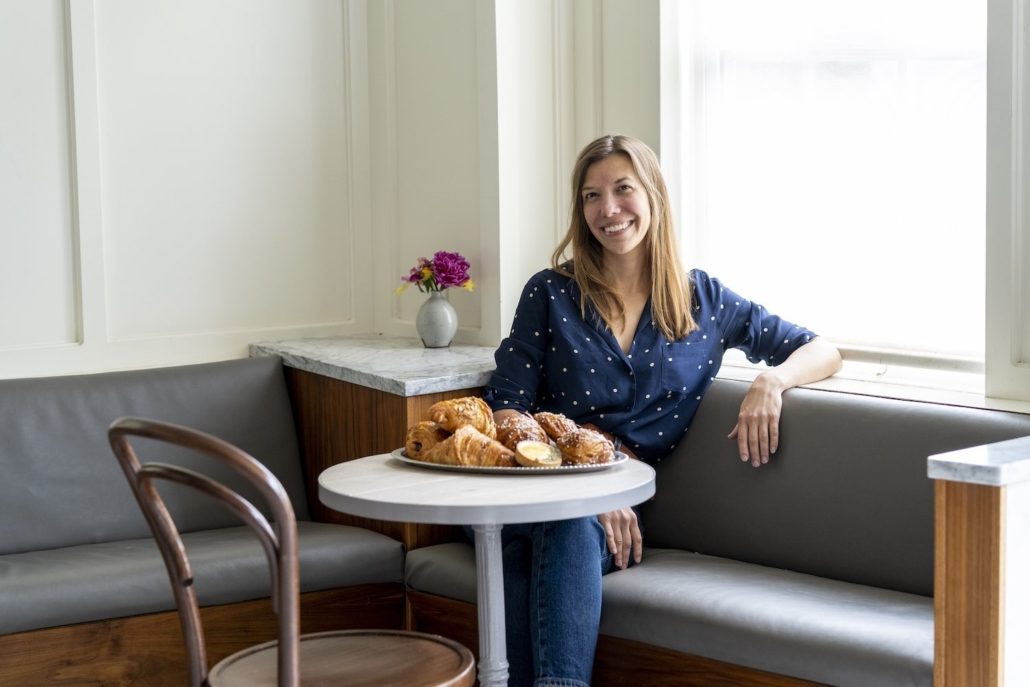 Edible Asheville: On your first day of business at OWL all those years ago, were you afraid no one would come to the party?
Gebhart: Since I had been doing bread and pastries for a while there was some pre-awareness of me and OWL, but you never know. The day we opened the doors, May 5, 2016, the buildout wasn't quite complete—I didn't even have a pastry case—but we had to open. It was utter cha- os, just packed the whole time. And Frances McDormand came in! She was in town filming Three Billboards and just happened to come by. I was so deep in it at the time, I have no clue what she ordered.
Was there a point in building the business that you felt confident you had made it?
I don't know if I can ever have that full confidence; own- ing and operating a business feels tenuous all the time. But I've learned to breathe with that feeling. As you grow in a business and move through different phases, you expand so much in terms of what you can handle and the ease with which you can take things as they come. Through each phase, there are always lessons. It's a constant teacher.
How did OWL manage the pandemic, and how is the business emerging from it?
The pandemic was so hard for everyone, personally, and scary for the business. But we were really able to focus again in a way that would have been hard to do with- out the circumstances of the pandemic. We re-simplified, streamlined our service model, and were fully in our craft, doing what we do best, which is to be bakers. It allowed us to step back and say, "OK, what are we really, and how do we provide our community the things that matter most to them?"
Now feels like an exciting place to be, like we're emerging from survival mode to where we have a lot of flexible and robust systems in place with a team that's been around a long time. There's a lot of institutional knowledge embedded in that team, so now it's more about how to make the decision-making process more democratic and cooperative, bring in more voices, grow the bak- ery in a way that is more sustainable, and build the business such that people can have a future here.
Why is now the time for a second OWL? Tell us a little about the new location.
We outgrew the Haywood [Road] location as a place for pastry and bread production, so we moved bread making to a commissary kitchen on Riverside [Drive], and Haywood is the pastry kitchen. We really missed having bread as part of daily operation of the bakery and wanted a permanent home for bread to settle. We also wanted a second retail outlet, because we are so busy in West Asheville.
The second OWL will be in North Asheville, next door to Ultimate Ice Cream. We had some opportunities downtown, but we decided as a team that OWL is a neighborhood bakery. I have always gravitated to North Asheville; we are at the North Asheville Tailgate Market Saturdays and feel part of that community. It all felt aligned to where OWL should be.
We will have an open kitchen so people can see bread coming out of the oven and transferred right to the display racks for sale. We'll have pastries from our West Asheville OWL and a full coffee program. There will be a small seating area there, and after we open the Charlotte [Street] shop, we'll do some re-setting at the West Asheville store and be able to resume indoor seating there.
Are there breads from other cultures you particularly like or are intrigued by?
The thing that connects all bread traditions is fermentation and humanity's use of fermentation to combine ingredients that are inert—basically flour and water—and introduce colonies of yeast and bacteria that want to be stretchy and chewy, or fluffy and white, or crusty and perfect for sopping something up. Bread is so localized to the place, the baker's hands, the region and the climate of that place. Scandinavia and Eastern Europe where the climate is much colder, the bread is much denser. As you go more south you get loftier bread products. What fascinates me is the breadth of fermentation techniques and how they get expressed. Bakers work with the same materials but the expression is so varied.
Does OWL have a particular aesthetic for cakes and pastries?
Cake decoration is a skill and a craft unto itself, an art form. For me and the bakery, I turn toward being more inspired by an asymmetrical, natural, organic aesthetic—something that evokes the garden the way plants might trail or flowers burgeon naturally. We do decorate our cakes, but we use all edible botanicals, edible flowers and herbs. We thinly shave apple slices, dye them with natural dyes like turmeric, beet powder and hibiscus to create a wide range of colors and then dehydrate them. We can fashion little roses or flowers from them after they are dried, that is kind of our signature cake look.
I want to do a few things well and focus more on the quality of the product, the flavor profile, the taste and eating quality. So much intention goes into that, so I have explicitly created some aesthetic boundaries at the bakery. We don't do piped decoration, we don't offer tiered cakes because that requires dowels, plastic stands, and scaffolding that we don't have the room for. There have been some decisions made based on logistics that also help really define what it is we do at the bakery.
What is an edible indulgence for you? How do you treat yourself?
I don't think I treat myself with food. I like really good, fresh food. I think people might be surprised to know I love toast with butter and marmite; I could eat that every day. I don't have a sweet tooth, so I don't eat many pastries. I taste them, but I don't eat a whole one. I have a very different relationship with pastry than most people. I am in the business of making them and selling them, not eating them.
Is there anything you won't eat?
I would definitely pass on tripe. Because I'm in England now— I'm taking my first vacation in at least eight years—I had black pudding for breakfast. It was good.
If you don't take vacations, what do you do for fun away from the business?
Leisure activities are kind of a mystery to me (laughs). I always seem to have a giant project going on. For the last year and a half, I've been restoring a little bungalow that was gutted. I still have some finish carpentry work on the house I have to tackle soon, but I love being in my garden, and right now that's where I'm spending a lot of time when I'm not at work.
What do you think OWL is best known for?
I like to think OWL can provide an array of experiences for people. There is a draw to the pastries, because pastries evoke memory and mark celebratory events. They're a treat and have that special quality of being able to create a moment to take people out of the daily grind. With our bread, we are always seeking to make things that bring comfort to the daily table and are adaptable based on people's needs in the moment. They both fulfill different functions and are nice counterpoints to each other. I'd always love OWL to be remembered for its pastries and cakes but thought of for its breads as a sustaining force in life.
While OWL is my baby and my creation, this little bakery really does have a spirit of its own, blasting love to the world. I feel very much in service to that. ◊◊
Save
Save
Save
Save
Save
Save
Save
Save
Save
Save
Susannah Gebhart of OWL Bakery