Presented by A-B Technical Community College
FROM MOUNTAINS TO MOUNTAINS
Kay Gonzalez
Assistant Brewer, Oklawaha Brewing 
A.A.S. | Brewing, Distillation, and Fermentation Program (2020)
***
There are countless professional brewers in the craft beer industry who can trace the origins of their careers to a spark ignited by the first sip of a truly exceptional IPA or a torrid love affair with home-brewing. But Kay Gonzalez was just a teenager, still years away from being able to legally drink alcohol, when the brewing bug bit her. 
During an advanced biology class while dual-enrolled as a high school student in Haywood County's Early College program, a discussion of the alcohol-making process struck a deep chord with the science-loving teen. 
"You'd never think a 17-year-old would want to make alcohol for a living," Gonzalez says. "I don't know what it was; there was just a calling."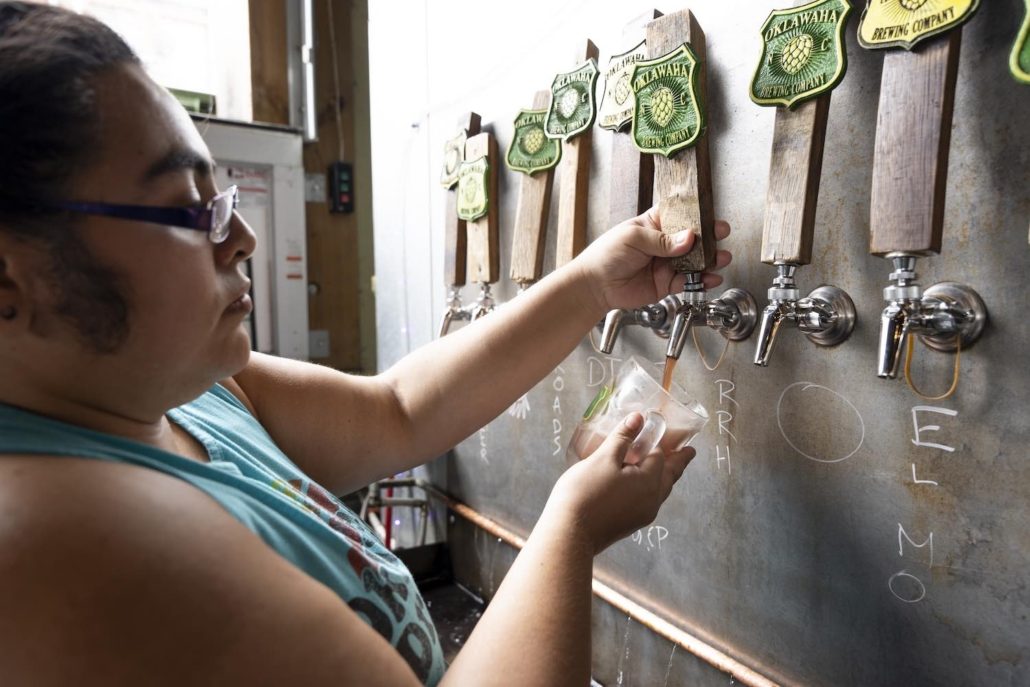 Gonzalez was too young to enroll in the brewing program—students had to be of the legal drinking age—so she decided to point herself in the direction of a career in medical sonography. But the ambition to brew never really left her. So when Gonzalez's 21st birthday rolled around, she dropped sonography to enroll in the Brewing, Distillation, and Fermentation program at A-B Tech's Craft Beverage Institute of the Southeast. 
In that program, director Jeff "Puff" Irvin, instructor John Lyda, and other faculty members helped her embrace her inherent creative drive and expand its potential by harnessing scientific knowledge relevant to the alcohol industry. Irvin encouraged her to celebrate her Mexican heritage in her projects and to explore opportunities to be artistic. Lyda, one of Highland Brewing Co.'s original brewers, helped her gain confidence in her brewing skills.
After Gonzalez scored a summer internship with the former Sanctuary Brewing Co. in Hendersonville, she stretched out her time there with a continuing work-study relationship until she graduated in 2020. Then, as Sanctuary's ownership transitioned and the company rebranded to Oklawaha Brewing, Gonzalez was hired as an employee. 
Now working in the role of assistant brewer to head brewer and owner Joe Dinan, Gonzalez is energized by the blend of science and creative self-expression she's able to practice in her craft, injecting bits of her own personality, background, and passions into the culture and beer lineup at the brewery. 
As a first-generation Mexican-American whose parents immigrated from the mountains of North Central Mexico, she enjoys introducing the flavors of her parents' homeland to Hendersonville's beer scene. "In my family, we joke that my parents exchanged one country's mountains for another country's mountains," she says. 
An example she's particularly proud of is Oklawaha's Christmas Bonus, a holiday ale inspired by traditional Mexican Christmas punch. Packed with passion fruit, mango, orange, tamarind, apple, and pear, and spiced with cinnamon and piloncillo (unrefined Mexican brown sugar), it's a luscious and potent fruit bomb. 
"Depending on how good the fruits are, [the ABV] can range from 10% to 12%," she says. "It's so good!" 
Also, as a member of the LGBTQ+ community, Gonzalez is making sure there are plenty of rainbows at Oklawaha—both the kind you can see and the kind you can taste. To celebrate Pride Month this June, she brewed Fruity Gals and Pals, a hefeweizen with fresh peach purée, cold-pressed cherries, and hints of banana and clove. And she works to ensure the taproom is a safe and welcoming space for the queer community. "We're not discreet about it," she says. "When you walk into the taproom, you'll see a bunch of Pride flags hanging, and we actually added more this year." 
Gonzalez says her long-range life goal is to one day start her own craft-beverage operation in Mexico—not necessarily brewing beer, though. She notes that there are many kinds of fermented drinks, including mead, hard cider, wine, and kombucha, and her A-B Tech education provided her the know-how to stretch beyond beer if she chooses to. 
"The [A-B Tech] program isn't just beer, it's about fermentation, so you can work in any type of fermentation; people can take this knowledge anywhere," she says. "There are so many resources, and so much going on [in Mexico]; I just really want to bring my knowledge to my family's home country." ◊◊
Save
Save
Save
Save
Save
Save
Save
Save
Save
Save
Kay Gonzalez 
Assistant Brewer, Oklawaha Brewing 
A.A.S. | Brewing, Distillation, and Fermentation Program (2020)