LOSING GROUND
As WNC's farmland vanishes, local growers struggle to find affordable land
Words by Gina Smith | Photos by Nate Burrows
***
Part one of a two-part series examining the loss of farmland in Western North Carolina, its wide-ranging impacts and efforts to address the trend.
A glance out any window at Western North Carolina's lush, rugged, crazy-quilt of mountains, forests and farmland confirms the region's national reputation as a tourist destination and highly desirable place to call home. But aside from appealing aesthetics, that unique topography also lures visitors drawn to a vibrant local food system rooted in a tight-knit community of small family farms that nourish a flourishing restaurant scene. 
The heartbreaking irony, though, is that the surge of development pushed along by all that love is increasingly threatening the farmland that produces Asheville's award-winning food. As WNC's hundreds of thousands of agrarian acres morph into residential subdivisions and urban sprawl, aspiring growers face a discouragingly steep and rocky path to farm ownership. 
With the trend in full swing, North Carolina is now ranked second in the U.S. for projected agricultural land loss by 2040, according to the American Farmland Trust, and nearly 10% of the U.S. counties considered most at risk are in Western North Carolina. 
"Development pressure is definitely increasing, and farmland is particularly at risk," says Jess Laggis, farmland protection director for the Southern Appalachian Highlands Conservancy, an Asheville-based nonprofit that seeks to protect land in North Carolina and Tennessee. 
With the growing influx of folks buying second homes in WNC or relocating in search of a more climate-resilient locale, farmers are seeing a big uptick in inquiries from developers, Laggis says. "All of our farmers just get bombarded with mailers from people asking them about selling their land, and I think that's increased in the last three or four years." 
As WNC's vegetable farms, orchards, cattle operations and hayfields melt away and housing developments and strip malls sprout up in their place, the region could experience a multitude of impacts. Open farmland allows for much better water quality than developed land, Laggis notes. And the loss of the area's scenic rural landscapes could put a damper on tourism while also affecting chefs, bakers, brewers and producers, who have based their livelihoods and reputations on the use of local ingredients.
Ultimately, the region's entire food system could be compromised, says Ariel Zijp, farmland preservation coordinator and soil conservationist with Buncombe County Soil and Water Conservation District. "The more we're developing our farmland, just in general, and the less land we have available for farming, the less stable and resilient our food system will be." 
THE FARMLAND DISAPPEARS
Western North Carolina has been losing farmland for a few years now, in part because of natural trends in agriculture. Many plant nurseries and Christmas tree farms have gone out of business since the economic downturn of 2008, as have tobacco farms, which have been closing or converting to other types of operations for several decades. 
Between 2012 and 2017—the years for which the most recent data is available—16 of the 23 counties in Western North Carolina lost farms, according to the Appalachian Sustainable Agriculture Project, or ASAP, an Asheville-based group aimed at supporting farmers. 
Looking ahead, the pace of loss could accelerate quite considerably. By 2040, Buncombe County could lose nearly a quarter of its agricultural acreage, a rate that climbs to 30% if there's runaway sprawl caused by the development of low-density housing, according to the American Farmland Trust. 
In neighboring Henderson County, the top apple-growing county in North Carolina and one of the top 20 in the nation, the loss could be even more severe. AFT estimates that 32% of Henderson County's agricultural land will disappear by 2040 on the current growth trajectory, and more than 40% could be gobbled up by development in a worst-case scenario. 
ASAP Assistant Director Amy Marion says her group is waiting for updated numbers from the U.S. Department of Agriculture to get a sense of where things are headed. "It'll be really interesting to see the 2022 data, [which will show] both the effects of development pressure and the impacts of Covid," she says. 
OUT OF REACH 
As the amount of farmland shrinks, the price of available property is increasing. In 2021, the price of 5- to 10-acre tracts in the Asheville metro area jumped 36% from the previous year, according to research from Carolina Farm Credit. 
And those price spikes have a particularly damaging impact on young farmers. In its 2022 National Young Farmer Survey, the National Young Farmers Coalition identified access to affordable land as the top challenge for U.S. growers age 40 and under. 
Zijp, who coordinates Buncombe County's Farmland Preservation Program, says that, increasingly, farmers can't afford to buy or even lease land within the county and are forced to search farther afield. "It's impacting all farmers, but especially our new farmers who are trying to get in and are having a much harder time getting started and established," she says. 
Ayrton Webb, 33, is experiencing this firsthand. Growing vegetables on a little over ½ acre of leased land in Arden, Webb got into farming "kind of by accident" in 2009 through a summer job at Hickory Nut Gap Farm in Fairview. After studying agroecology at Appalachian State University, he worked on and managed farms all over the country. He says his current leasing situation isn't a good fit for him, but he doesn't hold out much hope of ever owning his own land. 
"Just working on other farms, I've never been able to save up any substantial amount of money," he says. "Maybe five years ago I would have been a little optimistic about it, but honestly, it's made me shift gears a little bit and realize that it's likely that I will never own my own piece of property. So it's a little heartbreaking." 
When his land lease runs out at the end of this year, Webb says, he's considering a management arrangement with an older farming couple near his home in Madison County. From there, he's hoping to find an opportunity to farm collectively with other young, aspiring growers. "We can't do this alone," he says. "It's too much stress. The mental and physical burdens are just really, really heavy."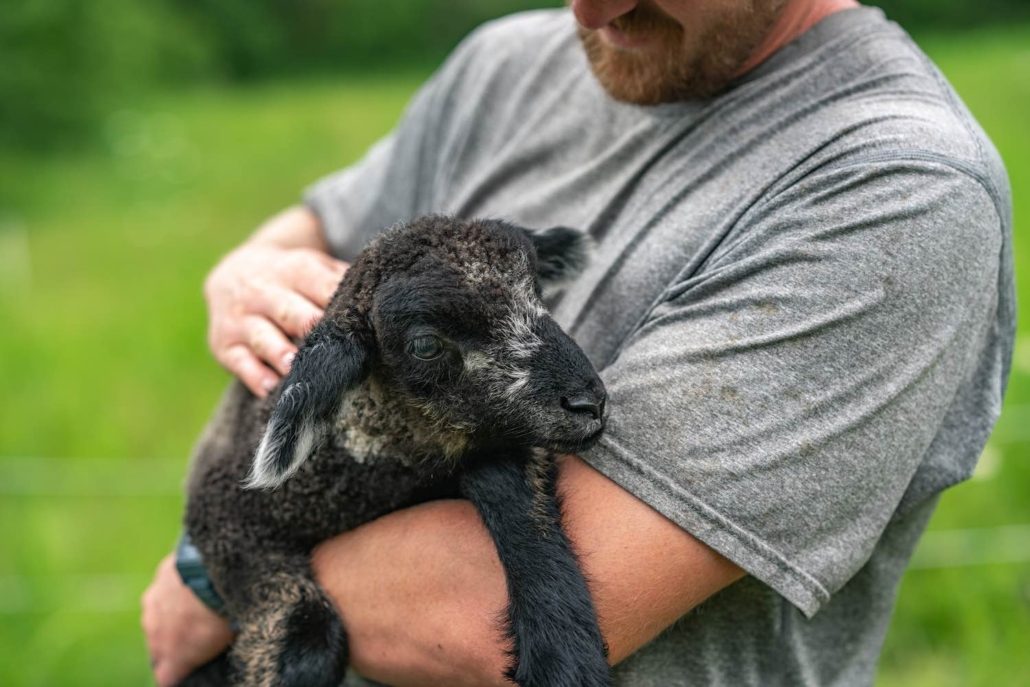 FINDING A 'FOREVER FARM' 
Across the country, farmers are getting older. The average age of U.S. growers is now 57.5, according to the USDA, and the younger generations on family farms are showing less interest in taking over the family business. That's why the challenges of young farmers who are new to the profession are particularly important to track and, hopefully, resolve. 
Like Webb, first-generation growers Dana and Jordan Choquette also struggled to find affordable land and farmed in leasing situations for about three years with their heritage sheep, cattle and chicken operation, Old North Acres, before they finally bought their "forever farm" in Old Fort and moved there in June. 
After relocating to the Asheville area from Colorado in 2020, they fell in love with WNC's urban homesteading culture and decided to buy a few sheep off Craigslist. They kept the animals in the large backyard of their Swannanoa home before realizing they wanted to pursue agriculture as a career. 
"Looking back on it, the ignorance that was involved there is pretty astounding," Dana says with a laugh. "But we very, very quickly realized that we loved tending to livestock animals, and we also discovered that our space was actually quite small to responsibly graze them." 
Hoping to start a small-scale, regenerative farming business, the Choquettes rented an 8-acre pasture from a neighbor and added pigs, two cows and a flock of chickens. The rental arrangement was perfect for trial-and-error learning, and they had a positive relationship with the landowner. But given that the land was owned by someone else, they knew the situation was fragile. 
In May 2022, the landowner accidentally mowed the entire pasture out of habit, forcing the Choquettes to buy organic, non-GMO grain to supplement the animals' grassdiet. It was a devastating occurrence for the fledgling, cash-strapped farm that Dana now chalks up to a "big learning experience." 
"I think that's something a lot of first-time farmers experience when they're leasing land," she says. "At the end of the day, you're still at the mercy of the landlord in terms of how you manage the land." 
In an effort to scale up their farm to increase profitability, Choquettes then leased a different parcel of land from an older farming couple they'd met through NC FarmLink. And while that setup initially felt like a good fit, it soon soured over differences in approaches to animal husbandry, leaving the Choquettes homeless and feeling defeated. "We thought this might be the end for us," says Dana. 
In January, feeling desperate, they linked up with another pair of young, first-generation farmers—Jake Puckett and Laura Mikos of Crow Fly Farms in Marion—who were raising grass-fed livestock using regenerative practices. Uprooting and resettling themselves and all their animals once again, the Choquettes settled temporarily in a tiny house on the property and farmed collaboratively with their hosts while they decided on their next steps. "That experience was far and away our most positive and proved that farming in community, even though it's very complicated, can work," says Dana. 
She believes, though, that even this successful relationship would have eventually become challenging due to limited land capacity and the Choquettes' long-term goals for growth, which include expanding into agritourism. The whole time they were leasing, the couple had been looking for land to buy in partnership with friends Jessica and Chris Whaley of Whaley Farmstead and Whaley Farmstead Brewery. When they found a 35-acre parcel in McDowell County that was perfect for their livestock business, but wouldn't work as well for the Whaleys' vegetable farm, the Choquettes knew they needed to figure out a way to do it on their own. 
As a last resort, they asked Dana's mother to co-sign for a loan to buy the property. "We knew we couldn't afford it, and we were at our wits' end in terms of trying to creatively finance it," Dana recalls. "I think that if we didn't have the lifeline from my mom, we would have eventually thrown in the towel as farmers." 
TWICE AS HARD 
The challenges can be twice as hard for farmers of color or those from marginalized communities, who often don't have access to family wealth or outside financial support—a point Dana readily acknowledges. 
"I want to be really transparent that we had to rely on that intergenerational wealth and that outside help," she says. "If this process has been as complicated, stressful and unrealistic for me as a cis-gendered, white, able-bodied person of privilege, I truly think that it would be darned near impossible for people of marginalized identities to acquire land. And I think that that is absolutely tragic." 
According to the management consulting firm McKinsey & Co., less than 2% of farmers in the U.S. identify as Black, compared with 14% a century ago. And the farms that are owned and led by Black people tend to be smaller, do fewer sales, and generate smaller profits. 
Young farmers of color are also twice as likely as white farmers to struggle to maintain their access to land once they've secured it, according to the 2022 National Young Farmers Survey. 
There are several reasons for the decline in Black-owned farms in the U.S., McKinsey says, including discriminatory lending practices and a historical lack of legal protections that facilitate the generational transfer of property. Even so, farming represents an important opportunity, as the median income for farmers is significantly higher than the median income for all Black Americans. 
Choquette believes that growers who are fortunate enough to acquire land have a responsibility to support young farmers of color and those from other marginalized groups in their quest to become farm owners. In 2024, she plans for Old North Acres to offer an equity spot for a beginning or young farmer who identifies as LGBTQ+, BIPOC or low-income who needs a free place to grow. 
"That's kind of where we've landed first," she says. "But I think we're responsible for coming up with many ongoing ways to try to leverage our privilege and bolster those around us." 
In the next issue of Edible Asheville, the second installment in this twopart series will explore how programs, policies and land trusts are addressing the problem of farmland loss and the innovative ways young farmers are tackling their land access challenges. 
---
Gina Smith lives in Asheville and has been writing about food and agriculture for local, regional and national publications for more than a decade. When she's not writing, editing or gardening, she coordinates the Asheville-Buncombe Food Policy Council and is part of the leadership team for the WNC Food Justice Planning Initiative.
Save
Save
Save
Save
Save
Save
Save
Save
Save
Save
Dana and Jordan Choquette of Old North Acres farm