CRISPY OKRA SALAD
 Recipe by Terri Terrell and Michele Gentille | Photo by Nate Burrows
***
Serves 2–4 
Okra is my favorite vegetable. Nothing even comes close. My favorite childhood food memory involves me sitting under my grandmother's maple tree with a huge bowl filled to the brim with salty fried okra. Over the years, I have cooked with okra in hundreds of ways. Recently I created a crispy okra salad that doesn't involve frying, but instead roasts the vegetable to a delicious char. The salad made its debut last year at my Clarksdale Pop-Up and was an immediate hit! I hope you enjoy it as much as I do. —Terri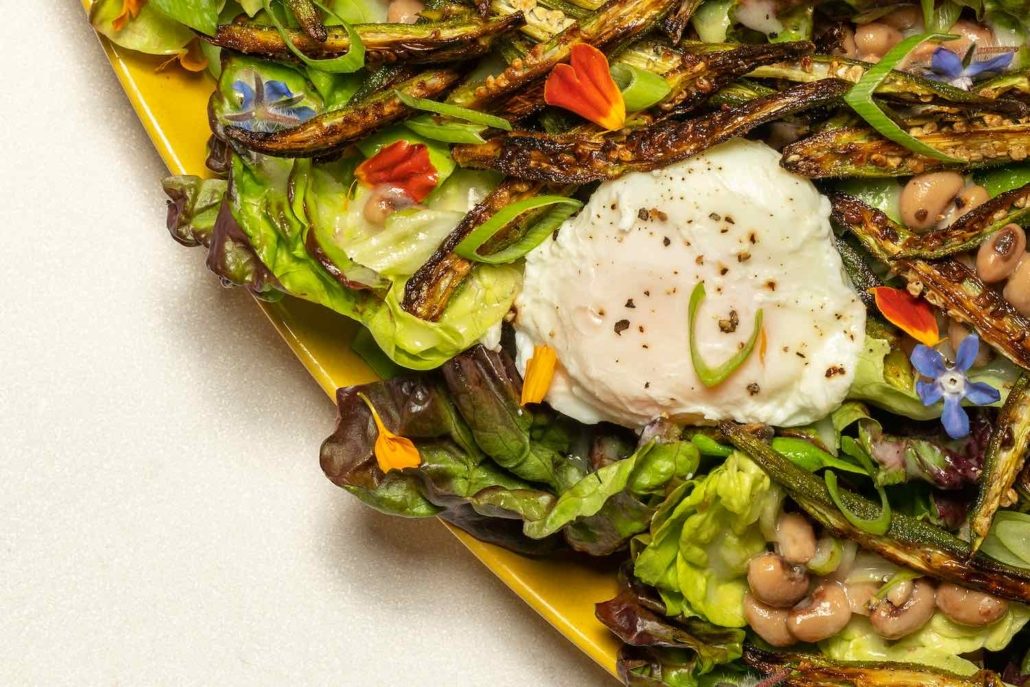 Dressing: 
2 cups cooked and chilled black-eyed peas (organic, canned ones are perfectly fine) 
1 small shallot 
⅓ cup apple cider vinegar 
2 teaspoons brown sugar 
1 teaspoon salt 
⅔ cup olive oil 
½ cup julienned green onion 
Salad: 
10 medium okra pods, quartered lengthwise 
2 teaspoons olive oil 
¼ teaspoon Cajun seasoning 
1 head butter lettuce or mixture of soft leaf lettuces 
2–4 soft poached eggs, 1 per person 
Fresh cracked black pepper 
Rinse the black-eyed peas and chill in the fridge. In a food processor with the blade attachment, add the shallots, vinegar, brown sugar and salt; blend. Add the oil in a stream through the top to emulsify. Pour into a bowl and mix in the black-eyed peas and green onion. This can be done up to 3 days ahead of time if you keep it refrigerated. When ready to use, bring to room temperature. 
Preheat oven to 425°F. In a medium bowl, add your okra strips and toss with 2 teaspoons olive oil and Cajun seasoning. Spread evenly on a baking sheet, giving them a lot of space so they crisp up and don't steam. Put them on the middle rack and cook for 10 minutes. Toss them a bit and cook for an additional 10 minutes, or until they take on a beautiful charred color. Let cool while you prepare the greens. 
Clean and dry the lettuce and gently rip the leaves. Set aside. 
Poach the eggs using your best practice, giving 1 egg per person. Remove from the water with a slotted spoon and set them gently onto a plate lined with a tough paper towel. 
To assemble: Divide the lettuce among the plates and top with the vinaigrette, carefully dispersing the black-eyed pea mixture. Next, add a pile of crispy okra, then top with a poached egg. Lastly, add a sprinkle of sea salt and cracked black pepper. You can also add edible flowers for color and texture. Serve immediately.
Save
Save
Save
Save
Save
Save
Save
Save
Save
Save