Life's A Picnic
Pack your basket with these musings and tips for outdoor feasting
By Ashley English | Photos by Erin Adams
With summer picnic season here, my husband told me about a movie he knew I'd love. He assured me that About Time, a 2013 English film about a family whose male members have the ability to time travel, was right up my alley. He couldn't have been more correct. While the film's witty banter and captivating storyline were certainly engaging, it was actually the family's daily seaside picnics that endeared the film to me the most.
Each day, no matter the weather, the family packed a basket with teatime provisions, walked to the sandy beach beside their coastal home, spread out a blanket, dispatched their folding chairs, and enjoyed dining in the great outdoors. "These are my kind of people," I thought to myself.
There's an expression I'm rather fond of quoting to my oldest son, when encouraging him to head outdoors for some playtime.
"There's no such thing as bad weather, only bad clothing." This adage, while true for the physical needs of youth (or anyone, really), is also particularly apt when applied to picnicking. If you're dressed appropriately, it's entirely possible to weather the weather, whatever the weather, as it were.
The family in About Time was undeterred by what the elements brought. Each day, without fail, when teatime arrived, they headed outdoors, kitted out in muck boots, raincoats, and woolens, as the day dictated.
Picnicking is a pretty big deal in our home. I'm mom to two young boys, 1-year-old Alistair and 7-year-old Huxley. Not only do I aspire to cultivate a love of the outdoors in my sons, but I also aim to instill an inclination to steward it, too. Picnicking is one of the easiest means of working towards that goal. I have long believed that the more time a person spends outdoors, whether passively or actively, the more, over time, they'll begin to want to protect and care for it. Like the daily picnics of the British family in About Time, I want my children to learn through my example that eating outdoors is fun, happiness-inducing, and worth any extra work it takes to make it happen.
There's also the "adversarial" aspect I'm working to counter. Which is to say, a great number of people seem to find nature to be a considerable foe. What with the heat, and the bugs, and the risk of sunburn, and the weather hazards—with such bummers ever present, why on earth would you willingly choose to picnic? That mindset, the one pitting humans against all other species and encounters imaginable on this planet we all share, that's the one I'm striving against. The one that asks "Why would you want to get out in it? Why even bother?"
Well, because that's life, I say. Truly. If you think about it honestly, life is potentially hostile, frequently riddled with hazards and risks, and it can, on occasion, especially during particularly rough patches, prove to be an enormous bummer. But it is also awe-inspiring, and rhapsodic, and rife with unexpected pleasures and delights. I want my children to know that the sweetness of life is enhanced by also experiencing its bitterness, not by steadfastly avoiding it. I need them to know that contrast is necessary, and important, and beneficial.
It's a tall order, I realize. After all, we're simply talking about eating food outside. That may be true, but I'm passionate about picnicking because I sincerely believe that it can be about so much more than merely partaking of sustenance away from the comfort of four walls and climate-controlled environments. I invite you to incorporate more picnics into your life, and then observe what happens. You might get rained on, sure. A rogue mosquito might find you, it is true. What you incur in fleeting moments of discomfort, however, will pale in comparison to the profound, ineffable, abiding joys experienced courtesy of a wicker basket and a blanket.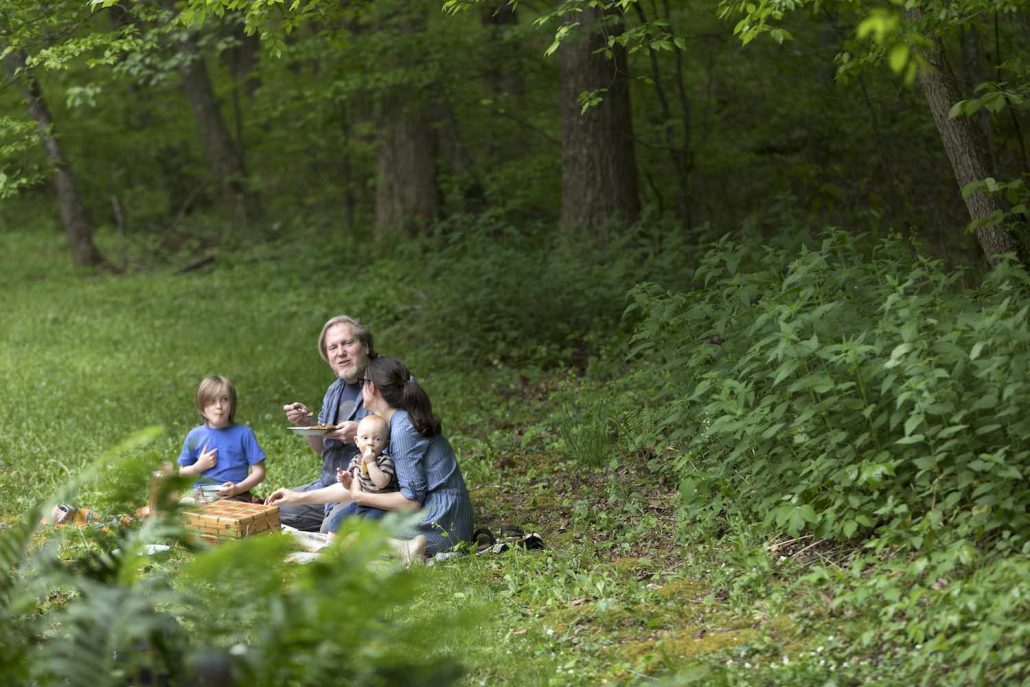 Tips for a Perfect Picnic
Eyes on the Skies: While it's nice to embrace the unpredictable nature of picnic weather, I also recommend checking the forecast five days before your intended picnic, and then again two days beforehand. If the forecast calls for a 70 percent or greater likelihood of poor weather conditions, you might want to look for another day. For those last-minute, impromptu picnics, check the forecast before heading out, as storms can roll in fast, even when the skies look picture perfect.
Back-Up Plans: Even when rain isn't in the forecast, areas with variable weather conditions like ours can see a summer shower sneak up out of nowhere. While you don't necessarily need to schlep in every item you might possibly need, weather-wise, it's a good idea to bring along a sweater, raincoat, or umbrella if there's a possibility for a turn in weather. Same with a spare old bath towel, for drying off damp spaces you wish to picnic on or around. To quote from my life's motto, "better to not need it and have it than to need it and not have it."
Dress the Part: I find few things more vexing that being ill-equipped for what the day brings, in terms of clothing and footwear. After checking on the weather, and once the general terrain of your picnic's location is determined, get dressed accordingly. If you're hiking up a mountain, you'll want sturdy ankle support, so lace up those hiking boots, and leave your slick-bottomed sandals at home. If you're on a creek bank, opt for footwear that can handle getting wet while providing a bit of traction to prevent slipping. Likewise for clothing. Keep the particulars of the landscape you're visiting in mind when getting dressed.
Need A Lift?: Baskets, blankets, food—it can all add up, in terms of weight. If you've got lots of picnic participants willing to lend a helping hand, that's marvelous. If not, however, you might want to consider bringing along a wagon for transporting goods from your vehicle to the site, especially if your picnic is on a level space. Otherwise, if you've got a bit of climbing ahead of you, a backpack might be called for.
ASHLEY ENGLISH'S FAVORITE LOCAL PICNIC SPOTS
Black Balsam: A scenic mountain bald located near mile marker 420 on the Blue Ridge Parkway, the 365° panoramic views offered at Black Balsam make it my most beloved area picnic destination.
The North Carolina Arboretum: The arboretum offers a wide variety of picnicking spots, from open, grassy stretches to woodland patches. Plus, regularly changing exhibits and installations allow you to learn while you lounge and loaf!
The Botanical Gardens at Asheville: Centrally located close to downtown Asheville, the Botanical Gardens are open year-round and free to enjoy, making them a highly accessible picnic spot for all, both in terms of physical location and cost.
Biltmore Estate: We purchase annual passes to the estate. While the house is fun to visit once in a while, it's actually the grounds, with its vast array of prime picnicking spots, that's the real draw.
Ashley English is the author of several books, including Southern From Scratch: Pantry Essentials and Down-Home Recipes and A Year of Picnics: Recipes for Dining Well in the Great Outdoors. She lives in Candler, North Carolina, with her husband, two sons, and a menagerie of chickens, dogs, cats, and bees.

Save
Save
Save
Save
Save
Save
Save
Save
Save
Save
Huxley, Glenn, Ashley, and Alistair English enjoying a picnic.