Presented by The Ingles Table
***
SPRING LAMB CHOPS WITH VEGETABLE COUSCOUS
Recipe by Caroline Taylor | Market President for iHeartMedia and Contributor to The Ingles Table
Photos by Erin Adams
***
My family loves lamb, but I don't always need to fix an entire lamb roast for dinner. That's when I make these chops, which are a perfect alternative, especially during spring. It's a dish inspired by the light, fresh flavors of Greek food—with the meat accentuated by a marinade of lemon, olive oil and rosemary—and the colorful vegetables really shine. It tastes great at room temperature, so you can serve it during a backyard lunch or bring it as a side dish to a potluck.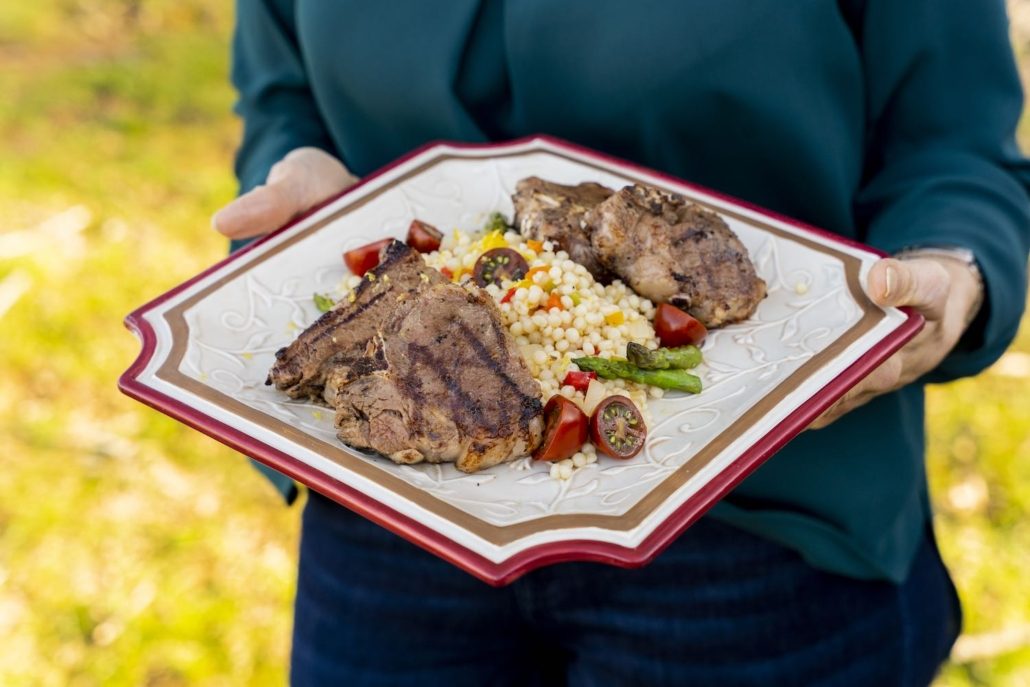 Serves 2-4 people
 Lamb Chops 
6 small lamb chops, bone in 
¼ cup lemon juice 
½ cup extra virgin olive oil 
1 tablespoon fresh garlic, chopped 
1 teaspoon rosemary, chopped 
Salt and pepper
Vegetable Couscous 
1 box couscous (pearled is preferred) 
½ cup red onion, finely chopped 
½ cup red pepper, finely chopped 
½ cup yellow pepper, finely chopped 
½ cup frozen peas 
1 teaspoon lemon zest 
2 tablespoons fresh lemon juice (1-2 lemons) 
¼ cup extra virgin olive oil 
Salt and pepper
***
Lightly salt and pepper the lamb chops and place in a Ziploc bag with the rest of the ingredients. Place the bag in the refrigerator for at least 2 hours to marinate.
Prepare couscous according to package directions. Set aside. 
Lightly sautée vegetables and combine with couscous. Grate the lemon zest over the couscous. 
Make a dressing with the lemon juice, extra virgin olive oil, salt and pepper. Pour the dressing over the couscous and vegetable mixture. Stir well and reserve at room temperature. 
Remove the lamb chops from the marinate and grill 2-3 minutes on each side to medium or medium rare. Place over couscous and serve.
Save
Save
Save
Save
Save
Save
Save
Save
Save
Save
Caroline Taylor, a contributor to The Ingles Table