KEEP ON TRUCKIN'
Asheville's food trucks are small on space, but big on ambition.
BY KAY WEST | PHOTOS BY NATE BURROWS
***
Some of Asheville's most innovative chefs operate on wheels, in narrow galley kitchens, with nothing more than a few dozen square feet of space and very little in the way of "elbow room." Despite the space constraints, and their attending challenges, food trucks continue to be a main source of culinary invention in Asheville. By some counts, there are well over 100 food trucks operating in and around the city, offering everything from burgers and fries to gyros and kebabs, and their fan base is growing.
Some food truck owners launch a mobile eatery as a first step toward a brick and mortar location, hoping to build up a steady base of customers and a reliable revenue stream before committing to leases and expensive kitchen equipment. Others simply prefer the mobile lifestyle, gravitating toward festivals and concerts that beckon the squad of local food trucks.
Either way, food truck owners demonstrate how a magical mix of talent and ambition are fueling an unstoppable food trend.
PLANTING ROOTS
After playing soccer at UNCA and coaching at the college level for 15 years, Dano Holcomb was ready to hang up his cleats. During a post at Tulane University, he fell in love with New Orleans cuisine and enrolled in the city's Culinary Institute at Delgado Community College. "It was an intensive program where you had to work full-time in a scratch restaurant and go to school," he explains. He honed his skills in the kitchens of some of the city's most well-known restaurants, including Brigtsen's, Patois and La Petite Grocery.
With a newly minted culinary degree, Holcomb and his wife, Julie, moved their family to Statesville, NC, in 2013. "My wife is a nurse, and she got a job in Hickory. I got a job in Charlotte with chef Cassie Parsons, who had Harvest Moon Grille and a food truck she let me run. That was my intro to food trucks."
A food truck seemed the perfect way to combine his desire to be his own boss with his love of food and music. "I thought I could take my food truck to all these music festivals," Holcomb says. So when he saw a food trailer parked in a yard during his commute from Statesville to Charlotte, he made an offer and towed it away.
Leaning on his love of New Orleans cuisine, the Midwest native launched Root Down Food Truck and created a concept he calls Creole Southern Soul Food, introducing it first in Statesville and Charlotte before moving to Asheville in 2014. "I did my homework on the food truck scene in Asheville before we moved," he says. "I talked to a bunch of the old timers who were so supportive."
At first, Holcomb created a fairly broad menu, attempting to offer something for everyone, before learning a time-tested food truck creed: keep it simple. "I wanted to satisfy everybody—two of this, two of that, two vegetarian dishes, some signature New Orleans things," he says. "Before you know it, you can't fit the menu on the chalkboard or do it all well in the space."
Looking to streamline his menu, Holcomb perfected a handful of dishes that would cater to his crowd. Among the dishes that attracted an early following were collard greens, as well as gumbo, which showcases the Creole flavors Holcomb loves.
The gumbo starts with a roux that has the color of peanut butter rather than the near-black hue of Cajun styles. "Roux is equal parts flour and fat, and you really have to babysit it."
After cooling the roux, Holcomb skims off the fat and begins building the gumbo, starting with the so-called Holy Trinity, as it's known in Louisiana—a trio of onions, celery and, in his recipe, poblano peppers, which he believes adds more flavor and "funk" than red bell peppers. Another characteristic of his Creole-style roux is the tomato component, and he uses tomato paste for that. His stock relies on smoked turkey necks and the duck fat con- fit of Root Down chicken wings.
"All the components of the confit—rosemary, thyme, coriander, allspice and pepper flakes—leach out and make a gelatinous deliciousness that fortifies our gumbo. There's a lot going on with our stock." He adds and cooks vegetables in multiple stages to provide different textures.
In addition to a traditional-style gumbo with andouille sausage, Holcomb makes a version with smoked beef sausage for folks who don't eat pork. The steaming bowls of gumbo are served with a scoop of jasmine rice, or, as it's called in New Orleans, "jazzmen rice."
"Our gumbo is a three-day process," he says. "When we get people from Louisiana, they definitely look us up and down before they decide to try it. But I'll put my gumbo up against anybody's."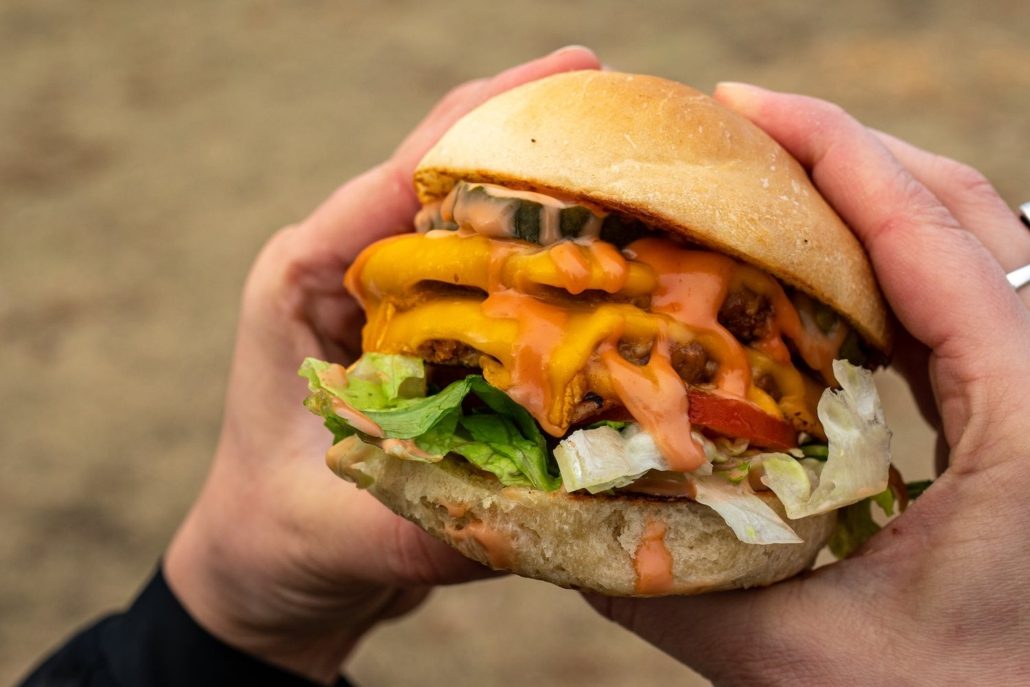 SAY CHEESE
Stephanie and Steven Paulson hail from Wisconsin, where hundreds of dairy farms dot the landscape and form the backbone of the state's thriving cheese industry. So starting a food truck that specializes in classic and gourmet grilled cheese sandwiches seemed like an obvious fit for the couple. Sill, there were a few potholes along the way to getting Melt Your Heart into a spot to serve.
The inspiration for a food truck struck in 2000, when Steven was living in Portland and took a job scraping paint off a downtown fire escape. The job gave him a perch above a busy food truck lot, and "every day I'd go down there to eat lunch and loved it," Steven says. "I loved the smallness of the trucks; it only took a couple of people to run."
After returning to Milwaukee, he found a food trailer for $3,000 on Craig's List, bought it and redesigned the exterior to resemble a log cabin. In 2006, he hauled it down to Asheville where he and Stephanie decided to settle. "Unfortunately, I found out food trucks were not really a thing here then and not super welcome in the city." They parked the trailer in their driveway and found work in local restaurants until 2012, when the city of Asheville announced it would distribute permits to 10 food trucks and Melt Your Heart became one of the lucky recipients.
A downtown lot dedicated to food trucks didn't pan out. But as more and more breweries set up shop in Asheville and opened taprooms, the food trucks found homes in the breweries' parking lots and enjoyed long lines of hungry fans. When the first Melt Your Heart trailer found a permanent home at Wedge at Foundation in the River Arts District, they purchased another truck to remain mobile.
Steven says their original menu concept—grilled cheese sandwiches—has remained the same, though they have expanded the selection through the years. "Our Firebird sandwich, the Heart Attack and the Heart Breaker are originals, and we've added a couple that started as specials." The key to building a menu in a small space, he says, is to make the most of ingredients they use. "If we're already slicing turkey, let's make two different sandwiches with turkey. If we have brie on one sandwich, let's use it on another one."
After a decade in business, the Paulsons say they've opted for a business plan that emphasizes quality over quantity and have turned down requests to cater or appear at events with really big crowds. "You can't fake a fresh grilled cheese, and every sandwich is made to order," he says. "There's nothing better than a grilled cheese right off the grill, and not much worse than a cold one."
They've developed a cooking method that can turn out 50 sandwiches in an hour, using a flat top grill, a pan or a hood, and a little steam to speed up the melt of the cheese— all while keeping the bread toasty. He notes that some cheeses—cheddar, American, and mozzarella, for example—are fast melts; brie is a speed melt; and gouda "doesn't like to melt."
In 2019, the Paulsons opened Open Oven Brunch & Bakery in Black Mountain, which Steven admits was Plan B. "We were looking for a brick and mortar for Melt Your Heart in Asheville, but it didn't work out," he says. "A property came up in Black Mountain that we could buy. We didn't feel confident Melt Your Heart would translate to Black Mountain, but we felt like a brunch café would. And the bonus is having a bakery to make our own breads for the truck."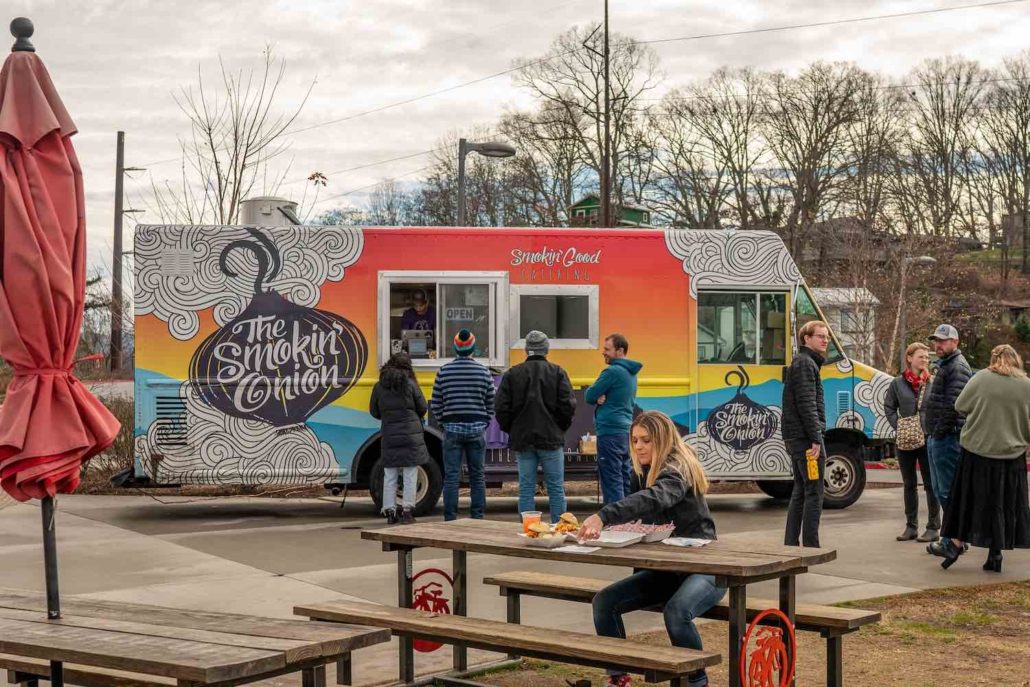 PLANTING THE SEEDS
In the vernacular of sports awards, Keems and Parker Schultz could be called "Rookies of the Year." The couple debuted The Smokin' Onion food truck at West Asheville's Brew Pump in September 2021 with a variety of vegetarian and vegan dishes. Since then, they have converted to a fully vegan menu and have catapulted to one of the more popular mobile food options in the area.
Their launch introduced Asheville to dishes like the Kai Smashburger, made with plant-based burger patties, the Crabby Patty, which transforms jackfruit into a vegan crab cake, and hand-cut fries and nachos smothered in cashew queso. Those items remain the most popular nearly two years in.
The Smokin' Onion menu—for which everything is made from scratch—is a reflection of the Schultz's own dietary choices and culinary backgrounds. "I have been vegetarian for 16 years, and totally vegan for the last nine," Keems says. Meanwhile, Parker worked at Asheville's popular vegetarian restaurant Laughing Seed Cafe for 11 years, five of those as head chef. "I got a lot of my skills on the job," he says. "Working on menu ideas there prepared me to do this, and gave me a leg up on menu development."
Keems proposed the idea of a food truck, in part to serve as a stepping stone to their own brick and mortar location. They sought help from Mountain BizWorks, a local non-profit dedicated to helping small businesses, bought a used linen delivery truck and had it retrofitted to be restaurant-ready.
Parker says their intent from the start was to create some flagship items, culled from his experience at Laughing Seed, and then branch out after listening to customer feedback once they opened. "We initially thought the cheesesteak would be the draw, and it was popular, but it was also very heavy," he says. "We had the Town Gyro on as a special and it was a more balanced, fresher sandwich. We loved it, and so did our customers."
Everything for the Town Gyro sandwich is made on the truck, including the pita, seitan and tzatziki—all from Parker's recipes. Once the seitan is mixed and molded, he shaves off strips and marinates them with garlic, onion, parsley and other spices to evoke the flavors of lamb. When a gyro is ordered, he crisps the marinated seitan on the grill, dishes it on the pita, adds sliced tomato, cucumber, and diced red onion, and then stripes it with a vegan-mayo based tzatziki.
"It is definitely our best seller," Parker says. "When people are confused and don't know what they want, we point them in that direction, with a side of hand-cut fries and our signature smoked onions. You can't go wrong with that."
Kay West has been a freelance writer and journalist for 40 years, in New York, Nashville and since 2019, Asheville. She has written for local, regional and national publications, covering everything from awards' show red carpets to death row incarceration, and has authored five books. Her primary focus is profiles, food and hospitality, and she currently contributes to sev- eral local publications.
Save
Save
Save
Save
Save
Save
Save
Save
Save
Save
Dano Holcomb of Root Down food truck
Parker and Keems Schultz of The Smokin' Onion food truck.