GREEN COLLARD SHAKSHUKA
RECIPE BY TERRI TERRELL | STYLING BY MICHELE GENTILLE
PHOTO BY NATE BURROWS 
***
Shakshuka is an Arabic word meaning "mixture" and also refers to an egg dish popular in Israeli and North African cuisines. Although most often red, made with tomatoes and peppers, this version is green, made with a vegetarian version of Southern style collards.
Instead of a ham hock for a smoky flavor, this recipe calls for smoked paprika and Urfa chili. To enrich it, we use miso paste, a great pantry item to have on hand for both savory and sweet dishes that lends an extra, highly addictive, umami. In Asheville, we are lucky to have a local miso master who sells a beautiful product under the quite appropriate name of Miso Master.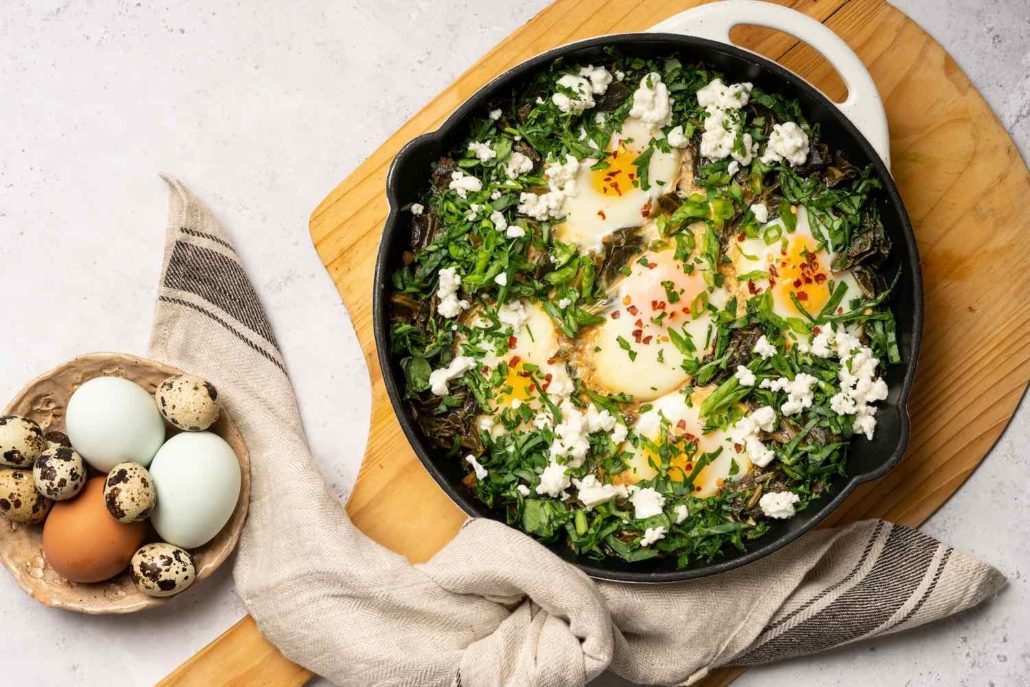 Serves 4-6
For the vegetarian collards:
2 tablespoons olive oil
1 large sweet yellow onion, sliced
11⁄2 teaspoons smoked paprika
1 teaspoon garlic powder
1 teaspoon ground black pepper
1⁄2 teaspoon Urfa chile or red pepper flakes
Good pinch salt
4 cups vegetable stock
2 pounds collard greens, stemmed, washed, and cut into 1/4-inch ribbons
2 tablespoons red miso paste
2 tablespoons apple cider vinegar
To make the shakshuka:
4-6 jumbo fresh eggs
3 green onions, sliced thin
Handful of fresh herbs such as parsley, cilantro, thyme 4 ounces crumbled goat cheese
1⁄2 teaspoon red pepper flakes
Hot sauce
In a large pot over medium heat, heat the oil until it begins to shimmer. Add the onion and cook until it begins to soften, about 3-5 minutes. Add the spices and salt, and cook, stirring, until fragrant, about a minute.
 Add the stock and bring to a boil. Add the collard ribbons and reduce the heat to a simmer. Cover and cook until tender, about an hour. When tender, add the miso and vinegar, and stir well to dissolve. Taste for salt and add more if necessary.
 Place hot collards and enough liquids to reach about half an inch up the side of a shallow casserole or large cast iron pan. Make a well for each egg with the back of a spoon and crack an egg into each one. Place on medium heat on the stovetop and bring to a simmer. Add a little salt and pepper over the eggs. Cover with a lid and allow to cook until the whites are just done, about 5 minutes.
 Garnish with the green onions, herbs, goat cheese, red pepper flakes, and hot sauce. Serve right out of the pan onto individual plates and pair with warmed flatbread such as pita or whole wheat tortillas.
Save
Save
Save
Save
Save
Save
Save
Save
Save
Save