EXPERIENCES
A 36-Hour Itinerary for Art & History Lovers
WRITTEN BY HEDY FISCHER, CO-FOUNDER OF PINK DOG CREATIVE
***
As an art collector and curator, and co-founder of the Pink Dog Creative artist studios, I know that a lot of visitors are interested in exploring our region's vibrant arts scene. From potters and painters to glassblowers and photographers, Asheville is home to a thriving community of creatives who use their work to inspire, entertain and challenge the status quo of the world around us.
I arrived in Asheville in 1978 and now split my time between here and Mérida, Mexico, and I can tell you I never fail to be impressed with the breadth and scope of local talent. It's impossible to see everything in one trip, but a weekend is long enough to get a sense of what's happening.
DAY ONE
4:00 PM – Visit to Grovewood Village
Grovewood Village was once the weaving and woodworking operations of Biltmore Industries, begun in the early years of the 20th century and sponsored by Edith Vanderbilt, to train young men and women from the region to take up craft as a livelihood. Grovewood Village is now a gallery of finely handcrafted furniture, ceramics, glass, jewelry, metal, wood and fiber, as well as eight working artists' studios and an antique car museum all set in historic turn-of-the- 20th-century buildings.
5:00 PM – A Drink at Omni Grove Park Inn
Head over to the Omni Grove Park Inn, adjacent to Grovewood Village, and enjoy a cocktail and a sunset view. E.W. Grove made his fortune selling Grove's Tasteless Chill Tonic, a quinine-based remedy for malaria and "what ails you" and invested heavily in Asheville. Granite boulders, some weighing as much as 10,000 pounds, were hauled from nearby Sunset Mountain with only the use of mules, wagons, ropes and 400 men to build the hotel in 1913. The history of constructing the inn is documented in black and white photographs in the south wing of the hotel.
7:00 PM – Dinner
A quick drive to Asheville's charming, walkable downtown will bring you a host of fine dining options. Check out Limones, where chef-owner Hugo Ramirez reinvents Mexican cuisine. Inspired by his mother's recipes and influenced by his training in French-inspired California cuisine, Ramirez creates a menu that is always fresh and delicious and changes with the seasons.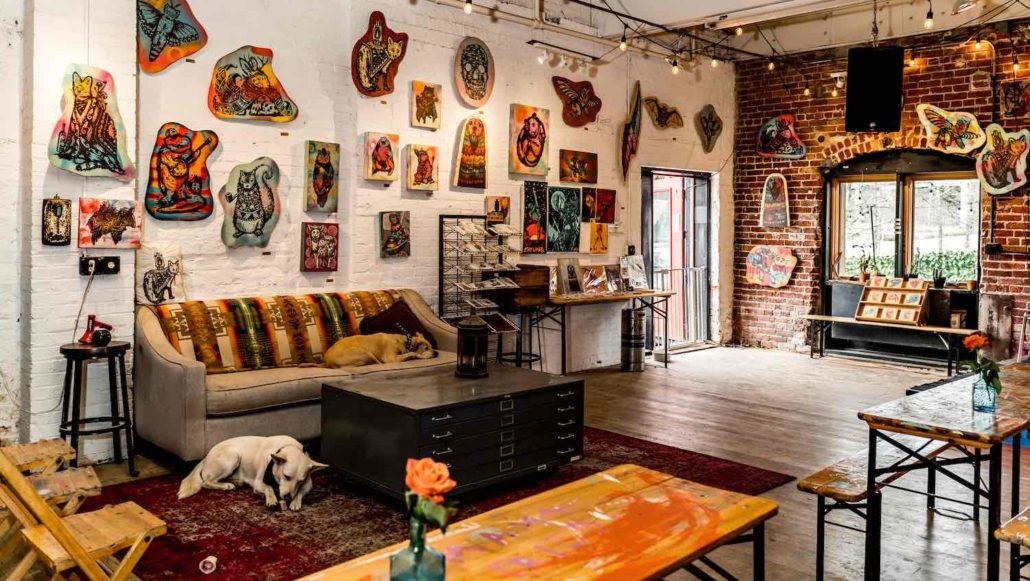 DAY TWO
9:00 AM – Breakfast
Enjoy breakfast at Benne on Eagle, located on "The Block," the historic and once-thriving former African American business area. Chef Robert Alexander and mentor Hanan Shabazz deliver a creative response to Afrolachian soul food, where African American and Appalachian cultures mix to create a unique blend of flavors.
11:00 AM – Downtown Galleries & Museums
Head west on Eagle Street to Biltmore Avenue and start your art tour at the Blue Spiral 1 art gallery. Founded by John Cram, a primary mover of Asheville's modern-day renaissance who arrived in Asheville from Wisconsin in 1971, Blue Spiral 1 represents more than 100 artists and estates in its multi-floored, expansive galleries. This is the largest commercial art gallery in the city, and you will find it hard to walk out without being impressed by the dynamic work found in the Appalachian and Southern parts of the U.S.
Walk up Biltmore Avenue to the newly renovated Asheville Art Museum. Established by artists in 1948, the museum in its current location underwent a total renovation and expansion and reopened to the public in 2019. The Asheville Art Museum exhibits American art from the 20th and 21st centuries in rotating exhibitions.
On the opposite side of Pack Square Park is the small but impressive Black Mountain College Museum + Arts Center, dedicated to preserving the history and sharing the legacy of Black Mountain College. BMC was a forerunner in progressive, interdisciplinary education, and the museum explores its extraordinary impact on modern and contemporary art, dance, music, writing and performance through exhibitions and performances.
1:00 PM – Lunch
If your stomach is beginning to rumble, head to Mëhfil on Biltmore Avenue, voted Best Indian Food in 2022, for an Indian food buffet. If you prefer something closer to our next destination, the River Arts District, check out 12 Bones Smokehouse. It has plenty for vegetarians as well.
2:00 PM – Visit the River Arts District
A great way to get an overview of the River Arts District is to book a mural tour with Mountain Mural Tours. Once you have the lay of the land, stroll and shop amid the studios and galleries of the more than 200 artists in the RAD. Pink Dog Creative has 34 artists who open their studio to visitors, a gallery with monthly exhibitions, two restaurants and a coffee shop. Revive yourself at Grind AVL, Asheville's first and only Black-owned coffee shop.
Continue your art tour at Northlight Studio and The Lift on Depot, Odyssey ClayWorks and Co-op Gallery—the only building dedicated solely to the ceramic arts—Wedge Studios, Curve Studios, Cotton Mill Studios, Riverview Station and Foundation Studios. There are roughly two dozen buildings in the RAD with art studios as well as shops, a movie theater and restaurants, wine and mezcal bars and, of course, breweries.
6:00 PM – Pre-Dinner Drink
Stroll to the north end of the RAD and be whisked across the border at Anoche, an agave spirits bar dedicated to supporting small-batch producers and environmental sustainability. The extremely knowledgeable owner will help you find the perfect mezcal or other agave spirit for you to try, whether you'll sip it straight up or in a delicious cocktail.
7:00 PM – Dinner
Vivian, named after the grandmother of chef-owner and James Beard Award nominee Josiah McGaughey, melds European flavors and techniques into the realm of his Southern heritage. Josiah and wife Shannon work with our region's farmers, so the menu is seasonal and changes frequently. They offer an extensive wine list with unique and delectable Old World varietals that complement the food, craft cocktails and, of course, local beers.
9:00 PM – Evening Music
If you still have any energy after a full day of art and food, walk up the street to The Grey Eagle Music Hall for live music. The Grey Eagle is Asheville's longest running, all-ages venue and has hosted over 10,000 different bands, including greats like Ralph Stanley, The Avett Brothers and Richie Havens. The Grey Eagle was voted by touring musicians as one of the nation's Top 25 live music venues.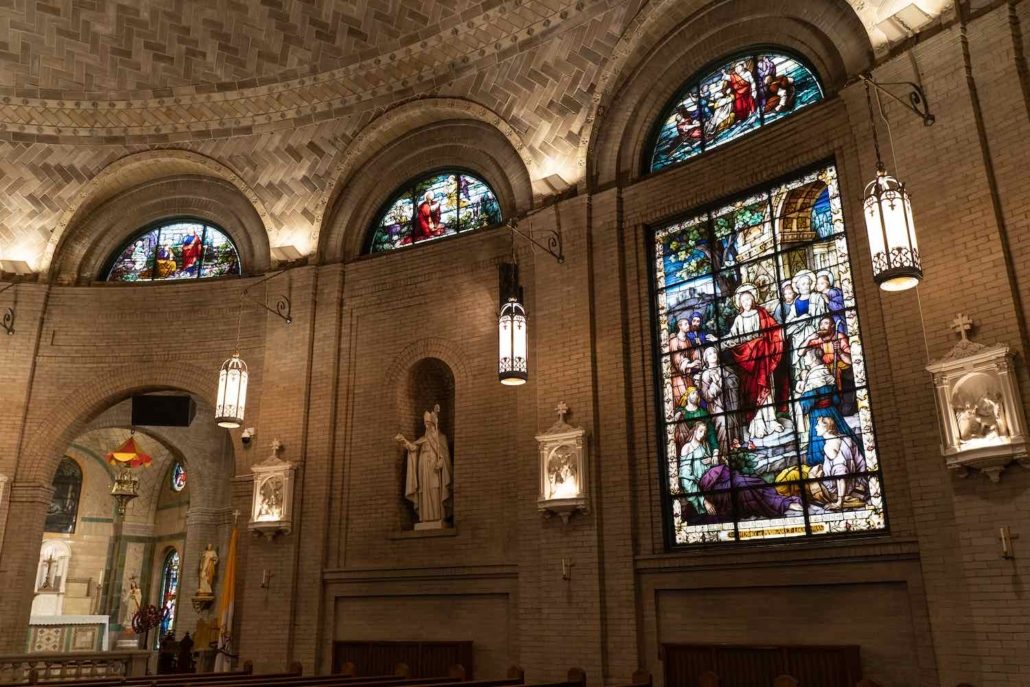 DAY THREE
9:00 AM – Breakfast
Having slept in after a full day yesterday, head to All Day Darling in the historic Montford neighborhood for a hearty, healthy breakfast. Locally owned, All Day Darling serves up freshly baked goods, egg dishes from shakshuka to breakfast bowls to steak and eggs, pancakes and house-made granola, to name a few choices on their menu.
10:00 AM – Montford & Basilica of St. Lawrence
Walk off your breakfast with a stroll through the Montford neighborhood, a National Register Historic District. Most homes here were built between 1890 and 1920, and you'll see a variety of architectural influences, including Victorian, Queen Anne, and Arts and Crafts styles combined with Neoclassical and Colonial Revival, reflecting the cosmopolitan character of Asheville during the turn of the 20th century.
Continue your walk into downtown and visit the Basilica of St. Lawrence, designed by Rafael Guastavino, who came to Asheville from Spain to work on the Biltmore House in the late 1800s. He began designing the Basilica in the early 1900s, and the church was completed in 1909. Guastavino's patented system of layering thin tile and mortar created curved, horizontal surfaces like the dome at St. Lawrence. His work may be found in more than a thousand buildings—mainly in the Northeast and particularly in New York City and Boston—including Grant's Tomb, the Great Hall at Ellis Island, Grand Central Station, Carnegie Hall and the Chapel at West Point.
Save
Save
Save
Save
Save
Save
Save
Save
Save
Save
Grovewood Gallery, next to the Omni Grove Park Inn, was once the weaving and woodworking operations of Biltmore Industries and is now a gallery of furniture, ceramics, jewelry and glass art.