FINDING FOODTOPIA
How a small town in the mountains of North Carolina became a culinary powerhouse
WRITTEN BY KAY WEST | PHOTOS BY ERIN ADAMS
***
When a heart surgeon, small business owner and chef walked into a decrepit brick building in downtown Asheville in 1978, it marked the auspicious beginning of a decades-long journey that would eventually lead to the city's culinary stardom.
The trio had the fanciful idea of opening a farm-to-table restaurant—which, for the time, was a lofty goal. Farm-to-table dining was not the ubiquitous (and often exaggerated) concept it is today, and downtown Asheville was practically a ghost town, with vacant buildings and boarded-up windows reflecting a sluggish local economy. But Dr. Charles Keller, businessman Arch Wood and chef Mark Rosenstein had a vision for a unique restaurant that would use local ingredients to produce food that showcased exceptional flavors.
The restaurant, which would come to be called The Market Place, then located at 10 N. Market St. in Asheville, remains a cornerstone of the city's restaurant scene and is now owned by chef William Dissen, who has made The Market Place the flagship in a larger restaurant empire.
But the role of that restaurant in catapulting Asheville to a world-wide foodie destination was less about the restaurant itself, and more about the concept on which it was founded—the idea that local and independently owned restaurants could purchase a good percentage of their meats, cheeses and produce from nearby farms and ranches, and with them create inventive dishes that reflected the unique flavors of the mountains and wow an eager fan base.
Since the opening of The Market Place, the idea has snowballed, advanced by several key individuals who played pivotal roles by helping to build a network of local farms, forge relationships between farmers and chefs and train the chefs who could work magic in the kitchens.
In other words, the right people seemed to be in the right place at the right time, and now Asheville—a relatively small town in the mountains of North Carolina—punches above its weight class in the global food scene.
In 2022, Asheville brought home two coveted James Beard Awards, a rare and noteworthy feat for a city of its size. The popular tapas restaurant Cúrate took home the award for Outstanding Hospitality, while Indian street food favorite Chai Pani won the Outstanding Restaurant award. The year's successes were followed up by additional nominations in 2023 for chef Josiah McGaughey of Vivian in the River Arts District and Neng Jr.'s in West Asheville.
Where The Magic Starts
Asheville chefs have an advantage over chefs in some other cities in that they can source a decent amount of their food from regional farms and ranches. Lettuces, tomatoes and berries start to make an appearance in the spring, while apples and pumpkins show up in late summer and fall; trout, beef and chicken are available year-round, breads. Western North Carolina is an ideal place to grow and make things. 
However, North Carolina farmers did not always supply this abundance of food. For much of the 20th century, the state's farmers specialized in growing burley tobacco, used in cigarettes. At the time, it was a great crop to grow, in part because the federal government provided quotas and price supports for it, nearly guaranteeing a profit for the farmers.
Starting in the 1990s, farmers in the area began reconsidering the wisdom of growing tobacco. Doctors were warning about the health risks, and states started to ban smoking in restaurants, hotels, workplaces and other indoor spaces. Cigarettes were becoming less popular.
Around the same time, North Carolina joined several other states in settling the lawsuits they brought against large tobacco companies. Money from that settlement, along with a 2004 federal law known as the tobacco buyout, provided a wave of financing that allowed North Carolina farmers to transition from tobacco to the production of grains, vegetables, fruits, herbs, meats and dairy.
"That was sort of the end of tobacco as we had known it for half a century," says Charlie Jackson, founder of the Asheville-based Appalachian Sustainable Agriculture Project, or ASAP, a nonprofit that supports local farms and connects them with buyers and consumers. "That provided funds for communities to go out and seek new opportunities… in the transition from tobacco."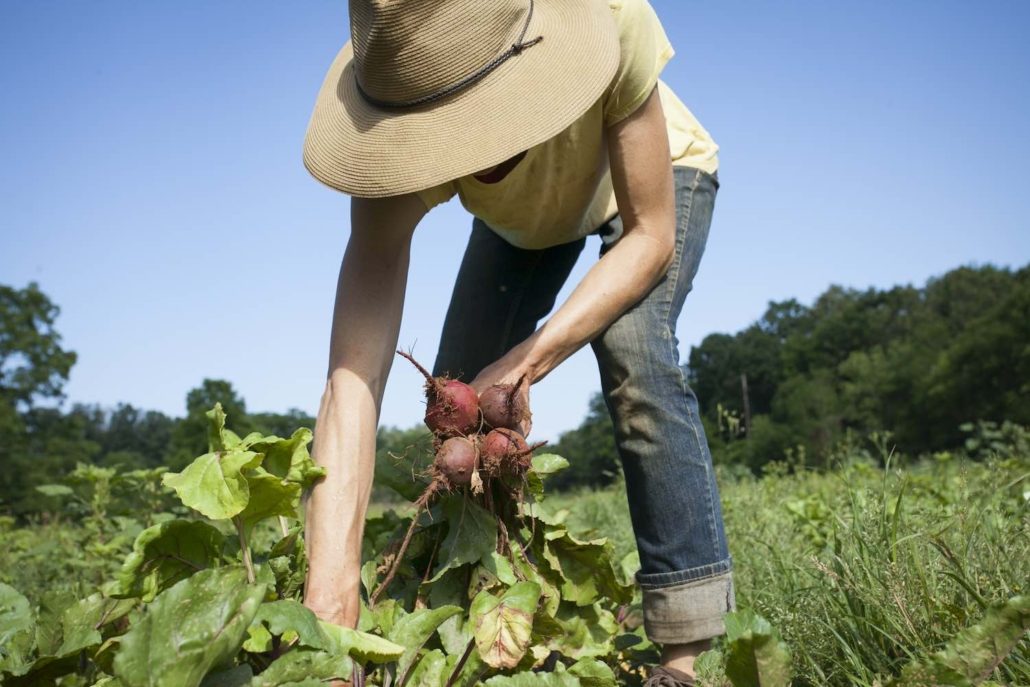 Just as farmers were drafting new business plans, ASAP launched in 2002 and played a key role in building the region's network of farms and ranches. Equally important, ASAP helped to strengthen the ties between farmers and local restaurant owners, forging relationships that still exist today and form the foundation of the region's local food movement.
"The early days of our work was in promoting and helping farmers find new opportunities to sell," Jackson says. "At that time, there weren't enough restaurants in Asheville to be a viable source of income, so we focused on getting markets opened, helping farmers start CSAs [community supported agriculture box deliveries] and getting information out there."
A Vision
When The Market Place opened in 1979, Asheville's downtown area was nothing like it is today. "Downtown was moribund," says Rosenstein, a co-owner and founding chef of the restaurant. "Most of it was boarded up, and there were very few restaurants and very few suppliers of fresh, local produce."
The lackluster state of Asheville's downtown was due in part to decades of financial struggles. While Asheville experienced a glamorous heyday in the early part of the 20th century, pursuing ambitious plans for building and expansion projects, the stock market crash of 1929 left the city in financial ruin—with a lot of debt to repay. Unlike other cities that defaulted on their debt, Asheville vowed to repay every cent and took more than three decades to fulfill that promise, making its last payment in 1977. In the intervening decades, there were few resources to invest in the city and the services that create a bustling downtown.
By the late 1970s, Rosenstein was a few years shy of 30, but certainly not a novice in the kitchen or restaurant business. At the age of 19, he opened the well-known Frog and Owl Café in nearby Highlands with his then-wife Jerri Fifer. By necessity, the couple relied heavily on farmers on the plateau to provide fresh produce.
When his marriage ended a few years later, Rosenstein pondered his next steps. He started teaching cooking classes at The Stuffed Artichoke, a cookware store in Biltmore Village owned by Wood. Through those classes, Rosenstein met Keller, a native of New Orleans and heart surgeon who established Asheville Cardiovascular and Thoracic Surgeons.
Wood and Keller recognized a budding talent and proposed that Rosenstein open a restaurant in Asheville with their backing. After renovating a 60-year-old building, they opened The Market Place on June 9, 1979.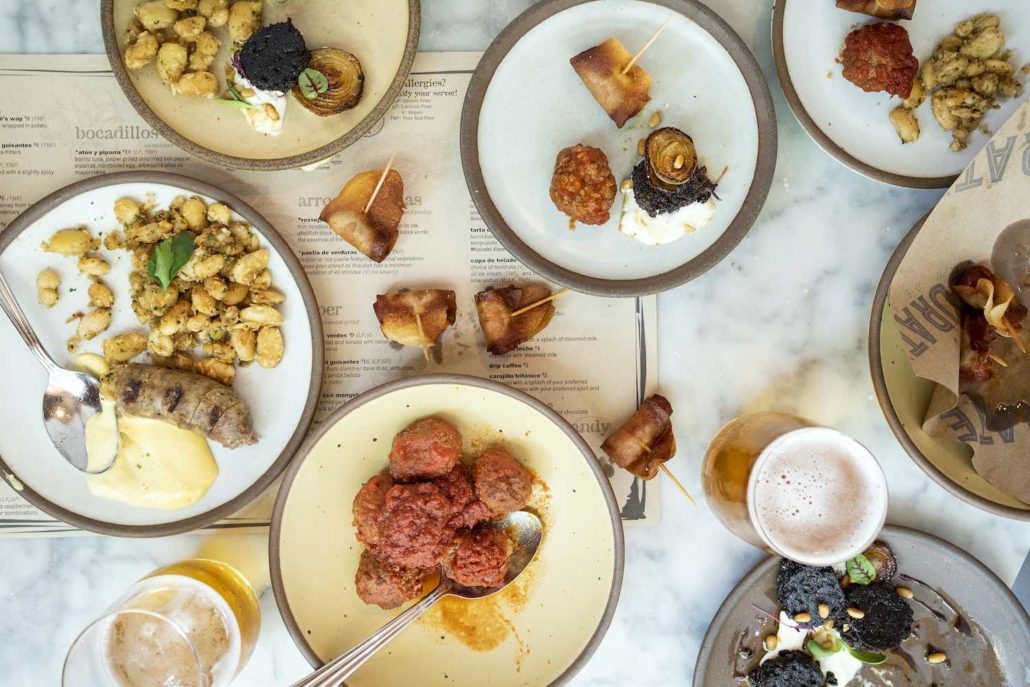 "I was beginning to understand what it meant to be a chef in the European tradition, where they start their day in the garden or open-air market and cook what they find," Rosenstein says. He continued to buy produce from the farmers he knew in Highlands and found other local resources when the North Asheville Tailgate Market launched in 1980.
When Rosenstein discovered that his dishwasher was baking bread and giving it to a nearby "hippie farmer," who was driving to Atlanta to sell it, he enlisted that hippie, Ron Ainspan, to pick up orders for him and deliver them back to the restaurant.
Ainspan would go on to form another key business in Asheville, Mountain Food Products, that was pivotal in jumpstarting a thriving local food community. Located on the sprawling campus of the WNC Farmers Market in Asheville, Mountain Food Products serves as a wholesale distribution company for food grown or produced within 100 miles of the city. It serves dozens of local restaurants and hotels, making it possible for local farms to sell and for local chefs to buy food on a commercial scale.
Early Pioneers
As Asheville continued to develop as a city, a handful of chefs and restaurant owners migrated here, becoming leaders in a budding restaurant scene and forming the foundation of a community that would support each other through various successes and challenges.
Native New Yorker Eric Scheffer moved to Asheville from Los Angeles in 1995 and in 2000, took over a neighborhood restaurant known as The Savoy in North Asheville.
"The Asheville restaurant scene was pretty much a desert, and there was very little upscale," Scheffer says. "We gutted the building, added a bar and turned it into a white tablecloth restaurant. It was an instant success, particularly among people who were moving to Asheville from the coasts."
In the aftermath of the 2008 financial crisis, Scheffer converted The Savoy into a more casual Italian restaurant, Vinnie's Neighborhood Italian, which has become a North Asheville favorite. Scheffer has since opened a second location in South Asheville, along with the popular Jettie Rae's Oyster House on Charlotte Street.
Chef Michel Baudouin was another early leader in Asheville's restaurant scene, making his way to the city by way of Texas. The French native had a successful restaurant in Dallas but wanted to leave the Lone Star State. "I wanted access to farms, and I wanted four seasons," Baudouin recalls.
Baudouin and his wife spent a weekend in Asheville and were smitten by the vibe and potential of downtown. "I walked around downtown with my pad and pencil and phone to see what was open, and then I went into the Asheville Wine Market to see what they were carrying," he says. "It was not just run-of-the-mill wine and Opus One. They carried a lot of small labels from small regions, and I thought if he could have a successful store, it says a lot about the market."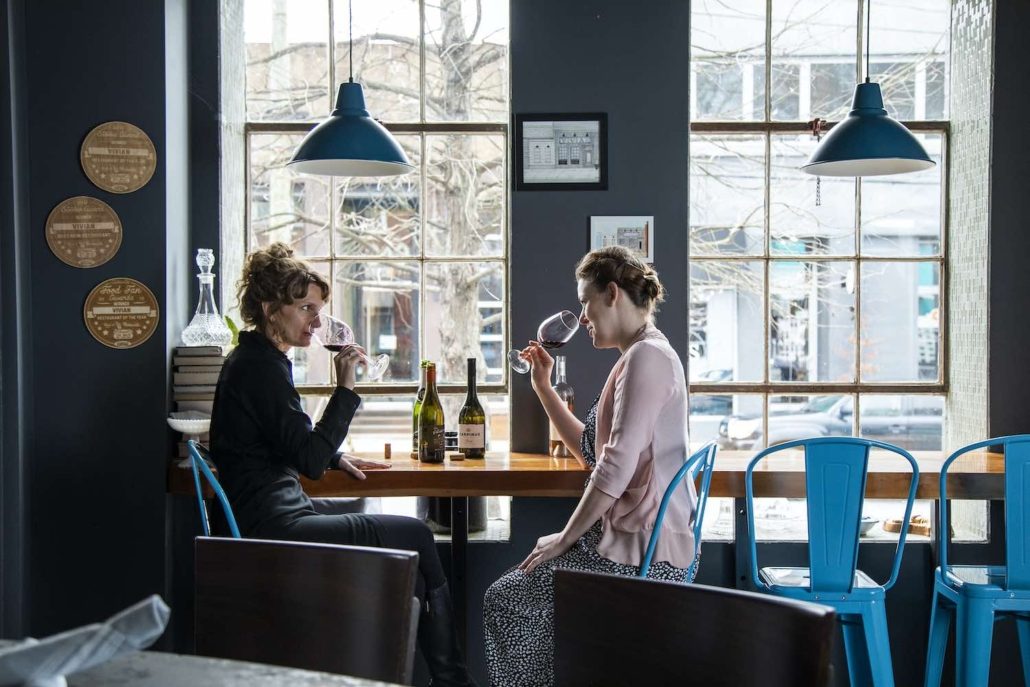 Baudouin opened the Grape Escape in Pack Square in 2001 with 100 wines by the glass, 25 flights and a small plate concept. Even though the restaurant was in a highly visible area of downtown, Pack Square did not have the cluster of bars and restaurants it has today, and the dining concept struggled to catch on locally.
In 2005, Baudouin closed Grape Escape and, a week later, opened Bouchon on Lexington Avenue, Asheville's first French bistro, modeled after those ubiquitous restaurants in France. Bouchon remains a downtown favorite, and Baudouin has also gone on to launch Rendezvous in East Asheville, serving French soul food in a beautiful space that offers breezy outdoor dining and hosts pétanque games.
Both Scheffer and Baudouin were among the founders of the influential Asheville Independent Restaurant Association in 2003. Known as AIR, the group offers a support structure for independently owned restaurants, providing education, training and advocacy. It also hosts an annual event, Taste of Asheville, that introduces local residents and tourists to dozens of local restaurants.
"AIR gave independent restaurateurs a place to be seen and heard, to be represented and to advocate," Scheffer says.
A decade after its founding, AIR had 60 members. Today, it boasts well over 100 and is the largest nonprofit organization of its kind in the U.S.
Taking A National Stage
It didn't take long for the city's marketing and tourism experts to see the potential in Asheville's young restaurant scene. The Asheville Convention & Visitors Bureau started to invest in creating a brand and identity around the local food community and highlight many of the talented chefs and food producers gaining popularity. They landed on the name "Foodtopia" to describe the magic that was happening.
"The campaign started with the concept of Asheville as a Foodtopian Society with an invitation to join us," says Marla Tambellini, senior vice president of marketing for the CVB. "It quickly morphed into 'Foodtopia,' a term we subsequently registered, and with the help of a local task force, it became the centerpiece of a larger brand effort."
The CVB's marketing efforts helped to pull in millions of tourists from around the world—many of them eager to try the trailblazing food being made in and around Asheville. Beyond that, it served to attract even more talented chefs, who wanted to be a part of that community.
"It attracted not just visitors, but also people who visited, fell in love with the town and saw Asheville as a place for themselves to fulfill their dream of opening a restaurant," says Jane Anderson, a long-time executive director of AIR who recently stepped down after nearly a decade in the role.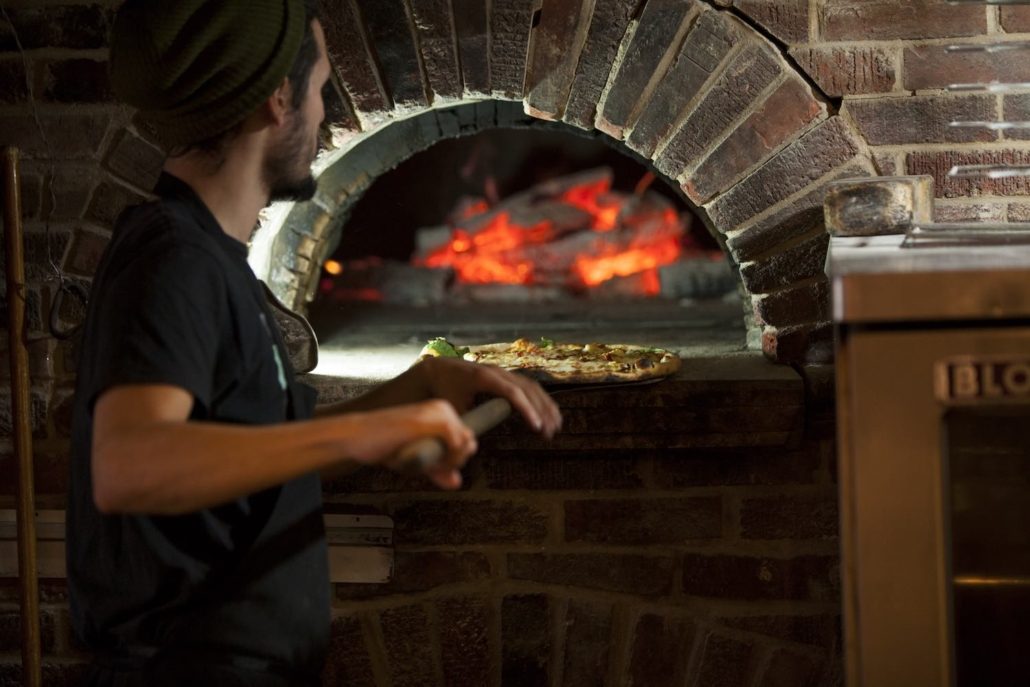 Chef Katie Button, owner of the James Beard Award-winning Cúrate and its sister market and wine bar La Bodega by Cúrate, moved to Asheville in 2010 with husband Felix Meana.
"When Felix and I were thinking of opening a restaurant, we realized we could pick up and do it anywhere. I was raised in New Jersey but born in South Carolina and had family there," Button says. "Downtown [Asheville] had this history and great old buildings. It wasn't as busy when we moved here in January 2010, but there was already The Market Place, Bouchon, Table, Cucina 24 and Chai Pani, so it was clear something was happening."
Button and Meana visited the North Asheville Tailgate Market and saw local farmers selling to chefs and restaurant owners. "There was just a great feeling here, and you could really feel a momentum," Button says.
As Asheville's chefs and restaurants continue to gain national and international recognition, the proverbial tide that rises lifts all boats. The city continues to attract talented and ambitious young chefs who are determined to pave a new path and, just as important, draws a growing base of residents and visitors who are eager to try their food.
"The food scene is a ball that started rolling a long time ago, like a small snowball that kept rolling and picking up more snow," Button says. "The bigger it gets, the more snow it picks up, and it just keeps growing."
Kay West has been a freelance writer and journalist for 40 years, in New York, Nashville and since 2019, Asheville. She has written for local, regional and national publications, covering everything from awards' show red car- pets to death row incarceration, and has authored five books.
Save
Save
Save
Save
Save
Save
Save
Save
Save
Save