FROM FOREST TO PHARMACY
The Wild's Craft makes potent—and delicious—wellness aids from Appalachian plants and mushrooms
Words by Gina Smith | Photos by Nate Burrows
***
Chocolate and honey have always been two of my favorite things. And as an adult, I've developed a love affair with mushrooms, from foraging for delicate morels along mountain trails in the spring to lining the walls of my East Asheville home with whimsical toadstool art. But I have to admit that until I met The Wild's Craft founder Scarlett Grace, "I'd never considered consuming chocolate, honey and mushrooms together. 
Turns out, I didn't know what I was missing. 
Grace is a graduate of the Colorado School of Medical Herbalism and also studied mycology at UNC Asheville and Oregon State University. She launched The Wild's Craft about five years ago as a way to share her knowledge and passion. "I feel so connected with nature and the medicinal qualities that I feel like Mother Nature offers," she says. "I've kind of made it my life's mission to make plant medicine accessible as a healthy alternative." 
The Wild's Craft offers a range of handmade, all-natural products, including tinctures, skincare balms and scrubs, and mushroom "Elixir Mixers" with chai, cacao (powdered raw, fermented chocolate), coconut-based coffee creamer and honey. The cacao and honey mixers are the company's bestsellers and also, happily, the products Grace encouraged me to try during our mid-afternoon telephone conversation—it was closing in on 3 o'clock, my energy was flagging and the afternoon sleepies had set in. 
I followed Grace's suggestion for a simple, quick way to enjoy the cacao and honey together for an afternoon pick-me-up: I put a heaping teaspoon of the mushroom cacao powder in my favorite mug, poured in some boiling water, stirred in a bit of the mushroom honey and topped it all with a splash of creamy oat milk. To satisfy my afternoon munchies, I toasted a thick slice of homemade sourdough bread and slathered it with a schmear of mushroom honey.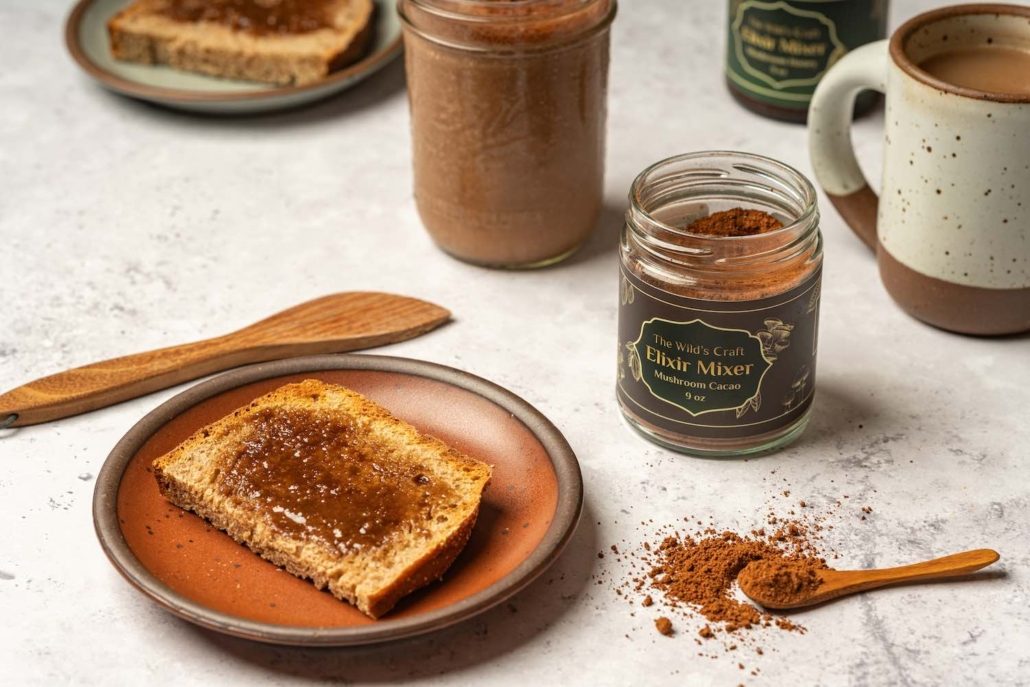 I wasn't sure what to expect from this 'shroomy snack, but it proved to be delicious, sweet and satisfying. Other than a pleasantly earthy, umami undertone to the honey, I didn't detect a hint of mushroom taste in either one. The hot chocolate was rich and smooth; the honey was thick and luxurious with an addictive caramel flavor. 
Better yet, as I sipped and nibbled I gradually began to feel more upbeat and energized. The afternoon was looking up. 
The mushroom cacao Mixer Elixir contains 11 medicinal mushrooms, including powerhouses like brain-boosting lion's mane, immunomodulating reishi and energy-enhancing cordyceps. The honey Mixer Elixir—Grace's favorite—contains fewer fungi but in higher quantities. 
"When you blend the mushrooms with the cacao, that's a stimulant, so it really brings the energy and blood flow," she explains. "The honey is like a sweet, covert way to get your daily dose of vitamins along with seven different types of medicinal mushrooms. Elixir Mixers are made for folks who want their medicines to taste good. That's kind of our thing." 
The next afternoon, I decided to experiment further—all in the name of journalistic research, of course. I blended a frozen banana with oat milk, a spoonful of mushroom cacao and about a teaspoon of the mushroom honey to make a frothy, cold smoothy. I also took some inspiration from my friend, local ethnobotanist Marc Williams, and whipped up some "bliss bites," combining almond butter, dried cranberries, chopped pumpkin seeds and honey then rolling the mixture into little balls that I dusted with mushroom cacao like chocolate truffles. 
The result? Well, let's just say it all disappeared very quickly, and I once again received a pleasant bump out of my afternoon slump. I resolved to begin adding some of these products to my daily routine, even if just stirring some mushroom honey into my morning cup of tea.
Grace and her team grow and wild-harvest most of the mushrooms and healing plants they use in their medicines on a plot of land with a greenhouse and mushroom cultivation facility in Barnardsville. "Whatever we can't grow ourselves or wild forage here in Appalachia, we source sustainably either locally or from this amazing couple who grows mushrooms out in Oregon," says Grace. 
In addition to its line of products, The Wild's Craft offers retreats to Central America where Grace once lived, and the company is currently developing a plant and mushroom education program for children that Grace hopes to soon bring to local schools. As a neurodivergent child, Grace says, she struggled desperately in school and ultimately dropped out, feeling as if the system had tossed her aside. In childhood, she says, her life lacked a needed consistency that she later found in nature. 
"I always knew my elderberry bush was going to bloom at the same time every year, and I always knew these certain types of mushrooms will form symbioses with certain types of trees," she says. "Through that I was able to connect really deeply with something I had longed for my whole life. So I want to bring accessibility [to plants and mushrooms] to the education front. … I wish I'd had that when I was young." 
In the end, says Grace, her business is really about connecting people with nature. "We take medicinal mushrooms and blend plants with them just like nature intended. It's all for making medicine accessible to everyone, bridging the gap between the forest and the people." 
---
Gina Smith lives in Asheville and has been writing about food and agriculture for local, regional and national publications for more than a decade. When she's not writing, editing or gardening, she coordinates the Asheville-Buncombe Food Policy Council and is part of the leadership team for the WNC Food Justice Planning Initiative.
Save
Save
Save
Save
Save
Save
Save
Save
Save
Save
The Wild's Craft offers a range of handmade, all-natural products, including tinctures, skincare balms and scrubs, and mushroom "Elixir Mixers" with chai, cacao (powdered raw, fermented chocolate), coconut-based coffee creamer and honey.