Four-Season Farming
Thanks to hoop houses and hydroponics, cold weather doesn't stop the harvest
BY Jen Nathan Orris
Anna Littman of Ivy Creek Family Farm in Barnardsville stands in her hoop house, a blanket of lettuce and spinach at her feet. She gingerly walks between the rows and reaches down to pick a few spinach leaves, cradling them in her hand.
"This is a miracle to me," she says, eyes wide. "Do you see the white crystals on here?"
It's as if the leaves are dusted with powdered sugar—and, in fact, they are. When frost hits a spinach plant, its leaves convert starches into sugars to lower their freezing temperature: a layer of sugar crystals forms on the leaves to protect them from the cold. "Spinach makes a coat for itself," Anna says. After 10 years of farming, she is still amazed by the process.
The chilly winter nights in Western North Carolina fundamentally change the flavor and texture of greens, she explains, making the spinach significantly sweeter. "When you buy spinach in a clamshell in the grocery store from California," she says, "you don't get those subtle differences."
Residents here no longer have to turn to California for all their winter vegetables, thanks to innovations in growing techniques. Farmers like Anna and her husband Paul Littman turn to hoop houses to produce greens in winter, and William Shelton of Shelton Family Farm grows lettuce all year with a hydroponic system. They're part of a growing movement of local farmers who tend vegetables long past the traditional growing season to provide the community with fresh greens even in the coldest months of the year.
Anna and Paul discovered which varieties of spinach grow best during mountain winters by testing them in their fields and hoop houses. They painstakingly catalogued the performance of several varieties by recording the weight and characteristics of each sample. Paul says these grant-funded spinach trials were eye-opening, and that the empirical data has informed their growing decisions ever since.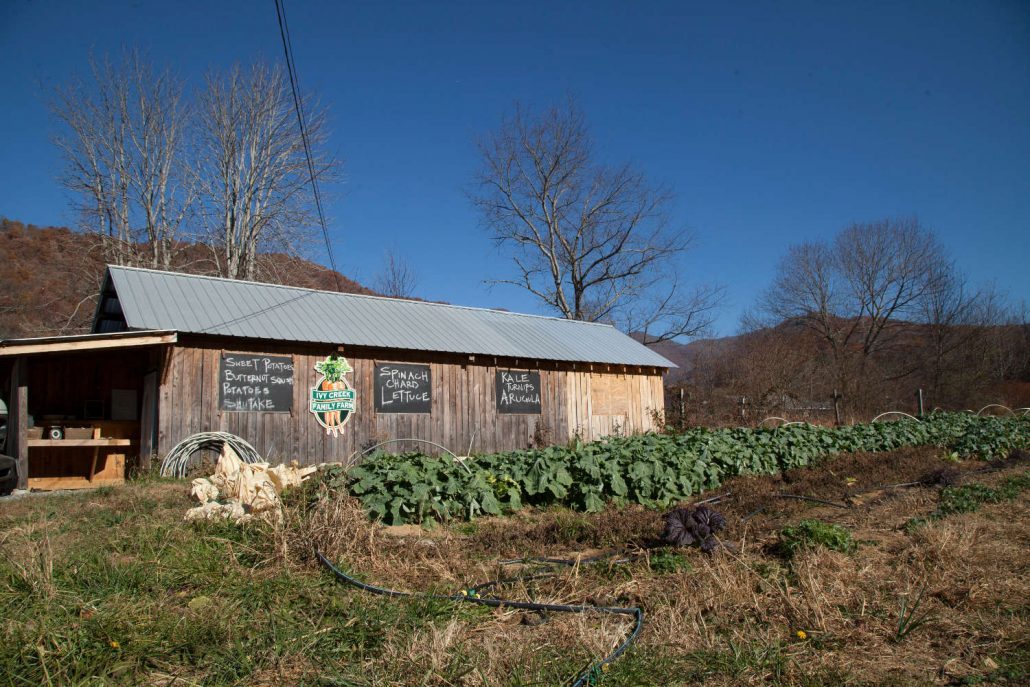 In early winter, they grow a spinach variety called Flamingo in the field. Its leaves are pointed like an arrow and grow upright, which makes washing off the soil after heavy rain much easier. They also grow two semi-savoy varieties, known for their crinkled leaves, in hoop houses through mid-January. Paul says that simultaneously growing greens in hoop houses and fields helps them manage unexpected weather and ensures that "we always have something thriving."
Maintaining the hoop houses is their first priority. Vegetables are planted directly in the soil and protected by a large metal frame covered in sheets of plastic. The hoop house relies on passive solar heating instead of electricity or propane, and the temperature is generally 20 degrees warmer than it is outside.
"A sheet of plastic can make it feel like a different continent," Anna says. "We don't need to go to a tropical island; we just enter our hoop houses."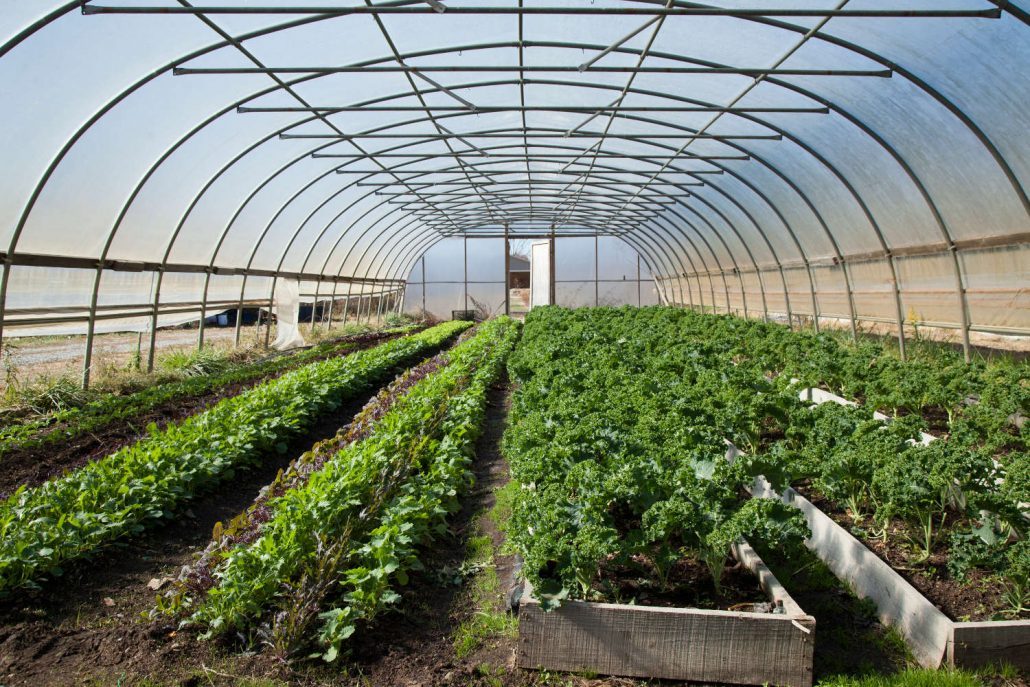 Getting their first hoop house to Barnardsville was not exactly a vacation. Paul found it on Craigslist and made the six-hour roundtrip to Greensboro twice, in the rain, to take it apart and drive it home. "We promised we would never do that again," Anna jokes.
Their second hoop house was partially funded by a USDA grant, and both have proven essential to their business. "The most valuable real estate on our farm is what's underneath these hoop houses," Anna says.
She estimates that the spinach in the field yields about 60 pounds per harvest, while the hoop-house spinach produces 200 pounds per harvest. (Each plant can be harvested 4–5 times per season.) The uniformity of the growing conditions, as well as the tighter spacing in the hoop house, improves the yield, and the frost that creeps through the hoop house at night improves the flavor.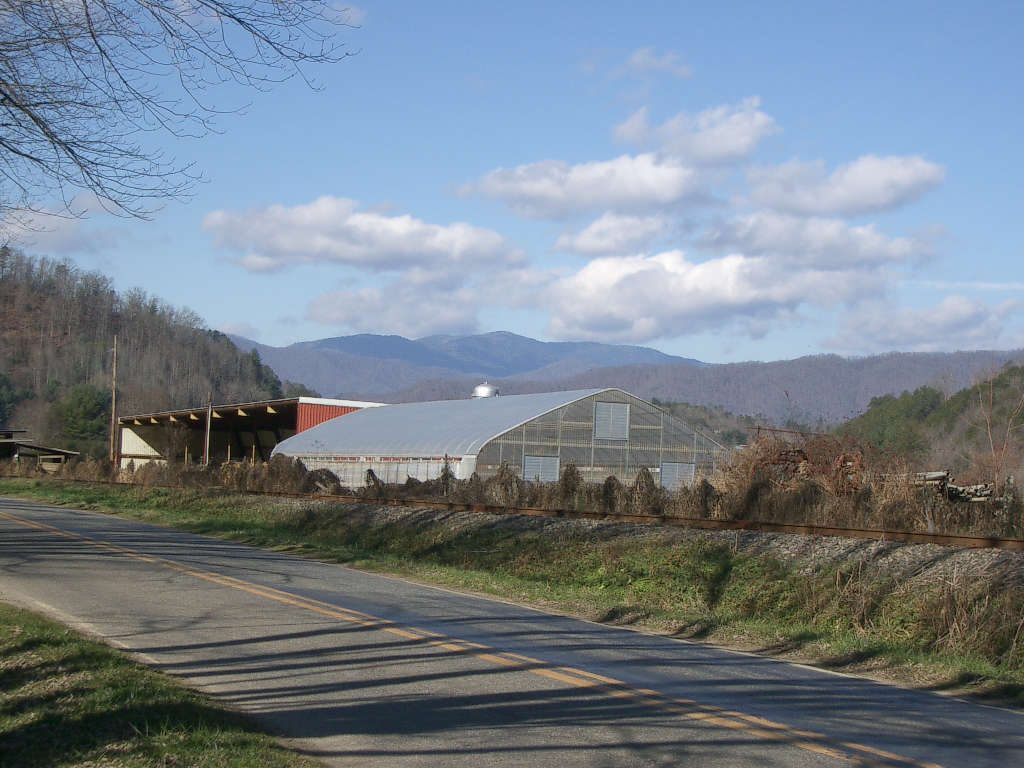 Lettuce, on the other hand, can be damaged by hard frost and needs more protection to survive the winter. That's why Shelton Family Farm in Whittier keeps its greenhouses at 55–65 degrees all year.
William Shelton, a fourth-generation farmer, uses propane to heat his hydroponic lettuce operation. The word hydroponics is derived from the Greek words "hydro," for water, and "ponos," for labor, and the process is certainly labor-intensive.
"I kind of liken it to being in the dairy business," Shelton says. Cows need daily attention and so do hydroponic operations. "You have to be there every day," Shelton says, adding that he's fortunate to have five full-time employees to share the burden.
Shelton started growing hydroponic lettuce in 1986, long before the method became trendy. He first heard about hydroponics at a trade show in Raleigh from a man who owned a greenhouse company. "He was off in the corner and not a lot of people seemed to be talking to him," Shelton recalls.
Shelton had been searching for a crop to replace his family's tobacco operation, and he saw potential in this unconventional growing method. Lettuce can be grown hydroponically year-round, which has allowed him to stabilize his income and hire full-time employees instead of seasonal labor.
The hydroponic system was a major investment for his family farm. Shelton says his initial cost in the mid-1980s was about $200,000. He still uses much of the same equipment, including manual instruments like a TDS meter, which monitors the nutrient levels in his growing solution by measuring electrical conductivity.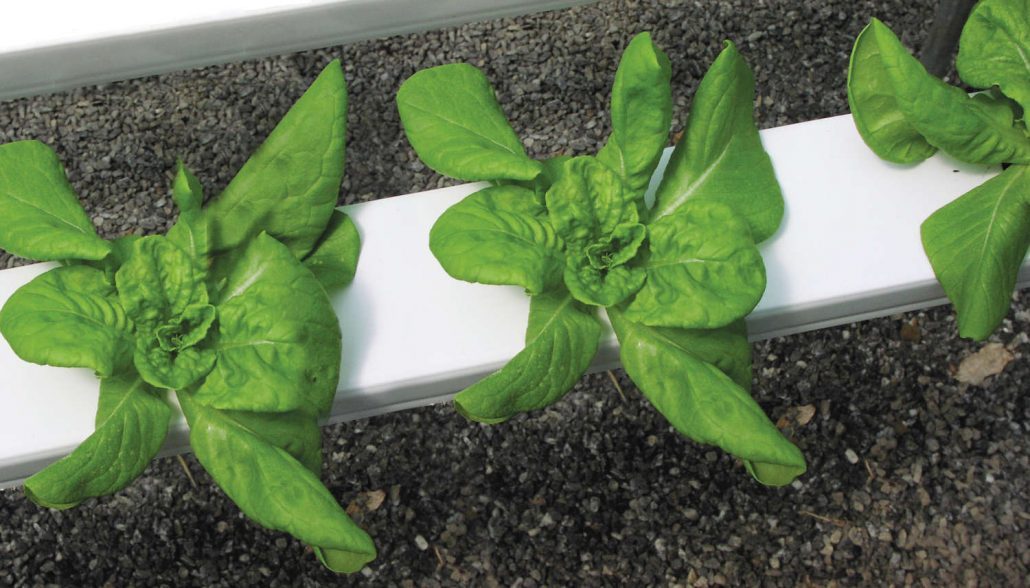 He raises the lettuce transplants from seed, then places them in a nutrient flow tray system, which is essentially a series of PVC channels. Fresh water is pumped through the channels 24 hours a day. Some water is absorbed by the plants, and the rest flows into a gutter and then back into the tank in a continuous cycle. Nutrients in the water provide the trace elements and micronutrients that the lettuce would otherwise absorb through soil.
It sounds complicated, but it's fairly simple compared to newer hydroponic systems. "We kind of do it the
old-fashioned way," Shelton says, acknowledging that technology has changed a lot over the years. He's hesitant to invest in "bells and whistles," such as vertical growing towers, as long as his current system is still efficient and consistent.
He currently sells about 11,000 heads of lettuce per week to Ingles Markets and Food Lion, packaging the heads individually with the roots still attached. A sticker with an image of a mountain landscape, along with his farm name and contact information, lets customers know their lettuce is locally grown.
Back at Ivy Creek Family Farm, Paul Littman plunges freshly-picked spinach into cool water in a triple-bay stainless steel sink. He gives the leaves a good shake, dips them in the second bay to remove the last particles of soil, and places them in a large plastic basket he'll use to spin the spinach dry.
He extols the virtues of this winter green while he works, wondering why spinach still has a cringe-inducing reputation in some circles. He points out that many people's first experience with spinach was being force-fed soggy spoonfuls of frozen or canned spinach as children.
When Paul is behind his booth at farmers markets, some people declare their aversion to the vegetable. He urges them to try it anyway, explaining the difference in texture and flavor. He says many customers come back for more the next week, and the week after.
"Spinach is one of those vegetables that when most people eat it in the winter, it just rocks their world," Paul says with a grin. "Cold weather makes spinach taste like the most amazing thing you could ever imagine."
Jen Nathan Orris is a freelance writer and host of ASAP's Growing Local podcast and radio series.
Editor's note: Reporting for this story was supported by a grant from ASAP, the Appalachian Sustainable Agriculture Project. Edible Asheville retained editorial control.
Save
Save
Save
Save
Save
Save
Save
Save
Save
Anna Littman and her son Abraham at Ivy Creek Family Farm, above; Paul Littman of Ivy Creek. Ivy Creek photos by Erin Adams.

William Shelton of Shelton Family Farm. Shelton Family Farm photos courtesy of ASAP.