EATING WTIH THE SEASONS
Exploring Asheville's Bounty Through the Lens of Traditional Chinese Medicine
By Lili Breiter | Photos by Erin Adams
Acupuncturists abound in Asheville. The ancient healing practice, famed for its use of pressure points and needles, is likely the first thing that comes to mind when people think of traditional Chinese medicine. But along with training in herbalism, movement, and meditation techniques, practitioners also possess vast insight into something else that Ashevillians are especially fond of: food. And, as many Asheville practitioners will tell you, optimal health truly begins with what you put on your plate. 
TCM is similar to India's ancient holistic healing system, Ayurveda, in that its goal is to bring a body into balance. But while Ayurvedic medicine focuses on three individual constitution types, or doshas, TCM is based on five elements found in nature—wood, fire, earth, metal, and water. Each element relates to a season (summer is divided into early and late), a primary organ, an emotion, a color and a flavor. These groupings correspond to foods we should be eating seasonally to bolster particular aspects of our physiology that may be more affected during that time of year. They all fall on the spectrum of yin (the coldest, correlating with winter) to yang (the hottest, paired with early summer), and each season builds on the next. 
The five elements are typically depicted in a pentagon configuration, but occasionally a visual representation will show earth at the center and the other four revolving around it. This makes sense when one considers that the earth element signifies the stomach and spleen. And that the digestive system, much like the earth itself, is foundational to everything; other systems fail if it is not properly sustained. 
ALCHEMY
"Food is medicine, and Chinese medicine really emphasizes this. At the same time, it depends on who you are, the time of year, the time of day, and the amount. Anything you do extremely habitually is, generally speaking, not a tenet of balance," explains Emmy Bethel, owner of Alchemy, a wellness center just north of downtown Asheville. "'Everything is medicine and everything is poison' is one of my favorite Chinese proverbs. It's all about moderation." 
Housed in a charming 1920s bungalow tucked behind Charlotte Street, Alchemy has been well known for its tea room, which long served staples like bone broth, vegan broth and kitchari, a nourishing stew made with mung beans that's used as a cleanse to help reset the digestive system. Kitchari is an Ayurvedic dish, but is used by TCM practitioners as well. 
While the culinary aspect of Chinese medicine was the original impetus for opening Alchemy, its cozy dining space is unfortunately no longer open. Bethel is hopeful, however, about continuing to offer certain prepared foods to go. And even sans tea room, clients can still receive acupuncture treatment in one of the peaceful, lovingly decorated rooms of the old house and marvel at the apothecary's floor-to-ceiling wall of glass canisters filled with colorful herbs while they wait for an herbalist to package their own unique blend. 
Bethel urges locals to take advantage of the abundant opportunities for good health that our mountains afford. Now is the time of year, she points out, when the forests surrounding Asheville are rife with medicinal foods free for the foraging—mushrooms, ginseng, and nettles (Bethel's favorite) are all revered in TCM. And for those who prefer to stick closer to town, meandering through one of the many local farmers markets to select ingredients for a wholesome dinner can be just as satisfying. 
"Eat the things that are growing here. Those are the things that are appropriate for the time of year and for our bodies that are aligned with the rhythms of this region," she says.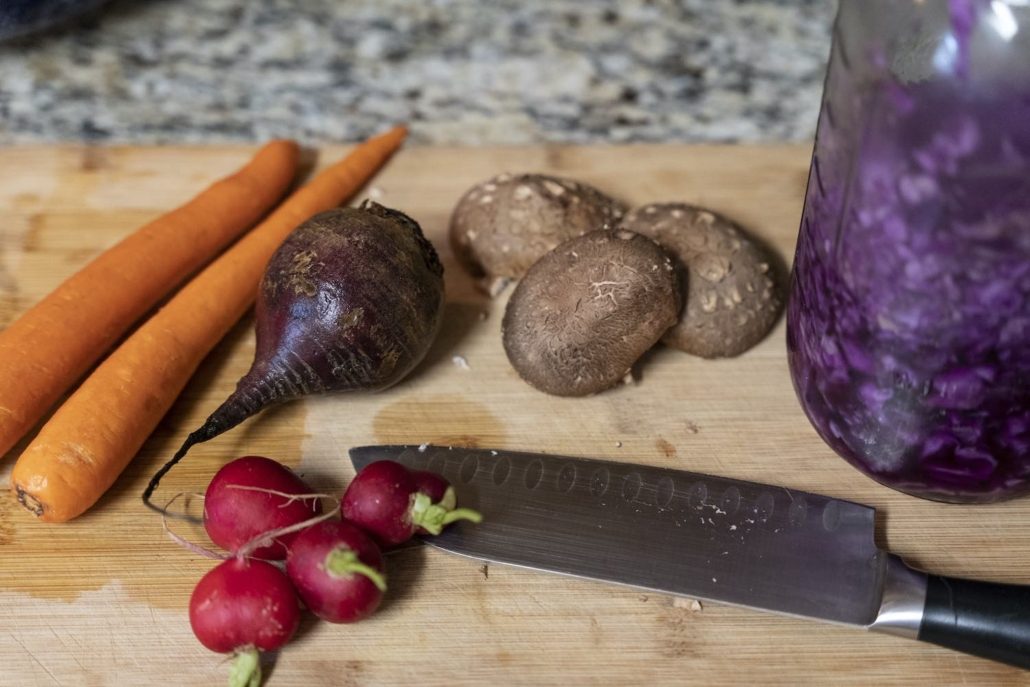 THE JOYFUL BUTTERFLY
Parris Marks has been fascinated by the power of Eastern healing practices ever since she successfully alleviated chronic back pain as a teenager through daily yoga. She earned a degree in mind-body health and perceptions of global health, and then set out to travel the world, ultimately graduating from Daoist Traditions College of Acupuncture and Chinese Medical Arts in Asheville. Marks now owns The Joyful Butterfly, a holistic wellness office that provides healing sessions with acupuncture, Chinese herbal medicine, and dietary counseling. 
"Chinese medicine is personal; it's intimate. You really get to know your body and get to know the way you relate to things," Marks observes. "The main things we talk about in TCM are eating regularly, paying attention to how you eat and when you eat, and then avoiding anything in excess." 
Marks identifies the usual suspects to avoid when possible: sugar, dairy, refined flours, and fried foods. Perhaps surprisingly, the list contains raw foods as well. 
"Some of the major ailments that come from digestive disturbances result from a cold stomach, because the stomach has to work too hard to digest the food," she explains. However, limiting raw food intake has some exceptions. "When a food is fermented, it changes the digestive capacity of it; alternatively, adding vinegar is another way to stimulate the digestive juices. And raw foods by themselves are actually acceptable in the summer." 
Indeed, another pivotal rule of the TCM diet is to pay attention to the temperature of the food you are eating in relation to the time of year. Many Western fad diets promote cold, raw foods like salads, smoothies, and acai bowls year-round, but TCM experts believe the summer months are the best time of year for these to be consumed. 
"Cucumbers and watermelon are two of those classic examples in Chinese medicine where the fruit of the season balances out the symptoms that might come up. They are great for clearing out heat and wonderful for hydrating," says Marks. 
During her travels in China, Marks discovered a dish using one of these ingredients that has proven unforgettable. On a sweltering summer day, she was served fresh cucumbers crushed up with garlic and topped with sesame oil, tamari, and minced herbs. "It cleared the heat right out," she remembers. "And the oils and tamari are almost astringent, helping to nourish a deeper layer." 
FLOWER MOUNTAIN ACUPUNCTURE
North Carolina native Dov Shoneman earned a master's degree in traditional Chinese medicine at the renowned Five Branches University in Santa Cruz, California, before returning to his Appalachian roots. He is now part of Flower Mountain Acupuncture, a collective located just west of downtown. 
"Growing up, my parents instilled in me a reverence for eating food out of the garden," recalls Shoneman. He has carried this appreciation throughout his life, and when he discovered Chinese medicine, it just made sense. 
"In TCM, different foods are relevant not only for their seasonality and taste, but also their colors. Green foods aid the liver and gallbladder. Yellow and orange are for digestion, the spleen and stomach. A black raspberry or blueberry will nourish the kidneys. We say to eat the rainbow; it's pleasing to the eyes, as well as the digestion." 
While food is certainly fundamental to peak health and balance, another large component of Shoneman's work is effectively implementing acupuncture, a complex and integral aspect of one's training as a Chinese medicine specialist. 
"I help people recognize how their body is expressing imbalance, using acupuncture to open the channels," he explains. "The needles seem to be a very potent part of that. They help the energy move, which replenishes the nervous system. I joke that when you literally pin people down for 30 minutes, and they can't get up to look at their phone, they have to look within themselves and they have to feel." ◊◊
Save
Save
Save
Save
Save
Save
Save
Save
Save
Save
Parris Marks of the Joyful Butterfly
Dov Shoneman of Flower Mountain Acupuncture