COOKING WITH BEER
Local chefs talk braising, baking, glazing, and barbecuing with America's favorite after-work beverage
By Anne Fitten Glenn | Photos by Erin Adams
At no other time in American history has there been such a diversity of food and beer options. Unique ingredients from all over the world, locally grown foods, and thousands of different craft beers somehow evolved from America's mid-20th-century culinary culture of meat and potatoes and domestic lagers. Today, it's easy to find great food and great beer, especially in and around Asheville, home to dozens of breweries. So why not combine the two when cooking? Numerous local chefs are already doing so.
"We use beer in recipes in a lot," says Michelle Bailey, executive chef and co-owner at Asheville's Smoky Park Supper Club. "We want to pay homage to what local artisans do because this area is super-gifted with so many creative producers. We have amazing cheese makers, so many great farmers, and, of course, amazing craft-beer makers."
Growing up, my own mother always added a can of beer to chili and stirred a couple tablespoons of the liquid into homemade pimento cheese. Back then, her beer choices were limited to a few brands of nationally distributed lager, but Mom understood that beer cuts richness and adds flavor to food. Bailey incorporates beer into her menu for similar reasons.
"Beer adds body and flavor and lots of aromatics to a dish," Bailey says. "Each ingredient in the beer has an overall effect on the balance of the flavors and what it does when it hits your palate."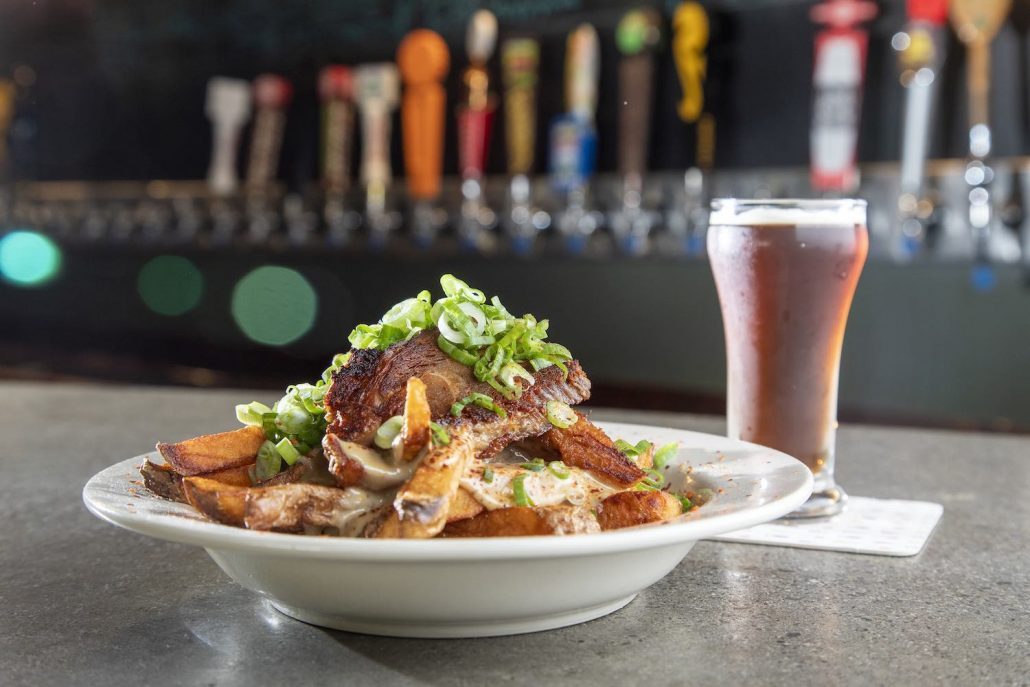 Using beer in sauces for grilling, braising, or barbecuing is a common technique. As a bonus, it's a way to add flavor without fat. "We've been making beer-themed barbecue and hot sauces for our customers for about three years, mostly because so many great local beers have sprung up," says Jeff Miller, owner and pit boss of Luella's BBQ, which has two locations in Asheville. "We try to use beers that are on the maltier side to add to the sweetness of the sauce. Beer really builds the sauce's flavor profile." Miller often uses special-release brews to create Luella's sauces, noting that pumpkin ales make a great fall condiment, and holiday-ale-infused sauces add interest to winter meals. For example, Asheville Brewing's winter seasonal, Ninjabread Man Porter, is one of Miller's favorites to make into a sauce. He says the beer's molasses, raisins, cinnamon, and vanilla create a tasty and complex accompaniment to barbecued beef and pulled pork. "Mostly we use beer in tomato-based sauces, but we spike Lusty Monk Mustard [another Asheville product] with a local pale ale or IPA and call it Drunken Lusty Monk Mustard Sauce," says Miller. "Stouts make a great glaze for finishing grilled ribs or for any kind of meat. Get a little char on the stout, and it caramelizes beautifully."
Taking full advantage of Smoky Park Supper Club's wood-fired kitchen, Bailey says beer pairs particularly well with smoky, charred foods. "A braise is an excellent place to use beer in place of water. Use a mixture of half beef broth and half of a porter-style beer to braise bone-in meat. Then you can pour off the liquid and reduce it to make a sauce."
Like Miller, she adds beer to a housemade hot sauce. The resulting concoction can be sprinkled on almost any dish for extra punch. Bailey uses beer as a brine for pork chops as well. "We brine them overnight with salt, brown sugar, and aromatic spices," she says. "Typically, brines are made with water, but we sub out half beer for water. We use a lager for that because we don't want it to be too overwhelming for the pork."
Matt Kuver, executive chef at Mad Anthony's Taproom & Restaurant in Waynesville, enjoys cooking in a restaurant that has 50 rotating beer taps to inspire him. "Beer has a number of properties that make it useful in cooking," he says. "Generally speaking, if I am looking to enhance a dish with a bit of depth, I'll add a darker, full-bodied beer." He braises meats with roasty porters because he says they add a "deep bass-note" flavor. However, "if I'm looking for a lighter, bitter note, I'll use an IPA or an American pale ale."
Kuver points out that a beer's alcohol, as well as its inherent flavor, can have an impact on a dish. "The alcohol content of beer also grabs a few more flavonoids [flavor compounds found in herbs and fruit] from your aromatics and ingredients," he says. "Not so a chef can use fewer herbs—but to help accentuate the notes that are over- looked or aren't taken advantage of with classic cooking techniques."
The diversity of the craft beer scene gives Kuver a wide palette to work with. "I am still experimenting daily with cooking with beer as there are so many styles and techniques in brewing," he says. "I have figured out that the maltier and full-body, dark styles are fantastic for de-glazing and finishing. They add sweetness without processed sugar. IPAs and other hop-forward styles tend to lose a lot of what is special about them when applied to heat. So I prefer to sub those for vinegars in dressing or marinades."
Kuver has discovered a few combinations that work well. "Sweet lambics and salty goses for vinaigrettes and brines, usually in combination with traditional ingredients. Ambers and lagers are great for bier cheese or fondue. Spicy seasonals can be tempered into a glaze for desserts. Porters and stouts tend to be my go-to for long cooking, but pilsners offer a good backbone for steaming with aromatics."
For baking items such as brownies or candy making, substitute beer for water, typically at a one-to-one ratio. You can mix a chocolaty stout into chocolate desserts and a light lager or fruited beer into more delicately flavored confections. Take a page out of the playbook of local ice cream shops The Hop and Ultimate Ice Cream, which almost always have at least one option made with local brew, and incorporate beer into ice cream to liven up that dessert.
"Beer lends itself to so many things," says Bailey. "We use a pale ale for our beer cheese gravy, which gives it a yeasty back note that pairs well with the aged cheddar we use in the recipe. Beer adds a depth of flavor without having to add beef or chicken broth. So, it's a way to keep it vegetarian but still add flavor. "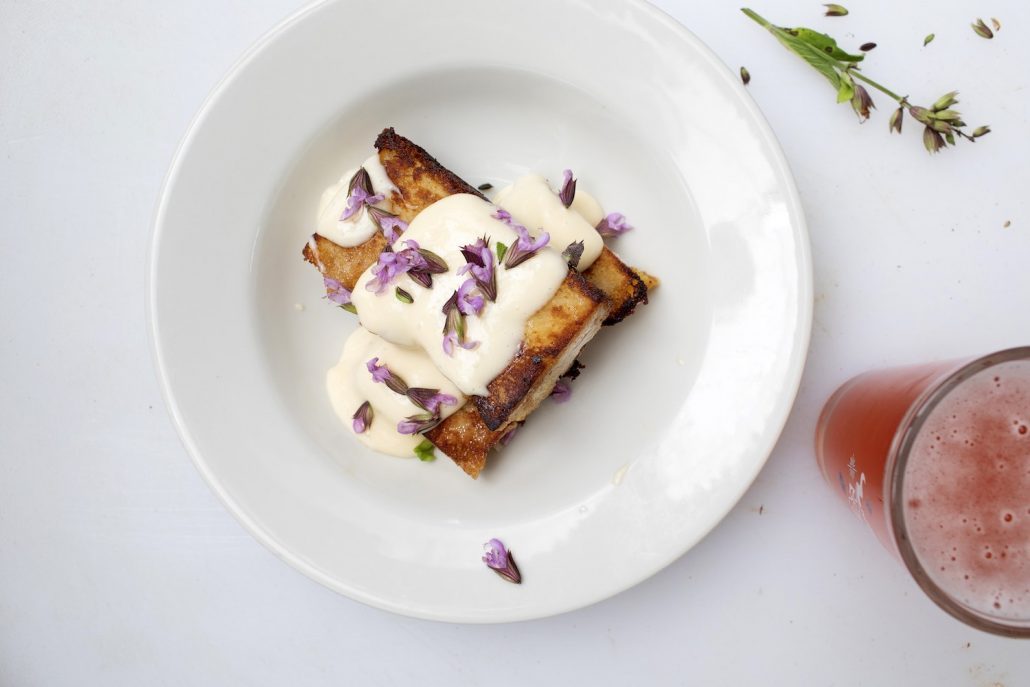 Note that all or almost all of the alcohol in beer eventually evaporates with heat. If beer isn't heated, as in my mom's pimento cheese, the alcohol remains. Bailey and Kuver cook with wine as well as beer, but both stress how differently the two liquids play in recipes.
"Wine is the classic or traditional cooking ingredient and consistent with a certain desired effect and flavor profile," says Kuver. "There are many ways beer and wine can be used similarly. However, the biggest difference in my opinion is the obvious tannin and nitrate content in some wines, which adds dryness."
Another difference is the amount of carbonation in most beers. Bailey says it's best to heat beer slowly. "Because of the carbonation, you have to be more careful with beer. That gas can react with heat. But it gives more effervescence in the final product than wine."
"I feel like beer brings a little more funk to the party than wine does," Bailey adds. For example, she notes that sour beers make an amazing vinaigrette to toss in salads or with fruit, or drizzled over seafood.
Other local restaurants that regularly add beer to menu items include Asheville Pizza & Brewing, AUX Bar, Boojum Brewing (Waynesville), Chestnut, Corner Kitchen, Foothills Local Meats, The Montford Rooftop Bar, Pigeon River Grille (Canton), Bhramari Brewing, Rise Above Deli, Thirsty Monk, and Trailhead Restaurant (Black Mountain). This is by no means an exhaustive list.
Each of these chefs emphasized being bold and creative while cooking with beer.
"If you're having a beer dinner, or know of specific beer that you and guests will be having with dinner, you can use that beer in a dish and see what it tastes like when it's cooked and mixed with various ingredients," says Bailey. "That's a lot of fun." ◊◊
Anne Fitten Glenn is the author of two beer history books: Western North Carolina Beer and Asheville Beer. She lives within walking distance of a dozen breweries and loves writing about, cooking with, and drinking craft brews.
Save
Save
Save
Save
Save
Save
Save
Save
Save
Save
Michelle Bailey, executive chef and co-owner at Asheville's Smoky Park Supper Club, says using beer in her recipes allows her to pay homage to local brewers.
Matt Kuver, executive chef at Mad Anthony's Taproom & Restaurant, has 50 rotating beer taps to inspire his dishes.