CONNECTING AMID CHAOS
Breweries find new ways to support each other, staff, and community
BY ANNE FITTEN GLENN | PHOTOS BY ERIN ADAMS
When the pandemic shut down taprooms throughout North Carolina, cutting off a major source of revenue for brewers in the region, beer makers had to be just as resourceful as their compatriots in the restaurant industry to stay alive. They moved quickly to offer curbside pickups and to-go orders, shifting their focus to canning their beers and finding other ways to get their beer into the hands of customers who could no longer visit their taprooms. 
Just as important, however, they were forced to find innovative new ways to stay connected with customers, who had used taprooms as gathering places and watering holes, and they found themselves strengthening ties with other breweries and the community as a whole. 
While North Carolina has since eased restrictions on taprooms, and is once again allowing visitors, a two-month shutdown from March to May sent breweries scrambling. Near the top of their priority list was finding a quick and easy way to communicate with customers. 
Highland Brewing Co. took to social media to try to stay engaged, much like other breweries that held virtual guided beer tastings, streamed live music from empty taprooms, hosted online panels and educational webinars, and even offered online trivia and costume contests. Highland President and CEO Leah Wong Ashburn and her husband, Brock, who is vice president of operations, joined the effort with a live video broadcast via social media from their Asheville home—discussing everything from new beers to haircuts and Kelly Clarkson.
"Just like everyone else, we were months into the shutdown at home and stir crazy. We let it show," Ashburn says. 
While breweries figure out how to stay afloat, both financial and emotional support from customers is essential. It's a reinforcing loop of socially distant patronage in a dramatically changed landscape. 
When Phase II of North Carolina's reopening plan was announced in late May, Ashburn was elated and immediately posted a video. "I was so excited that I didn't say when we were opening, and a handful of eager fans showed up at the brewery within the hour," she said. The brewery didn't actually reopen until a week later. 
Another one of Asheville's popular breweries, Asheville Brewing Co., stayed closed for a few more weeks after reopening became an option. "We were cautious, conservative, terrified," said Mike Rangel, Asheville Brewing president and co-owner. "Plus, waiting gave us time to see what other people were doing." 
Once they did open their doors, the ability to see some of the brewery's regulars was a huge psychological boost, Rangel says, even from a distance and behind masks. One customer, who wanted to remain anonymous, came by and left a $2,500 tip. "She said she'd decided that she was going to pick her five favorite places in Asheville that she couldn't imagine living without, and we were one of them," Rangel says. "Thinking about it always chokes me up." 
Connecting with Community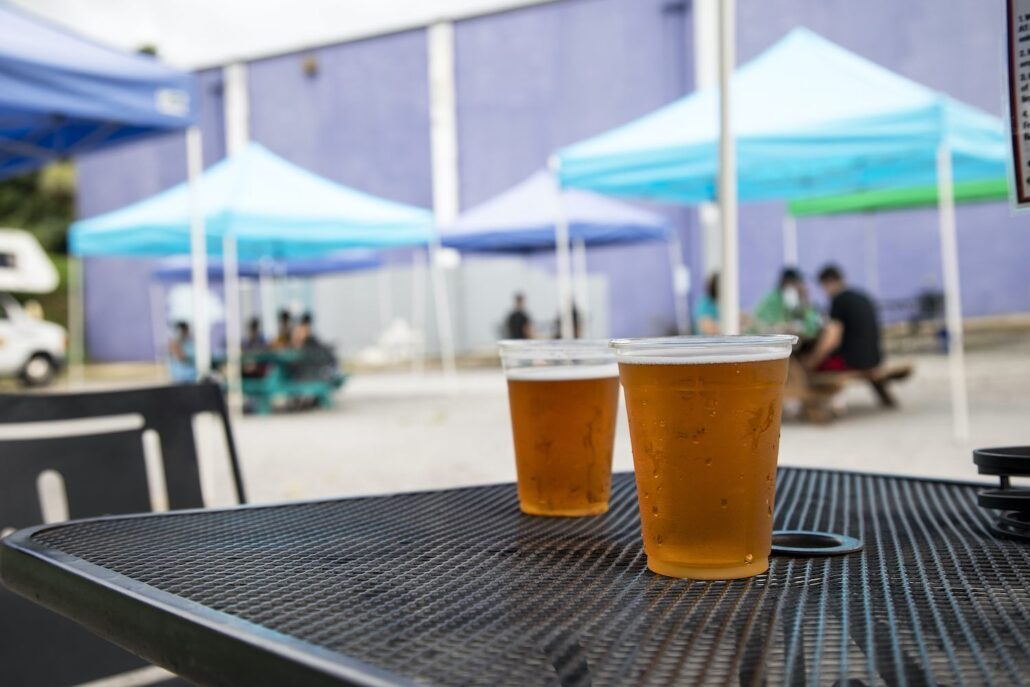 Local breweries have a storied history of collaboration and community support. Pandemic collaboration beers, with portions of proceeds benefiting nonprofits, have sold out quickly. 
Riverbend Malt House organized two such beers, releasing "Stay Home/Stay Asheville IPA" in late April and "Stay True/Stay Weird IPA" in early June. Participating breweries included Archetype Brewing, Bhramari Brewing Co., DSSOLVR, New Belgium Brewing Co., Twin Leaf Brewery, and White Labs Kitchen and Tap. Proceeds of more than $25,000 from the beers' sales were donated to the New Belgium Bar and Restaurant Relief Fund. 
When Ashburn learned early in the pandemic that Highland could continue its brewing operations but would need to pivot to curbside pickup for taproom beer, the brewery decided to donate a portion of those sales to One Buncombe Fund, contributing almost $10,000 between March and August. 
"Highland was built by this community, so community support has always been deeply embedded in our business model, no matter the state of the world around us," Ashburn says. 
As breweries weather the ever-changing tides of government orders, they've turned to the Asheville Brewers Alliance for guidance. Right after taprooms were forced to shut down in March, the ABA started a virtual "Hoppy Hour" via Zoom that includes educational and legislative updates. 
"Membership engagement has been at an all-time high over the past several months," says Leah Rainis, executive director of the Asheville Brewers Alliance. "We've had virtual meetings to review executive orders to make sure everyone's doing things the right way. We've also had meetings where you can just see someone's face who's going through the same things you are." 
She added that the online format is a boon for member breweries scattered throughout Western North Carolina whose staff typically would have to travel to attend ABA meetings and events in Asheville, home to the largest regional brewery cluster. 
"Breweries are sharing a lot of information with each other now," Rangel said. "This has been a new catalyst for support. We ran out of Crowler lids recently and asked if anyone had extras, and we had 25 offers immediately. It was fantastic." 
Putting People First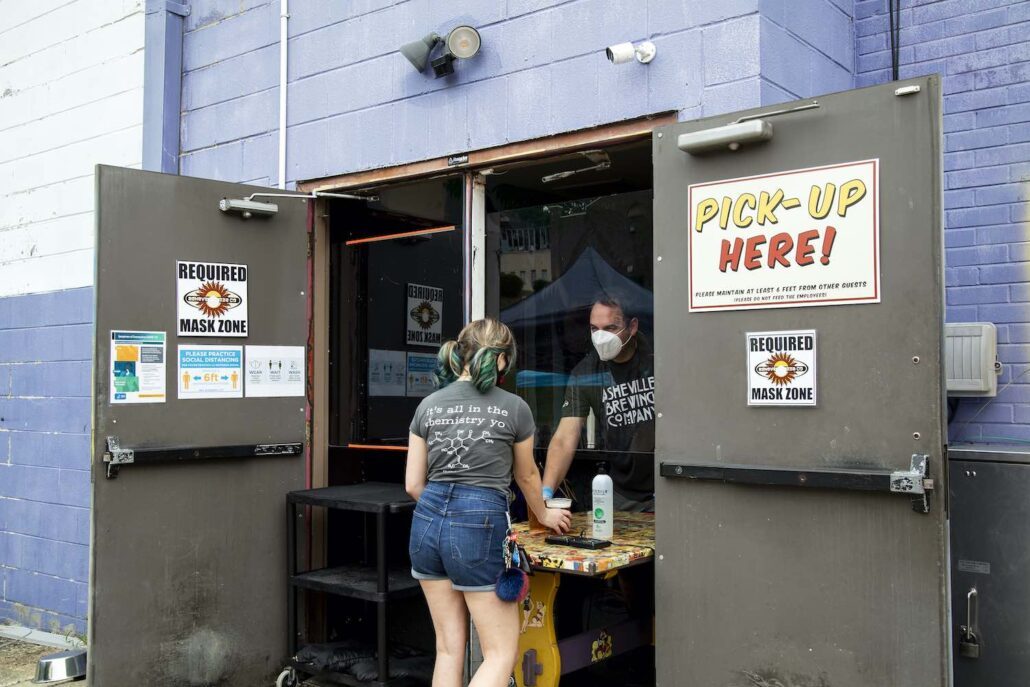 The task of supporting employees and staff members through the pandemic has been a roller coaster of an experience for many breweries. On March 15, Asheville Brewing celebrated its 25th anniversary. Just two days later, the pizzeria and brewery had to lay off 160 people across their three locations. "We heard from a lot of staff that they had no interest in working because of the virus even before they knew they were going to get $600 a week in unemployment," Rangel said. "And thank goodness for that $600 a week coming through for them." 
He added, "Even for someone like me who likes change and a little bit of chaos, this has been too much. We initially cut our brewers from nine full-time to four, but then we were able to add two back. Draft sales dropped off the face of the Earth, but luckily we've been in a good position with our canned beer sales." 
Highland Brewing currently employs around 80 full-time staff, and the brewery was able to retain all staff members who wanted to stay when the taproom closed. "Once we learned that we could continue to get beer out the door, we decided to do everything in our power to keep all of our team employed," Ashburn said. "We had our hospitality folks helping on the packaging line, creating mailers, cleaning, and stocking shelves out in the market. If folks felt comfortable working, we found a job for them to do." 
While most customers are respectful and follow the rules, there are always outliers, and Rangel is protective of the employees who have returned to the "front line," as he called it. "There are so many conversations happening about how we keep everyone safe in the breweries," Rainis said. "We don't want to do a disservice to staff by bringing them back on, and we don't want to do a disservice to customers by not providing great service." 
"It's been really tough dealing with the 'non-maskers.' I'm out front every day, and I see how difficult it is," Rangel explained. "While I'd rather not be out front, I'm not going to ask anyone to do anything I won't do. If we come out of this with a one-star Yelp review because we're requiring masks, I'm a happy guy." 
Asheville Brewing posted signs at its entry points that read: "Please do not enter if you have any symptoms of: COVID-19, Racism, Bigotry, Xenophobia, Homophobia, Transphobia (if you do, this is not the brewery you're looking for)." 
"This whole experience has been liberating in some ways," Rangel said. "We used to avoid being publicly political, but we decided to put up that sign about COVID and other things we don't like. As owners, we are getting back to our core beliefs and feeling freer to say what we feel." 
Entrepreneurship has never been easy, but 2020 has brought unforeseen challenges and opportunities to businesses, including breweries. "All of us are having to reinvent ourselves and our businesses, and it's not easy," Rangel said. "I'm so happy and proud to be doing this in Asheville where I know that all of our friends and customers and staff and other breweries and businesses are in it with us." ◊◊ 
Anne Fitten Glenn is still drinking local and writing local—from home. She's the author of two history books: Asheville Beer and Western North Carolina Beer. She hosts a weekly radio show and podcast, "Imbibe Asheville," which features live interviews with many of the beverage industry movers and shakers she's been interviewing for print since 2004. 
Save
Save
Save
Save
Save
Save
Save
Save
Save
Save
Leah Wong Ashburn, CEO and president of Highland Brewing, and her husband, Brock, who is vice president of operations