CIDER SPICE MUFFINS
 Recipe by Terri Terrell and Michele Gentille | Photo by Nate Burrows
***
I grew up in Toronto, Canada, where there is a donut shop on nearly every corner. In fact, Canada has about five times more donut shops per capita than the United States. Not only do many Canadians stop by their corner shop for breakfast, but they often visit again after dinner for dessert.
There is one donut only available in the fall, however, both in my place of birth and my adopted home of Appalachia, and that is the glorious Cider Donut. In apple harvest time, this hearty deep-fried cake sweetened with cider is one delightful mouthful! I confess, I don't care for deep-frying at home, but as an enthusiastic fan of the donut, I sought to mimic the flavor profile with less mess. The result is a flavorful muffin that bakes in under 20 minutes and gets better over several days. —Michele Gentille
---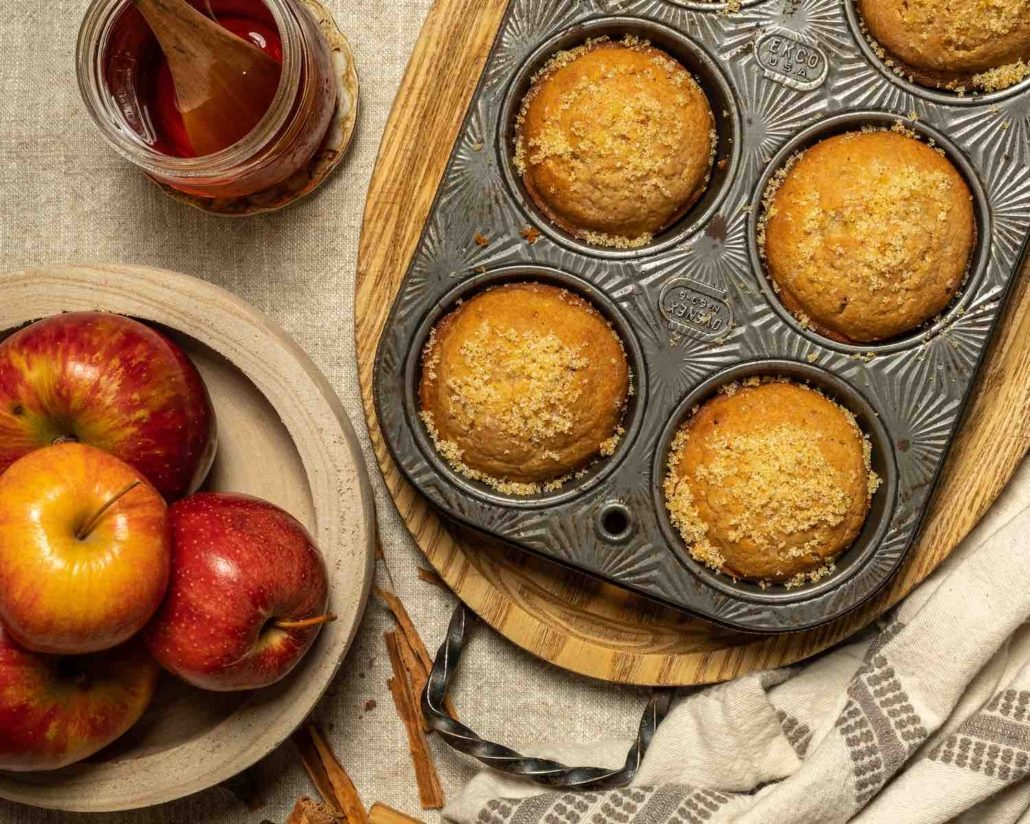 1 1⁄2 cups apple cider
Cooking spray
1 3⁄4 cups all-purpose flour
1 1⁄4 teaspoons baking powder
1 teaspoon fine sea salt
1 teaspoon ground cinnamon
1 teaspoon ground cardamom
1⁄2 teaspoon ground nutmeg
Zest of 1 orange
10 tablespoons butter (11⁄4 sticks) at room temperature
3⁄4 cup light brown sugar, lightly packed 1⁄4 cup granulated sugar
2 large eggs at room temperature
1 teaspoon vanilla extract
To finish:
6 tablespoons butter (3⁄4 of a stick), melted
1⁄2 cup granulated sugar Zest of 1 orange
Place 1 1⁄2 cups apple cider in a small saucepan. Over medium heat, bring to a boil and reduce until it is 1⁄2 cup. Let cool while assembling other ingredients.
Heat oven to 350°F. Grease your 12-cup muf- fin pan generously with the cooking spray.
In a medium bowl, mix the dry ingredients from the flour through the orange zest.
In the bowl of a stand mixer, cream the 10 tablespoons of butter, add the sugars and beat on medium speed until light and fluffy. Add the eggs 1 at a time, scraping the bowl as necessary until well mixed. Add the vanilla and mix thoroughly.
Add the flour mixture and mix just until well combined. With the mixer running low, add the reduced apple cider until well combined, scraping the sides and bottom of the bowl.
Divide batter evenly among the 12 muffin cups and bake for 15–20 minutes, until the center bounces when lightly touched and a toothpick inserted comes out clean.
Melt the 6 tablespoons butter, put aside, and mix together the sugar and orange zest in a small bowl. Brush each hot muffin generously with butter and divide the sugar evenly on the top of muffins. Drizzle with any remaining butter and allow to cool somewhat before removing from the pan. These are great served warm, and they also keep for several days in a tightly lidded container.
---
Born in Mississippi, Terri Terrell is a Delta chef in the Appalachian tradition. She has been an active voice and participant in the culinary scene for over two decades. She was one of the first Asheville chefs to highlight local and consciously grown ingredients, leading to her current mission to build a more collaborative and equitable culinary scene in the ever-evolving WNC foodscape.
Michele Gentille grew up in food-diverse Toronto, received a culinary degree from La Varenne in France and moved to the Western North Carolina countryside in 2012. She works as a food stylist and private chef, has written about food for publications including the Wall Street Journal and T-Magazine from the New York Times and has been a culinary assistant on Food Network shows. She loves creating and styling food, collecting food photography props and work- ing with Asheville's makers, farmers and producers.
Save
Save
Save
Save
Save
Save
Save
Save
Save
Save