Blooming in Western North Carolina
A growing community of farmer-florists push the power of local
By Sarah Hart | Photos by Erin Adams
At Lady Luck Flower Farm in early spring, the muddy mountainside is just starting to come to life with daffodils and tulips. In another month or so, rows of peonies, nigella, delphiniums, snapdragons, and larkspur will paint bright spots against the misty blue and green of their mountain backdrop.
This somewhat wild outpost suits the untamed beauty of farmer and designer Katie Grear's floral aesthetic. Fallen branches or other foraged pieces from the surrounding forest might be found alongside the ever-popular coral sunrise peonies in her next bridal bouquet.
Lady Luck co-owners Grear and her husband and farm manager, Mike Adams, are part of a swelling movement of farmer-florists, many of whom wear hats not just as growers, but as floral designers, wedding planners, event managers, social media storytellers, and more. It's a lifestyle that blends idyllic, Instagrammable moments with the harsh realities of agriculture and the financial instability of small business ownership.
Grear and Adams guess that the number of flower farmers in Western North Carolina has tripled since they started Lady Luck ten years ago, first on rented land in Candler before buying their own farm in Big Sandy Mush in 2012.
"It's having a moment, nationally, the farmer-florist thing," Adams says.
Grear attributes the trend in part to pioneers like Erin Benzakein of Floret Farm in Washington State, who created a worldwide network of growers. "And it's partly because people are feeling called to this kind of work," she surmises. "They want to do something that's good and beautiful and meaningful. We're hoping that it's not just a moment, and that it becomes a lifestyle change."
"When you think of all the people who aren't buying local flowers, there's room [to expand] forever," Grear continues, noting that the influx of new flower farmers has prodded Lady Luck to diversify its offerings. "It's a good push," she says. "Seeing some of us get national attention really pushes me in good ways."
In addition to bulk sales and floral design, Lady Luck now offers space for weddings, workshops, and other events, like a farm dinner on June 23 catered by Intentional Swine. They also host community U-pick days in the late summer, and this year they plan to add a food truck and other activities. "We're shifting to a more agritourism model," says Adams. "I never pictured that, but I'm not opposed to it."
And with an eye toward supporting their community, Grear and Adams make choices like planting their ranunculus and anemones a little later, so they can stagger with other farms and, in the meantime, buy other farmers' flowers to supplement Grear's wedding designs.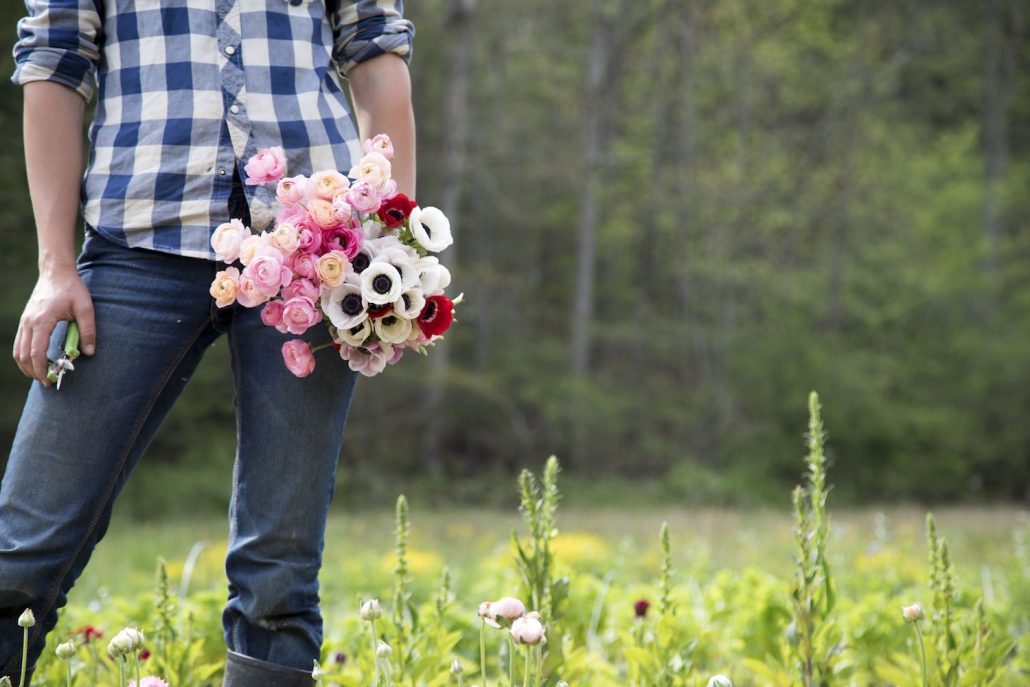 From Journalism to Flower Farming
Many of the area's flower farms organized loosely in 2017 into a group with sixteen members, a website (www.wncflowers.com), and a wholesale network. Though farmer-florist Emily Patrick insists it's a leaderless collective, she is a driving force behind the project.
Patrick, who shifted her career path from journalism to flower farming two years ago, now co-owns Carolina Flowers in Marshall with her fiancé, potter Josh Copus. In addition to wholesale and wedding design, she sells her boldy hued blooms at Asheville City Market and at The Rhu, and she offers a monthly CSA.
Patrick's family has been flower farmers—mostly carnations—in Lancaster, Pennsylvania, for eight generations back, but it took her awhile to realize that this was the right line of work for her as well. After seven years as a journalist, including as a food writer for the Mountain Xpress and political reporter for the Citizen Times, she was itching for a different life, but she couldn't quite put her finger on what that would be.
"Then it occurred to me that this thing I was already doing was the thing I needed to be doing all along," she says. "This is one of those jobs that people think is not a real job, but I know it is because it has been in my family, and I know I can make it work."
"I want people to know that farming in North Carolina is not something that died with tobacco," she continues. "Flowers are good for North Carolina. We are the southernmost tip of dahlia production. There are all of these metro areas who need our flowers: Charlotte, Raleigh, Charleston, Atlanta. We're the last outpost. You can't ship dahlias; you have to truck them in."
As part of the WNC flower farmers group, Patrick initiated a dahlia partnership with a wholesaler in Charlotte, using collective power to break into a market that wouldn't otherwise be open to small farmers.
"I've learned a lot from how restaurants and breweries have worked together to create a destination," Patrick says. "Flower farmers can work together to create a business environment that lifts people up and fills holes in distribution. I'm interested in being on the forefront of that movement."
Certainly the food and drink industries in the Asheville region—and nationally—have paved the way for an appreciation of local sourcing. But there is still a need for educating consumers.
"I think Americans still have a long way to go in terms of understanding flowers in the way we understand food," posits Patrick. "It's nothing to most people to go into the grocery store to buy a dozen roses from Colombia. But I'm hopeful that ideas about localism will spread to flowers, just like food and beer. We can compete on price and quality, and the reasons people wouldn't buy local are getting less all the time."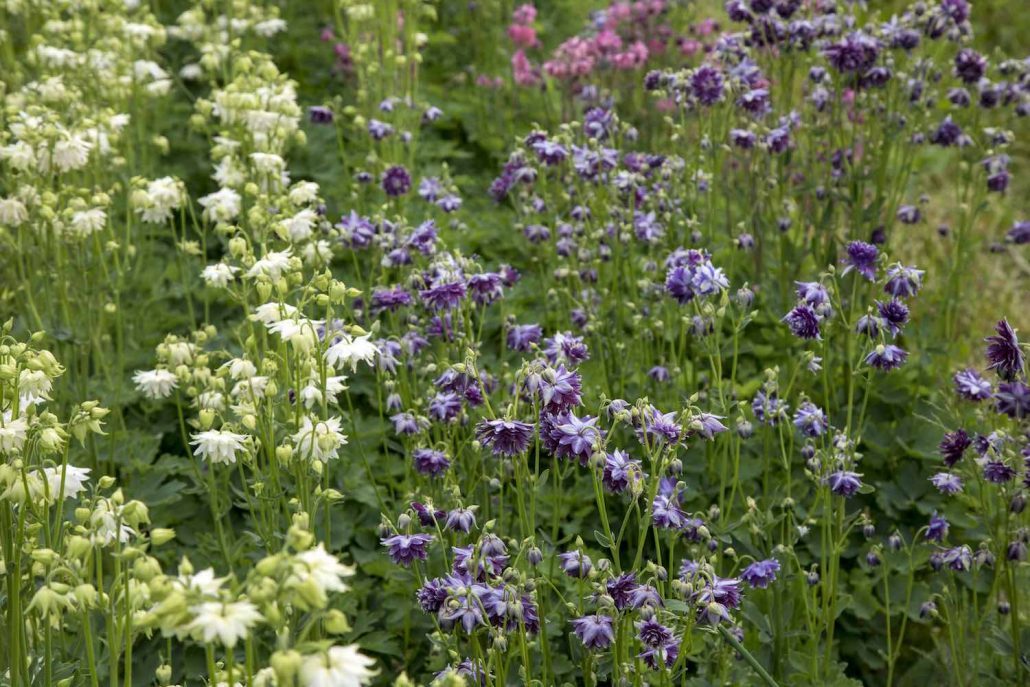 That trend is making its way to more mainstream florist shops. In early 2017, Hannah Warfield, herself a farmer-florist, took over Brown's Floral Design, a mainstay on Weaverville'sMain Street since 1926. While she notes that as a full-service florist she doesn't have the luxury of selling exclusively local flowers, she's sourcing as much as possible from farms like Flourish Flower Farm and The Never Ending Flower Farm, and incorporating some of her own small-batch peonies and Italian ruscus into the shop's offerings.
Warfield worked for nearly a decade at Tuckahoe Plantation, Thomas Jefferson's childhood home in Richmond, Virginia, developing a flower-growing and wedding business there. When she moved to the Asheville area in 2011, she was in search of a place she could start her own grower operation. The opportunity to buy Brown's Floral Design was a welcome surprise.
"I had more experience in wedding design, rather than day-to-day retail," she says. "I'm finding that it is really rewarding work. Anniversaries, babies born, memorial services—it's always a tender moment in life when flowers are brought in. To be part of that with people is really unexpected."
And weaving local blossoms into the everyday arrangements has been met with appreciation in the community. "People love these old-fashioned favorites, the kinds of flowers they remember from grandmother's house as child," she says. "Flowers that are not shipped across the world tend to make people happier. A fresh lilac in April evokes more than grocery store flowers. It just does." ◊◊
Sarah Hart is a freelance writer and program manager for ASAP (Appalachian Sustainable Agriculture Project).
Save
Save
Save
Save
Save
Save
Save
Save
Save
Save
Emily Patrick, co-owner of Carolina Flowers.

Katie Grear and her husband, Mike Adams, of Lady Luck Farm.