YOU CAN GO HOME AGAIN
WNC farmers put down roots on family land
BY Meredith Leigh
Growing up in rural Cleveland County, about 80 miles east of Asheville, Jamie Swofford was given the task of sweeping up floors in his grandfather's chicken house. At the time, his grandfather's operation was the largest single chicken house in North Carolina, rearing 30,000 chickens at a time, and Swofford's job gave him oversight of a mile's worth of floors every day, for a total pay of about $1. "You better believe I aimed to be on the first train leaving," says Swofford, now also known as The Chef's Farmer.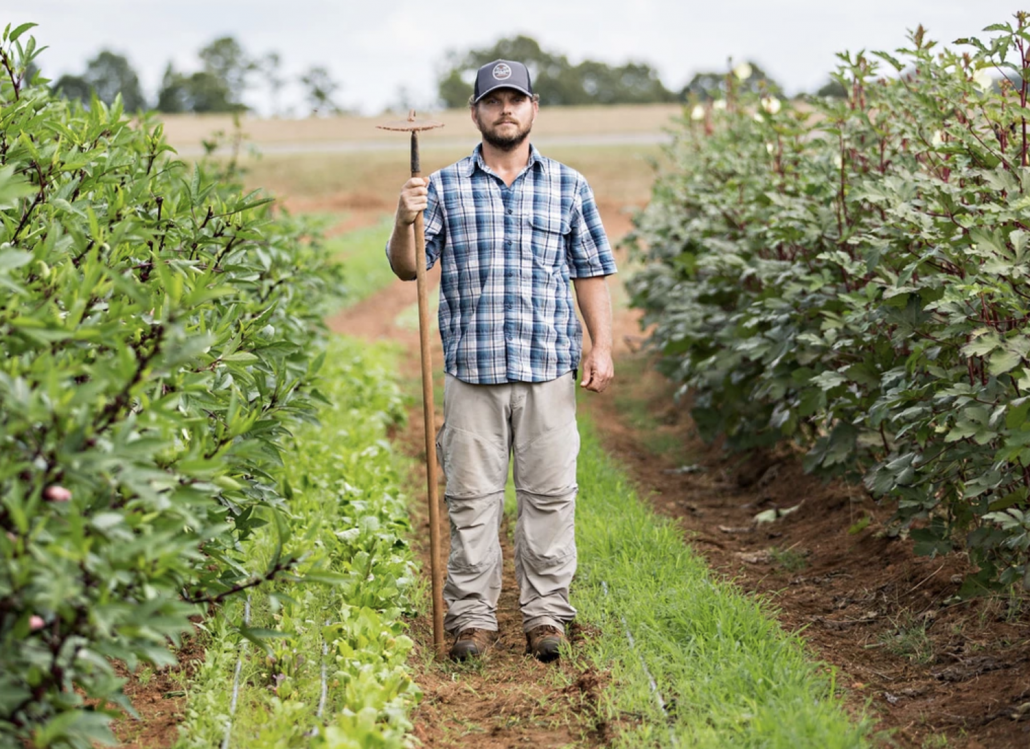 Swofford's story may be a familiar one—a farm boy leaves home to see the larger world— and many families across Western North Carolina have seen their offspring leave and their agricultural way of life come to an end. Sometimes, though, the story has a different ending. Swofford did leave upper Cleveland County for a generous stint working in kitchens and for restaurant groups, operating alongside many trailblazing Southern chefs, but an idea brought him home again.
"I worked for some places where the chefs would get this little weekly shoebox of food— petite carrots, pea tendrils, garnishing greens— and then a giant invoice," Swofford says. "I knew I could up the ante. And I started to feel trapped in the kitchen. Like someone had to walk through a certain door in order for me to get to them. But I felt if I was out on the farm, I could reach more people."
Swofford called his family and asked if he could trial a project on an acre of land, growing specialty crops for fine dining chefs in Charlotte, Asheville, and Hickory, North Carolina. He produces edible flowers, baby greens, and other tailored crops, and Swofford also started foraging for edible "weeds" throughout his family's 150- acre property.
"I would ask my grandfather to come get me before he mowed the grass, so I didn't miss out on the dandelions. He thought I was a lunatic," Swofford says. But slowly, as his business grew from four chefs to 10 in just two seasons, the family came around. "I'm still the crazy organic guy, but eventually my grandfather was calling me up to let me know there was some purslane in a neighbor's yard, and I better go get it quick before they mowed it."
Throughout Western North Carolina, farmers who have come home to farm echo this experience. Whether they've returned for convenience or nostalgia, with or without reluctance, they're bringing their own values to an ongoing story of land in the mountains.
Mary Carroll Dodd of Red Scout Farm in Black Mountain remembers childhood trips from her native Chapel Hill to the land where she now farms. Her grandfather and aunt stewarded the family land, and Dodd always felt a pull to the property and the mountains. "Our land has been in my family since the 1800s," Dodd says. "Even though no crops were sold, the family kept the land intact." The land lay fallow for 17 years before Dodd and her husband, Griffin, decided to try their hand at market farming. Now, they produce a variety of vegetables and market them through a CSA and at the Black Mountain Tailgate Market.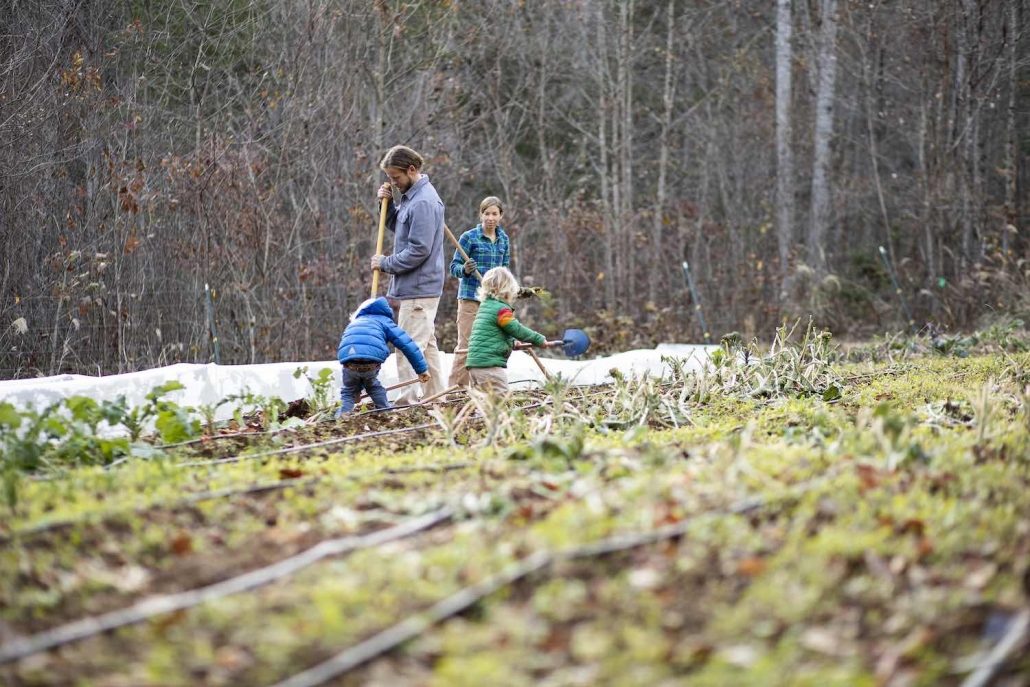 "My family is so excited about what we are doing," Dodd says. "My dad often says that if my grandfather were still alive, he would be so proud of me, that he wouldn't want me to be doing anything else."
It matters to Dodd to work the same soil that her grandfather worked, accompanied by memories of digging potatoes and cutting broccoli with him. "He had this Red Scout pickup truck that he used to take all over the property, and I remember bouncing around in the back of it on the way down to the field. We still have it. So the farm name is a nod to him."
Dodd says she still finds herself talking to her grandfather when she's working on the farm alone. "I've never felt more at home before," she says. "It feels so special to be raising our kids here and feeling the presence of my ancestors."
Similarly, Marie Williamson returned home to her family's land in Morganton, after attending college and interning at farms in the west along with her husband, William Lyons. Together, they have built a substantial business in Bluebird Farm. By using her family's holding as a homestead, the couple has patched together leased land from neighbors for their vegetable, pork, and chicken operations, thereby preserving not only the Williamsons' land but also the farmland of other families in the county.
"Coming back was scary in a lot of ways," Williamson says. "When you're a teenager growing up in a small town with one coffee shop, it seems like the world is too small. But of course, as you age, what is important changes. It feels so great to have been a part of Morganton's growth, and to be bringing really high-quality food to a small-medium sized rural community via the CSA and farmers market."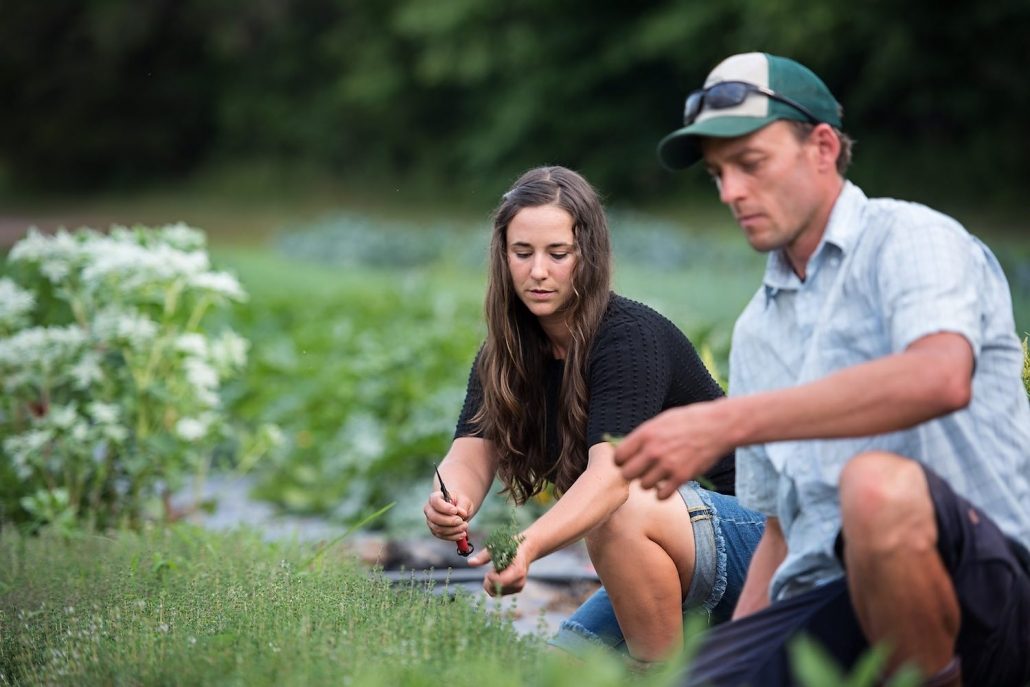 Recently, Jamie Swofford and his fiancé, Keia, who is the maker behind Milk Glass Pie, a small-batch pie business, and a widely published food writer, bought a house on land that used to belong to his family but had been sold out long ago. That decision has solidified their choice to put roots in Upper Cleveland County for their culinary business vision. Even though The Chef 's Farmer takes his crops to urban chefs and doesn't sell at market, the couple has been hosting dinners on the farm, and they're planning other events that are visible and accessible to the community. Although it took a while, Jamie says locals "embrace what we are doing."
It turns out you can go home again. Even when the current of ambition seems to flow toward the cities, and land is left to development, a revival of food at the very core happens when younger generations work slowly and creatively in the soil, writing their own stories into the legacy of rural Appalachia.
"Farming is hard work no matter where you are," Williamson says. "To have the support and help of family is actually a bonus, and it's exciting to be part of shaping a place for the better." ◊◊
Meredith Leigh is the author of The Ethical Meat Handbook: A Complete Guide to Home Butchery, Charcuterie, and Cooking for the Conscious Omnivore (3rd place, MFK Fisher Award 2015) and Pure Charcuterie: The Craft & Poetry of Curing Meats at Home. Meredith works part-time for Living Web Farms, and she travels extensively teaching charcuterie and food production and processing.  She also pursues other writing, namely poetry and nonfiction focused on the intersection of land and people, and land and the culinary sphere, with work featured in Crop Stories, various Edible publications, and Mother Earth News Magazine, among others. She lives with her partner and four children in Asheville, NC.
Save
Save
Save
Save
Save
Save
Save
Save
Save
Save
Jamie Swofford, known as The Chef's Farmer, and his fiancé, Keia.
Mary Carroll Dodd and her family of Red Scout Farm in Black Mountain.
Marie Williamson and her husband, William Lyons.