THE YUM FACTOR
Healthy fats make food both craveable and nourishing
BY GINA KAE SMITH | PHOTOS BY ERIN ADAMS
When the silky texture of a pastry satisfies at what feels like a cellular level, or the opulent mouthfeel of a sauce haunts your dreams, fats are at work behind the scenes, quietly doing their culinary duties of fleshing out flavor and determining texture. But fats aren't just there to make us swoon; they are one of the three macronutrients our bodies need to thrive (in addition to protein and carbohydrates).
"Fats are a major source of energy, they help absorb vitamins and minerals, and are needed to build the membranes around every cell in addition to the covering of nerves," explains local dietitian, nutritionist, chef, and author Denise Barratt, founder of Vine Ripe Nutrition.
But controversy has swirled for years about how various fats, and the quantities in which they're consumed, can impact our health and wellness. Most fat-rich foods contain a mix of saturated, polysaturated, and monounsaturated fats, typically with a higher percentage of one over the others, says Barratt.
"Instead of using the words 'good' or 'bad,' I like to think of the words 'balance' and 'moderation,'" she says. In other words, a little butter is a good thing—usually a very good thing. But lots of it every day? Not so much.
FAT FACTS
The only fats to really avoid, says Barratt, are industrially made hydrogenated oils, or trans fats, which are found in some margarines and shortenings. Trans fats reduce healthy high-density lipoprotein (HDL) cholesterol in the body and increase the amount of less-healthy low-density lipoprotein (LDL) cholesterol, which can cause inflammation, leading to diabetes, heart attacks and strokes.
Saturated fats, found in meats, whole dairy products, and coconut and other tropical oils, are fine in moderation, Barratt says. She suggests limiting those to about 10% of total calories per day. Monounsaturated fats, including Mediterranean Diet items like olive and canola oils, avocados, and nuts, are beneficial in moderation, helping raise levels of healthy HDL cholesterol.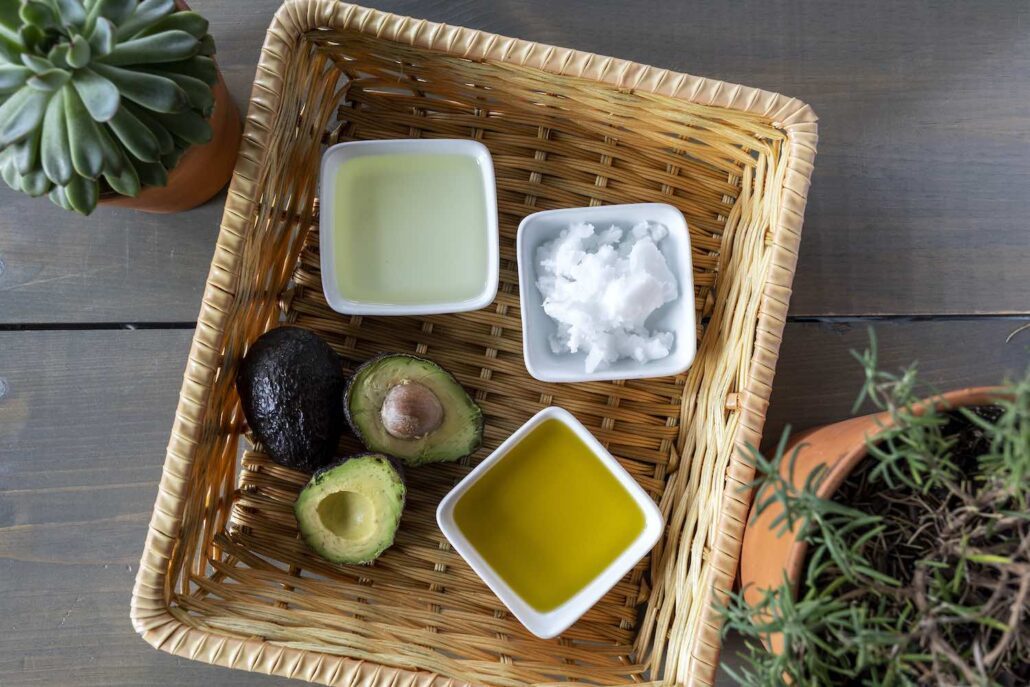 Our bodies can't produce polyunsaturated fats, Barratt continues, so it's important to consume adequate amounts of them—plenty of omega 3's, which are found in walnuts, flax, salmon, and trout, as well as some omega 6's from soy, corn, sesame, safflower oils and some types of nuts. "Omega 3 has an anti-inflammatory effect, while too much omega 6 may be a precursor to a fat that may contribute to inflammation," she says. 
Recent research indicates that many people may be deficient in omega 3 fatty acids, Barratt points out. "This may be because some people do not like fish or don't eat fish because they are vegetarian or vegan, or because there is overfishing and challenges getting a sustainable fish source and many fish options are high in mercury."
For pescatarians and omnivores, Barratt recommends wild- caught Alaskan salmon or, for a local approach, Western North Carolina farmed trout, such as fish from Waynesville-based Sunburst Trout Farms. For vegetarians and vegans, walnuts, flax, hemp, and chia are good choices, but since only about 10%-20% of the alpha-linolenic acid in those will convert into the omega 3 fats our bodies need, she suggests microalgae supplements as a more potent option. As for other local products rich in healthy fats, she loves the locally foraged nut oils and other products offered by the Acornucopia Project and Smiling Hara tempeh and Hempeh.
ECSTATIC EXPERIENCE
At Sunflower Diner in West Asheville, chef Hayette Bouras relies exclusively on plant sources for the fats in her 100% vegan, non-GMO, mostly organic dishes. From the vegan chorizo breakfast tacos topped with sunflower-cashew cheese to the Tempeh's So Asheville sandwich layered with locally made Smiling Hara tempeh and avocado on rosemary focaccia, luxurious, plant-based fats put the "comfort" in Sunflower's com- fort food menu.
Working with fats to create a satisfying dish, says Bouras, is about more than flavor profiles. "What comes to mind for me is the texture that fats provide—that moist factor," she says. "I love to bake, and it's almost always the mouthfeel that you're looking for when you're eating something that creates more of an ecstatic experience."
And the good news is that those wonderful, joy-inducing fats can also be healthy. A CrossFit trainer with a degree in health and wellness promotion from UNC Asheville, Bouras knows a thing or two about the intersection of wellness and food.
"When you think about comfort food, it's all about greasy or fried, but we can still have that comforting feeling from a healthier fat," she says. "Being vegan, I don't even consider animal fats. I think of a really fragrant olive oil or, at the restaurant, we use a lot of coconut oil. And being the Sunflower Diner, we use organic sunflower oil for almost everything we do."
Bouras loves to bake, and for the many pastries and other desserts she creates at the diner—think lemon pound cake or pea- nut butter pie—she often uses either sunflower oil or organic coconut oil. "But for some things, we'll use a butter substitute like Earth Balance, which is canola-based," she adds.
Sunflower Diner also ferments its own dairy-free cheese spreads and quesos from raw cashews and sunflower seeds, nutritional yeast, miso, and other ingredients. "In that way, we're incorporating healthy fats without you even knowing it and getting a whole bunch of really good micronutrients and probiotics at the same time," says Bouras. "I almost always put a little bit of our sunflower-cashew cheeses in my meal to get that little dose of ferment-y, nutty goodness."
In fact, she believes the satisfying yum factor that fats deliver is a key part of wellness-focused eating. In April, Bouras will partner with UNC Asheville health and wellness professor Dr. Amy Lanou to offer a community discussion on the ecstasy of food (see sidebar) as part of the university's 2021 Ecstacy Project.
"Part of eating a healthy fat is that mental health benefit—en- joying the mouthfeel and texture and flavor and what it does for us on that level, not just a nutritional level," she says. "They can be pleasurable ecstatic experiences and also be healthy."
BRIGHTENING THINGS UP
Like Bouras, chefs Susannah Gebhart and Graham House don't shy away from using fats to make the menu sing at Session cafe and bar inside Citizen Vinyl record press facility and recording studio in Asheville. "I personally find fats to be very, very important—especially being that my food's more veggie-focused," says House. "When you're dressing or cloaking a vegetable in a specific fat, it adds a whole other layer of texture. On top of that, using a flavorful or more robust fat in the preparation of a dish, it can bring a lot to the table."
Cooking with tallow or aged beef fat, for example, "adds a huge punch of flavor." And at Session, pumpkin seed oil sourced from Oliver Farms in Georgia brings a deep, nutty richness to vegetarian dishes, including easily underdressed grains, such as in House's salad of slow-roasted beets, bulgur wheat, quinoa, pistachios and local Three Graces goat cheese.
Aerating or whipping oils or melted butter—as in a hollandaise—before incorporating into a dish, he suggests, can develop nuanced texture. "It makes it stand up as almost more of a sauce than a separated kind of fat," he explains.
Gebhart and House agree that balancing fats with acidity is important to building a satisfying flavor profile. On Session's current pandemic-friendly, streamlined menu of sandwiches, salads, snacks, and desserts, the smoked Sunburst Farms rainbow trout sandwich on brioche is brightened with crème fraîche, capers, and pickled shallot. The hoop cheddar grilled cheese gets a lift from pickled jalepeño and red onion jam.
They also point to an item that has both fats and acids in spades: Locally made mortadella and pepperoni, provolone, mozzarella, mustard, and olive salad are all wrapped in buttery pastry to yield what Gebhart says is the "very filling" muffaletta croissant.
CONSIDER THE SOURCE
Gebhart, who also founded and operates OWL Bakery in West Asheville, says the range of techniques used in applying fats in baking can result in "a huge variety of textures, from super-flaky, shatter-in-your-mouth puff pastry to cakes that just dissolve as soon as they hit your mouth." And sourcing the highest quality fats is of prime importance—she uses only 98% grass-fed butter from Ireland. "It's the best that we've been able to find. But we also use local cream and local eggs that all contribute to the complexity of the pastry," she explains.
Like Barratt, Gebhart likes working with Acornucopia nut oils at OWL as well as the collective's foraged hickory nuts and black walnuts. "We're running a black walnut and cranberry bread right now, and we love making pastry cream with the hickory nuts," she says. "They have such an incredible butterscotch flavor and are so beguiling and not seen frequently."
Tahini, a paste made from ground sesame seeds, is another unusual fat Gebhart incorporates into some baked goods, especially paired with chocolate as in Session's tahini turmeric brownie. "Tahini can take on a profile very much like peanut butter, but it has a bitterness to it, and it's so much more complex and round, and with the turmeric, it creates this pretty decadent brownie but with a lot of complexity going on."
Gebhart believes that limiting the amount of sugar in her pastries lets the fats shine. "The butter really becomes a huge component of the flavor rather than just knocking someone in the face with a lot of sugar," she says.
"A little bit of fat can go a long way in providing something that can be satiating without being overfilling," she continues. "I think that's something both Graham and I keep in mind with the products that we develop—to have that good balance and not overdo it, just keeping everything balanced and thoughtful." ◊◊
Gina Smith is a writer, editor, and community collaborator who's been gathering and telling stories since before she could even hold a pen. She served nearly seven years as the food editor at the Mountain Xpress alt-weekly newspaper in Asheville and continues covering restaurants, food justice and farming in Western North Carolina as features editor at Edible Asheville.
Save
Save
Save
Save
Save
Save
Save
Save
Save
Save
Denise Barratt of Vine Ripe Nutrition
Chefs Graham House and Susannah Gebhart of Session cafe and bar inside Citizen Vinyl