THE FAMILY BUSINESS
Asheville's community of Greek restaurant owners welcomes everyone to the table
BY BETH LASSITER | PHOTOS BY ERIN ADAMS
One recent night, Jimmy Pappas welcomed a stream of diners to his Apollo Flame Bistro on Brevard Road, including one large group of firefighters and two buses of tourists. Most tables were laden with pizzas and crusty sub sandwiches, while a few customers enjoyed the "Big Fat Greek Platter," a sampling of house specialties.
"To me, it's oxygen," says Pappas, short for Papakonstantinou. "What makes me happier than anything else is to be in the front of the restaurant to greet people and talk to them and learn about their everyday lives. All those years you create friendships. They tell you their life stories, and I tell them mine."
For many of the Greek families who came to the United States in the 20th century, the opening of a restaurant offered a path to entrepreneurship. The earlier immigrants who established businesses would urge relatives in Greece to join them, and, together, they brought with them the tradition of the kafenia, or coffee houses, where a community would gather and socialize.
Pappas arrived in Asheville from Greece in 1970. He was just 18 years old. He ran the Poseidon Restaurant in Oteen for many years before he joined his cousin's businesses. Now, in addition to the Apollo Flame restaurant in Asheville, Pappas partners with a cousin at another location in Hendersonville and also owns and runs Bellagio Bistro in Weaverville.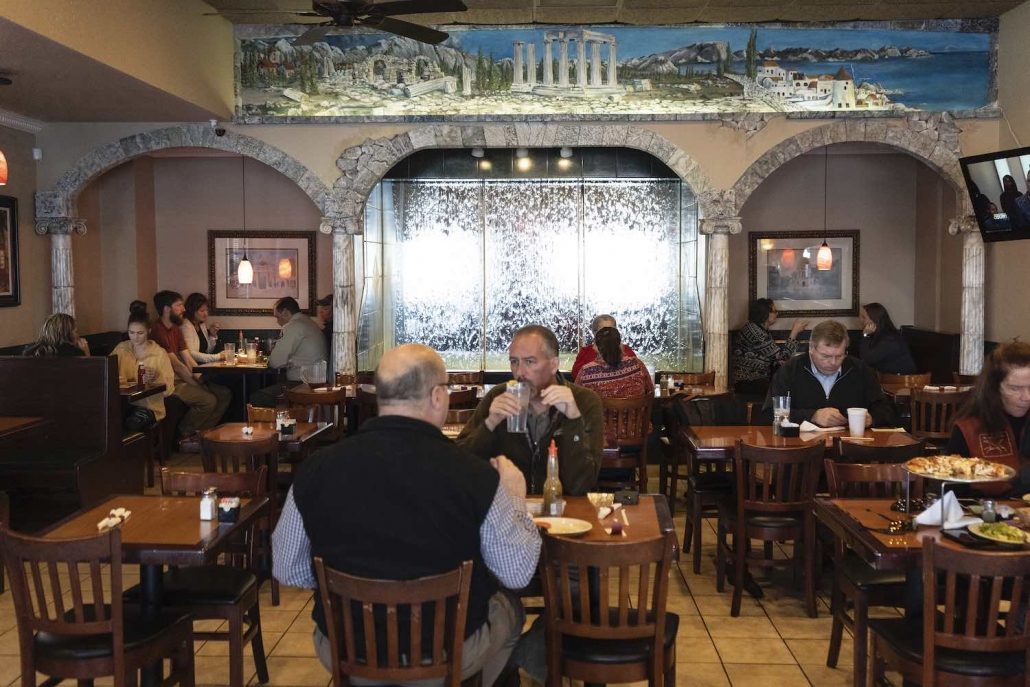 Some estimates suggest there are more than 3,000 Greek restaurants across the United States today, and Asheville has its share. There are longtime favorites like Five Points, Happy Hill, and Papa's Pizza, as well as newer restaurants such as the East Village Grille and Twisted Laurel. Some, like Three Brothers and the Silver Dollar, are no more, but still engender happy memories for lifelong residents.
◊◊
John Dermas represents the experience of later generations. He spent many evenings as a kid flipping burgers and doing homework at the front counter of his parents' restaurant, The Stoney Knob Café in Weaverville. Now he runs the daily operations at the café while his brother, Yotty, cooks.
Their parents bought the restaurant in 1962 and ran it as a home-style diner, with classic "American" standbys like fried chicken and liver and onions. Regulars came from Weaverville, Madison County, and surrounding areas. After a stint in the Navy for John and a fine arts degree for Yotty, they took over the business in 1992. Around 2000, they made some big changes, while being careful to keep old favorites for their regulars.
They added two new dining rooms and wildly whimsical décor, with larger than life icons, lava lamps, and the original Willy Wonka on loop. Menu items became just as eclectic, with globally influenced fare inspired by John and Yotty's world travels. Their mother's bread recipe, which she often fashioned into communion bread, is now the base for their Chicago deep-dish pizza. And they honor their heritage with gyros and the Greek lemon chicken soup avgolemono.
In short, it became a microcosm of Asheville, growing, evolving, and keeping it weird, but without alienating lifelong customers. The regulars return to it for everyday meals as well as celebrations. And John and Yotty's father still comes in all the time. "He likes to sit and have a cup of coffee and sort of check things out," John says. What John is most proud of is how dear the restaurant has become to so many of its customers. It's regularly booked for anniversaries, birthdays, and receptions, and several people have even gotten married there.
"It's an honor for us," says John. "It's all about family, really." For Dermas and many other Ashevillians of Greek descent, family means more than blood relations. It's everyone they welcome into their businesses and into their celebrations.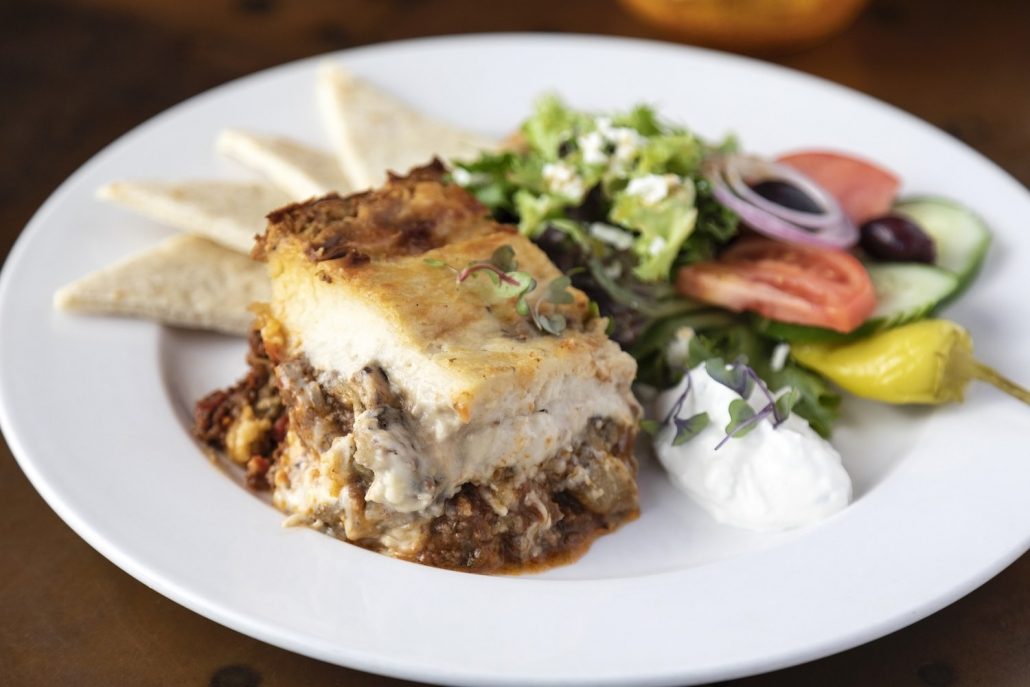 ◊◊
The Greek word for "handfuls" is chouftas, and that's how the older women at Holy Trinity Greek Orthodox Church measure the spices for traditional dishes served at the annual Asheville Greek Festival. Dino Zourzoukas, who has been helping to plan and execute the festival for over 30 years, says folks are finally trying to get the cooks to write down the recipes they know by heart.
A native of Asheville, Zourzoukas, too, grew up in a restaurant, The Three Brothers. It stood for more than 50 years at the same Haywood Street location as the new Hyatt Place. Zourzoukas ran The Three Brothers from 1991 until it closed in 2011. These days, he often co-chairs the Greek Festival with Maria Katsigianis, who is in charge of the gyro booth, among many other things. Her family once ran the Athens Restaurant on Merrimon, where Vinnie's Neighborhood Italian now stands, and later, a sub and pizza joint in Weaverville.
On a late September weekend each year, the festival is held at Holy Trinity Greek Orthodox Church in Asheville's Montford neighborhood. Hundreds of locals—and not just those of Greek descent—flock in, with lines stretching across the parking lot for gyros and out the door for the buffet. There are crafts, desserts, coffee, and cultural displays. And so much dancing.
For Katsigianis, sharing these traditions and making community connections are central, and food is just a part of that. This year, she says, it was beautiful to watch her 15-year-old daughter get excited about learning dances that have been passed down through families at the church, and about showing those dances to her friends. "That enthusiasm motivates me to make the festival a success," Katsigianis says.
Zourzoukas speaks about the scale on which the Holy Trinity volunteers run their kitchen, turning out massive quantities of moussaka, meatballs, pasticcio, and spanakopita, and dolmades. The kitchen is a masterpiece of choreography, Zourzoukas says, with dishes moving in and out of the eight ovens as if on cue. The cooks, most of whom are elderly, know the recipes "by feel, and taste, and touch," he says.
Maria Katsigianis, whose wheelhouse is the gyro booth, learned how to make spanakopita from them just this year. Someone else had always done the baking, but this fall, she and her daughter joined church elders, all of them on their feet for hours over trays of the spinach-and-feta-filled pastry. She loves that church events like the festival are occasions for the elderly, the young, and the simply busy, to get together, learn a skill, and be in each other's company. She says, "It's just how I was raised, and how I hope I've raised my kids—to lend a helping hand when they can."
For those who can't wait until September, Katsigianis notes that Holy Trinity also hosts a Palm Sunday luncheon and a Mother's Day luncheon, both of which are open to the public. As they work together at these events, Greek families retell their histories in terms of restaurants, kitchens, and grills: the ones where they grew up, the ones they ran, or sold, or still spend their lives in. While food is often the language, what they're talking about is the history of Asheville, the web of people they call family, and the tables and countertops around which they form community. ◊◊
Beth Lassiter looks forward to the moussaka and the dancing at the Greek festival all year long. She lives with her family in West Asheville.
Save
Save
Save
Save
Save
Save
Save
Save
Save
Save
Jimmy Pappas owner of Apollo Flame Bistro 
 Brothers John and Yotty Dermas, with their father, Gus, owners of The Stoney Knob Café in Weaverville