THE BOLD BBQ
Elevate your backyard BBQ with flavor-rich dishes that hail from the grill
Presented by Chop Shop Butchery | Photos by Erin Adams
***
Looking to move beyond the burger for our BBQs, we asked our local butchers at Chop Shop Butchery what types of meals they'll be grilling. The following recipes for chicken, ribs, and steak—all sourced from regional farmers, if purchased at Chop Shop—stand ready to take center stage at your next gathering. "You can bring in some culture, some big flavors, and enjoy wowing your guests with something exciting and different," says chef Graham House of Chop Shop.
***
Grilled Dry-Aged Bavette with Garlic Oil Chimichurri 
The sauce here lends bright flavors to the deep, rich flavors of the grilled dry-aged beef. Consider serving it with roasted vegetables and a fresh garden salad.
Dry-aged Bavette steak 
1 cup olive oil 
4 cloves garlic minced 
1 cup Italian parsley, chopped (no stems) 
2 cups parsley, chopped (stems are okay) 
1 teaspoon dill 
2 green onions (bottoms minced; tops sliced thin for garnish) 
2 teaspoons red wine vinegar 
¼ cup lime juice 
½ teaspoon chili flakes 
2 tablespoons minced red onion Kosher salt Black pepper
To make the Garlic Oil Chimichurri: Add garlic to olive oil and heat slowly until garlic begins to take color. Remove from heat. Once cooled to room temperature, add all other ingredients to the garlic and stir thoroughly. Season with salt and pepper to taste. 
Remove steak from the refrigerator and season liberally with kosher salt. Allow to set at room temperature for 30 minutes, then pat dry before placing on direct heat of a med-high grill. 
Cook to internal temperature of 125ºF for suggested medium rare. Remove from heat and allow to rest for 5 minutes. Be sure to slice against the grain, and drizzle the chimichurri sauce over the steak. Garnish with green onion tops.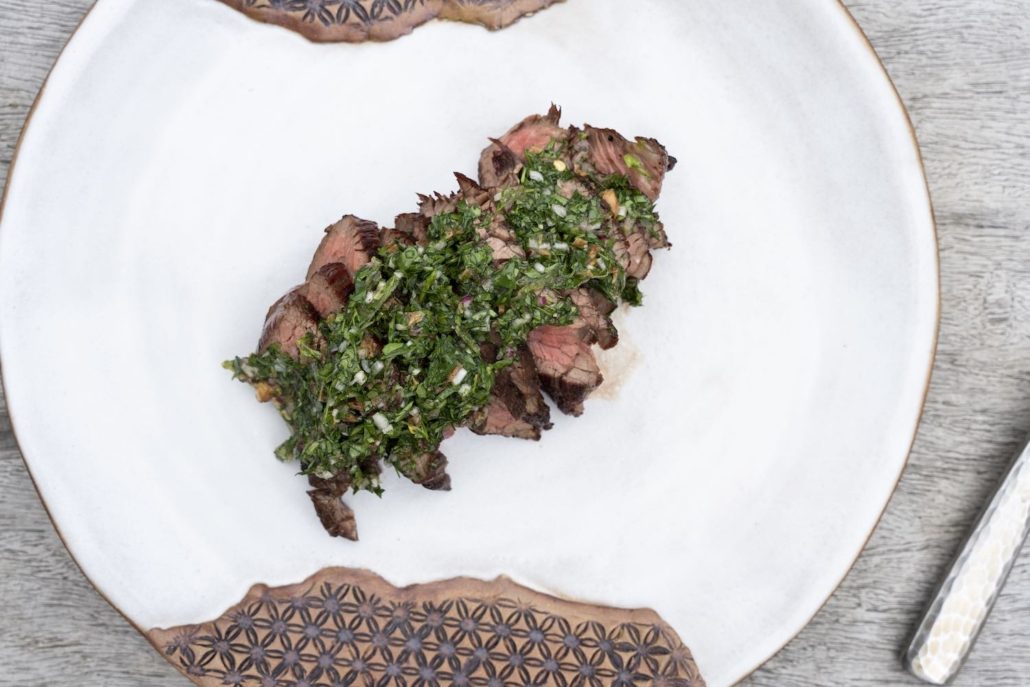 Spatchcocked Chicken 
This is an easy and yet vibrantly juicy chicken dish that emphasizes the smoke and char from the grill. You can pair with a fresh garden slaw and roasted potatoes.
1 whole chicken (about 3 pounds; have your butcher spatchcock* it for you) 
½ cup plain greek yogurt 
½ tablespoon minced garlic 
1 tablespoon kosher salt 
½ tablespoon cane sugar 
1 teaspoon sumac 
Zest from ½ lemon
Mix ingredients in a large bowl and thoroughly coat your bird. Marinate for about three hours in a refrigerator. 
Heat your grill and remove the chicken from the refrigerator 30 minutes before placing skin side up on the indirect side of your grill. Rotate as needed, but do not flip. 
Use a thermometer to check temperature at thigh, as well as breast. Remove and allow to rest once temperature is 160ºF. Garnish with a bit more sumac if you wish!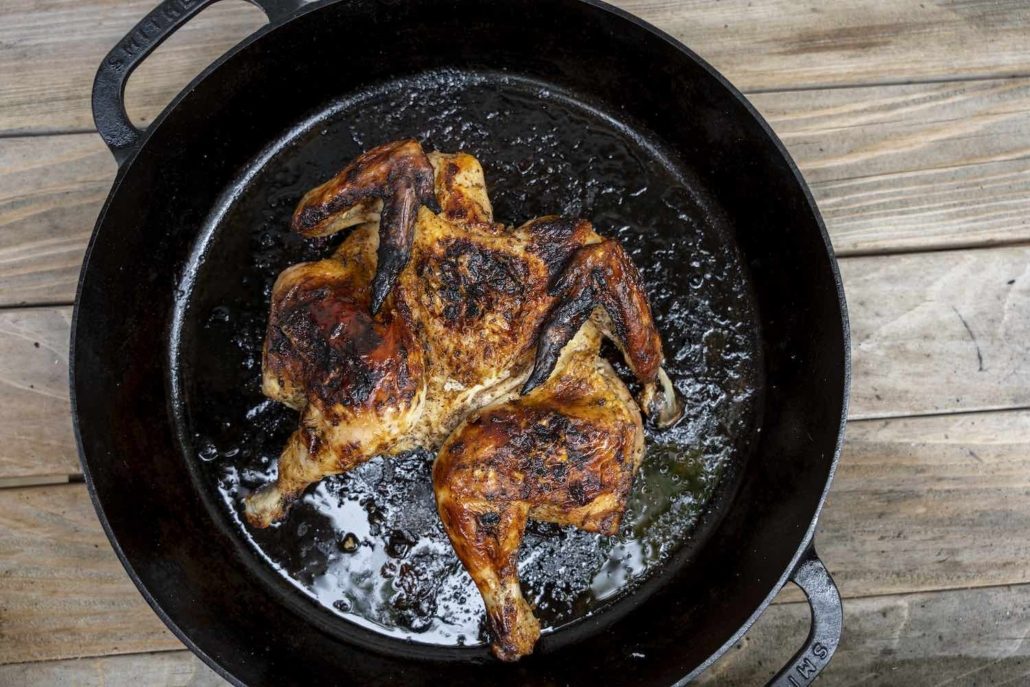 Kalbi
This sweet and salty beef dish is fun to eat with your hands! It goes well with sticky rice and fresh garden pickles.
4 flanken-style cut beef short ribs 
1 cup soy sauce 
1 cup hoisin sauce 
1 cup pear juice 
1 tablespoon chili flakes 
¼ cup lime juice 
Green onions and sesame seeds for garnish
Mix ingredients in large bowl and marinate ribs for 2-3 hours in the refrigerator. 
Heat your grill and remove the ribs from refrigerator 30 minutes before placing onto hot grill. Flip often to avoid burning, cooking for a total of about 7-9 minutes. Remove from grill and garnish with green onions and sesame seeds.
Save
Save
Save
Save
Save
Save
Save
Save
Save
Save
Chef Graham House of Chop Shop Butchery