SOURCES OF INSPIRATION
Jewelry artist Jeffrey Burroughs says their pieces represent "a fun disco ride of delight from my past."
WRITTEN BY ALLI MARSHALL | PHOTOS BY NATE BURROWS
***
When we think of the origins of art—whether it's a painting, a vase or a beautiful piece of jewelry— we often think of its beginning in raw form: a blank canvas, a hunk of clay, a rod of silver or gold. 
In truth, the beginning of art often occurs well before the artist steps into their workshop, tracing its first kernels of existence to a unique source of inspiration that could've entered the artist's awareness at any point in their life. 
For some, the spark of inspiration comes from an experience or a dream; for others, it's a landscape or an object. For Jeffrey Burroughs, an acclaimed jewelry artist who recently moved to Asheville from New York and joined the dozens of talented makers in the River Arts District, inspiration includes all of the above. 
The jewelry pieces are "a fun disco ride of delight from my past," Burroughs says. 
In the early months of the COVID pandemic, Burroughs—who uses non-gendered pronouns—was living in New York with their husband, photographer Jason Derevitsky, when they became one of the early victims of the virus. Hospitalized and afraid they might die, Burroughs slipped in and out of consciousness. And yet in between moments of awareness, they saw beautiful visions of awe-inspiring mountains. 
Once stabilized, although still suffering from the symptoms of long COVID, Burroughs took heed of the visions and Googled "top ten mountain towns." Asheville quickly appeared as a high-ranking result. They relocated to Western North Carolina in the fall of 2020, eager to find a place to make a full recovery, with plans to stay no longer than a year. 
But the couple fell in love with their new locale and opened a brick and mortar gallery in the River Arts District in 2022. 
New York is "something that never leaves you," Burroughs says, but "I just feel that this part of the world vibrates differently. It was everything I needed." 
With a well-established brand and a studio still in New York, Burroughs is a multifaceted designer whose work has been featured in nearly every edition of Vogue, among other magazines, on TV shows and in fashion shows, and worn by celebrities. Their new RAD space is intended to feature not only fine jewelry from their Jeffrey Burroughs New York brand, but also a highly curated selection of beautiful objects, fragrances, and home goods, along with collaborations with other artists in a variety of mediums.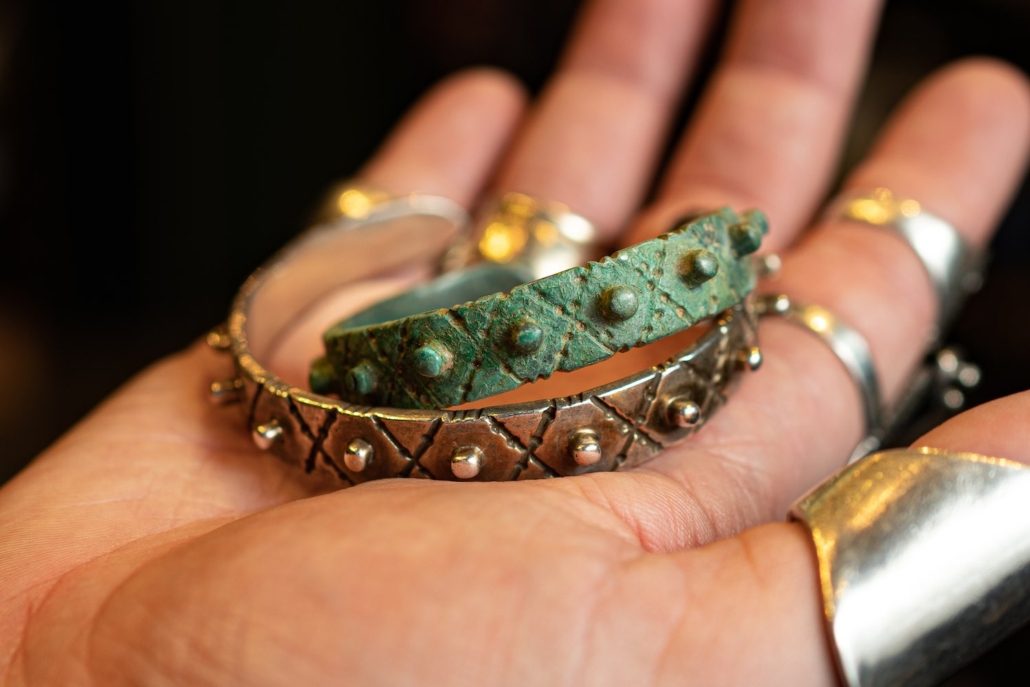 For one of Burroughs' first collections, Ancient Future, they drew inspiration from objects they acquired through travels, observed at museums and picked up at auctions. The pieces were fabricated using techniques from the era in which the informing artifacts were made, but infused with modernity. The Eternal Serpent Pendant, for example, features a recurring mythical Viking motif. The Everyday LUXE Collection, on the other hand, "has probably been one of my most successful because it's so approachable," Burroughs says. And the Luminance Collection is "all very much about how light is reflecting on objects… with shapes inspired by New York City." 
Burroughs' designs use rich precious metals and precious and semi-precious stones, and all materials are ethically and sustainably sourced through contacts they have fostered over their two-decade career. The designer is now at work on a new collection, scheduled for release in 2024, "that is very much inspired by my first year in Asheville, remnants of the pandemic and this exploration of life and death through nature and jewelry. 
"This is probably the most excited I've been about a collection in a long time," Burroughs says. 
---

Alli Marshall is a multidisciplinary artist and writer based in Asheville, N.C. Her media and public relations company AM/FM Broadcast supports independent artists and small businesses.
Save
Save
Save
Save
Save
Save
Save
Save
Save
Save
Jewelry artist Jeffrey Burroughs relocated to Asheville from New York and opened a studio in RAD in 2022.