ASHEVILLE RESTAURANTS SCRAMBLE TO STAY AFLOAT
Restaurants enter survival mode as they brace for the long-term impacts of COVID-19, letting go of workers and seeking loan deferrals
By Gina Kae Smith
Restaurant owners doing "financial triage," seeking government aid and support
Estimates show well over one-third of restaurant workers have been let go
"Not opening in the near future is not an option," Curate owner Katie Button says
Tourism to be on hold for a "couple of months," CVB President Stephanie Brown says
"It feels like all of our dreams are just kind of stopped," says Black Bear BBQ owner Autumn Pittman
◈◈◈
It reads like a fictional dystopian tale, but the situation is all too real for Asheville restaurant and bar owners and staff.
In the past week, social distancing measures and a mandated statewide dining room closure, aimed at preventing the spread of COVID-19, have caused overwhelming chaos within the service industry.
Just as the lucrative spring tourist season was poised to ease the financial crunch of the lean winter months, Asheville-area restaurant and bar owners were forced to swiftly decide between two unthinkable options: shutter and try to ride out the next few weeks or scramble to keep operating takeout and delivery services for very limited or no revenue.
As a result, well over 2,000 of the 6,000 restaurant workers that are employed at members of the Asheville Independent Restaurant Association have suddenly found themselves without jobs, according to an estimate from AIR.
◈◈◈
While the immediate unfolding of events has been unimaginably challenging—even catastrophic—for countless businesses and individuals, there is uncertainty and apprehension about what the long-term impact of COVID-19 might look like for Foodtopia.
"This is an absolutely devastating thing for most of the restaurants here in Asheville," says Asheville Food Tours owner Patrick Riels. As his own business has come to a standstill, he and AFT guide and local food writer Stu Helm have been applying themselves to rescheduling previously booked tours and looking for ways to help their distressed restaurant partners.
"We're just kind of trying to see what we can do to help to hopefully see as few permanent closures as possible," he says. "There are a lot of folks keeping their fingers crossed that this quarantine will be lifted on April 1 or soon thereafter, so there is some optimism in that respect. But I believe there's also some fear that if it goes for a month or two that some of them might not make it out of it."
AIR executive director Jane Anderson has heard similar concerns. "Some restaurants have indicated that they may not be able to reopen," she says.
Anderson encourages residents to offer support by ordering takeout and delivery, and adds, "If there's anything you perceive that AIR should be doing, please, please let us know."
Katie Button, executive chef and co-owner of Cúrate and Button & Co. Bagels, is collaborating with Raleigh chef Ashley Christensen in working with N.C. Gov. Roy Cooper and N.C. Sen. Terry Van Duyn to implement state and federal policy changes aimed at helping the service industry, such as an executive order issued by Cooper on March 17 that eases restrictions on accessing unemployment insurance.
Button opted to voluntarily close both her restaurants on March 16 due to concerns for staff and public safety as well as the unlikelihood that her businesses could stay in the black operating strictly on a takeout model. The James Beard Award-nominated chef was overseeing the packaging of perishables from her restaurants to dole out to her now unemployed staff members as she shared her uncertainty about how long her businesses will be able hang on in the face of an extended closure.
"The answer entirely depends on federal aid and help," she says. "Without that, I don't know. It's personal for everybody. We're currently, like everybody, doing financial triage—basically trying to eliminate all expenses because we have no revenue coming in."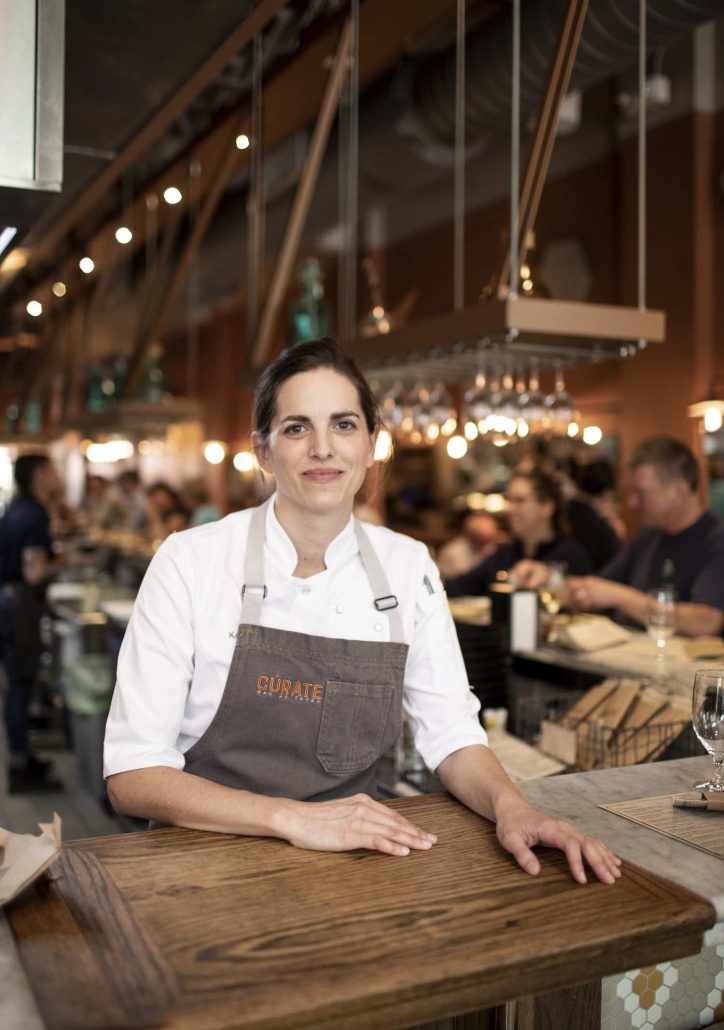 Part of that triage has been trying to secure lines of credit and calling lenders to ask for loan deferrals. "I'm taking out a line of home equity credit on my home just to have it, not that I want to spend it. Not opening in the near future is not an option," she says.
She notes that the broader implication of Asheville's hundreds of restaurants experiencing the same dire situation is sobering. "The hospitality industry in our community is one of the biggest economic drivers," she says. "The reason that there are small profit margins [in the restaurant industry] is because the majority of the revenue that comes through our doors—sometimes 90-95% of it—is spent in our community."
She estimates that about 30-35% of every dollar spent at her restaurants goes to pay employees, while another 60% pays farmers and other local suppliers, including brewers, artists and artisans, as well as maintenance people, cleaners and more. "So all of that coming to a halt not only puts all of our workers in a very precarious situation, but also everybody that we spend our money with in our community," she says. "The ripple effect of this in our community is going to be vast."
◈◈◈
Would Asheville still be a draw to visitors in a future with its restaurant and bar scene in shambles? According to Explore Asheville Convention & Visitors Bureau President and CEO Stephanie Brown, the long-term forecast for the city's tourism sector is interwoven with the recovery of its service industry.
"It all goes hand in hand," she says. "A source of customers sustains businesses, which makes the visitor experience better, and that makes more people come here, right? It's all an ecosystem."
Many have called on social media for the CVB to reallocate the funding it receives for advertising from Asheville's hotel occupancy tax and use it to support the city's small businesses through the pandemic. But Brown says that money doesn't exist. "That money would have been collected from people staying in lodging March-June, so we've postponed about $5 million of advertising, but we're looking at a $6 million reduction in revenue," she says.
"The money that people are calling to be reallocated would have been earned in the future. Whatever reserves we have will sustain these marketing efforts and be deployed as soon as possible to bring these customers back to these businesses."
Although the situation is still developing minute by minute, Brown says that depending on the discovery of new cases of COVID-19 in Buncombe County, "tourism and the visitor economy is probably going to be on hold for a couple of months."
◈◈◈
As noted by Anderson, some local restaurants may not be able to survive even the two-week closure that's currently in place. Autumn Pittman and her husband, chef A.J. Gregson, were already scrambling when they had to close the dining room of Black Bear BBQ, their restaurant in the River Ridge shopping center, and switch to takeout and delivery only. But when LEAF announced on March 18 that its spring festival was cancelled, Pittman says, "That was just the icing on the cake."
The couple, who have long been food vendors at LEAF with their Lil' Mojo food truck, had planned to double their presence this year with the addition of a Black Bear BBQ mobile kitchen. They were counting on cash from LEAF and other spring events to rejuvenate their business after a slow winter.
Pittman worries that even if federal or state aid does come, her business may not be able to generate enough revenue to pay the bills in the short term. "Rent is a big one, obviously. If we can't operate, and we still have to rent this building, and we're not having any income, how's that going to work?" she asks. "Everybody in this shopping center is affected by this, and there are three restaurants in the shopping center."
Pittman, who has a background in education and originally came to Asheville as an AmeriCorps volunteer, says she and Gregson are already talking seriously about restructuring their business or finding alternative ways to use their restaurant skills. They're considering a shift to nonprofit work, where they can use their passion for food service to benefit the community.
"[Black Bear] is still sort of a new business; we haven't gotten our legs under us yet. We're still very much just fighting to keep ourselves afloat and gain new customers, so coming out of the winter months is already challenging," she says. "It's so hard right now. It feels like all of our dreams are just kind of stopped as they're just getting going, and I'm sure there are a lot of other restaurant owners who feel the same way."
◈◈◈
For those restaurants that can find the resources to persist through the closure, Riels is optimistic that tourists will quickly return to Asheville after the pandemic passes. "I still have people calling and wanting to do tours right now, so I think that once the quarantine is lifted, we're going to launch right into what our normal numbers would be for this time of year," he says.
Button urges Buncombe County residents to be supportive of the closure mandate, which, she says, "protects the health of the communities but also activates the aid that we need." She also encourages people to call their senators to demand federal aid for workers and small businesses.
"And call your bank," she adds. "Ask them what they're going to be doing to help people make it through this. Banks have voices, and they're going to need support in order to offer loan deferrals and abatement, but they have the voice to demand that if the whole community is asking that of them."
Kevin Barnes, chair of the AIR board of directors and owner of Ultimate Ice Cream Co. (which is still open, but has switched to carryout only), says that in these unprecedented times, there is no easy fix for the restaurant industry. "The true fear is that not all of us will weather this storm. It is difficult to imagine how all this will look in two to three months. We are putting faith that our efforts today will improve our outcomes tomorrow. Only time will tell."
*** An earlier version of this story said Pittman and Gregson were considering leaving the restaurant business. Pittman said it's more accurate to say they are thinking about restructuring their business and using their skills in creative ways.
Save
Save
Save
Save
Save
Save
Save
Save
Save
Save