OOH BABY BABY,
 

IT'S A WILD WORLD

 
Lessons learned and shared on the power of wild foods to feed both body and mind
BY ASHLEY ENGLISH | PHOTOS BY ERIN ADAMS
I didn't grow up in an "outdoorsy" family. My mother's idea of taking me and my older brother into the great outdoors involved more weekend viewings of the elaborate, staged-to-sell Parade of Homes than roughing it in nature (several rather regrettable group-camping adventures notwithstanding). If it was cold or raining or hot, or otherwise strong weather, Mom was more than happy to have us hunker down inside, watching Scooby Doo marathons and playing in the garage with our G.I. Joe toys and Cabbage Patch Kids.
By contrast, in a book I'm currently reading entitled There's No Such Thing As Bad Weather, author Linda Åkeson McGurk details how, in her Swedish homeland, life is lived almost entirely outdoors. From frigid winters to robust downpours, Swedes are out in it. Toddlers and seniors alike are foraging berries in summer, snow-shoeing in winter, and gathering mushrooms whenever and wherever possible. Outdoor activities and interaction with the natural world is so deeply associated and aligned with Swedish national identity that it is codified in preschool education.
Despite not having a naturalist upbringing myself, I vowed as a young adult to do things different with my family—to live more in the way of the Swedes and embrace whatever Mother Nature delivers. So far, so good. If it's raining, we don muck boots and raincoats and head out into the great, wide open. When the mercury dips, we layer our woolens and slide into shearling-lined boots. I want my children to be able to identify wild violets and know they can eat them, just as much as I want them to know that chickweed makes a delicious pesto, and that sumac, mixed with honey from our hives, renders a refreshing, tart, native beverage that lemonade could only aspire to produce. My husband Glenn and I are sharing what we know, and passing it on to our boys, so that they too will know their wineberries from their spice berries, their morels from their chanterelles.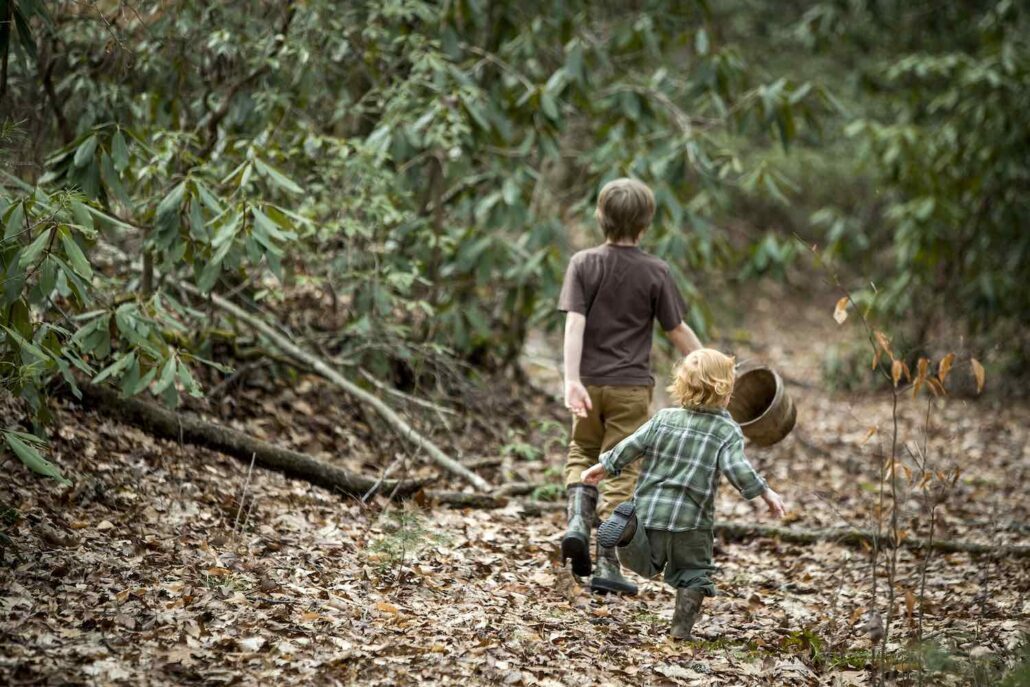 Western North Carolina is a temperate rainforest, one of only a handful in North America. Our region receives on average around 60 inches of rain annually. All that moisture allows for a wide variety of fungi to exist and thrive, with over 2,000 known species stretching from southwestern Virginia into north Georgia. From spring to autumn and, depending on precipitation and temperature, occasionally winter, mushrooms triumphantly push themselves out of the earth. It always feels like magic whenever I encounter a mushroom in the wild, as though the underworld has granted those above ground permission for an ephemeral sneak peek.
If you know where to look, and what to look for (not to mention what to avoid and pass by), you'll discover a world of delectable fungi, there for the taking. It's crucial to note the importance of being responsible while doing so (see my tips on ethical and conscientious wild-crafting, a term referring to gleaning or foraging botanical elements found in the natural landscape), but the ability to transform those mushrooms into a pastry-encrusted galette is a gift you should run to offer yourself and those you love. Every forkful is ecstasy.
Working with mushrooms, or honestly any wild-foraged food, always leaves me feeling deeply empowered. I know how to nourish myself with my landscape. I'm no longer merely a passive passenger on this earthly spaceship, but an active participant in the narrative of my journey here. Best of all, I'm getting to share that information with my children now. They, too, are stepping into a relationship with this third planet from the sun. While the cartoon marathons and toy battles of my childhood certainly had their merit, I'm wagering that the lessons my boys are learning from the wild will have a bit more of a long-lasting, not to mention delicious and life- sustaining, effect. ◊◊
How To Ethically And Conscientiously Wild-Craft Edibles  
Reprinted with permission from Handmade Gatherings: Recipes & Crafts for Seasonal Celebrations & Potluck Parties, Ashley English, Roost Books, 2014.  
Be mindful of where you forage. Many protected natural areas have prohibitions on wild-crafting. If you're on private land (that you don't own) or public lands, check beforehand to see if foraging is permitted.
Gather only a few plants, fruit, fungi, or nuts, so that others may forage and also to keep the plant from being over-foraged. 
If there is only one plant or specimen in an area, leave it.
Use clean scissors or a knife when harvesting so that diseases aren't spread from one location to another. Cut or shear instead of tearing or pulling to minimize plant damage.
Harvest fungi by twisting it gently from the stem and lightly pulling.
Steer clear of contaminated areas, like roadsides.
Pay attention to the vegetation underfoot when foraging, taking care not to trample it or disturb delicate ecosystems as you gather.
Do not dig anything up; take only the outermost leaves, fruits, and nuts so that the plant can reproduce the following year.
Eat only those plants, berries, fungi, or nuts you are certain are safe to eat. Making a guess can result in sickness, or in rare circumstances, death.
A number of wild foods are endangered or rare, needing conservation, not harvest. Read up in advance on what's in abundance and what's scarce in your area and pick accordingly.
Ashley English is the author of 11 books, including Home Apothecary with Ashley English: All You Need to Know to Create Natural Health and Body Care Products, Southern From Scratch: Pantry Essentials and Down-Home Recipes, and A Year of Picnics: Recipes for Dining Well in the Great Outdoors. She lives in Candler, North Carolina, with her husband, two sons, and a menagerie of chickens, dogs, cats, and bees. Smallmeasure.com
Save
Save
Save
Save
Save
Save
Save
Save
Save
Save
Ashley English out in the wild collecting edibles