Next Generation
How Hickory Nut Gap Farm became a pioneer in grass-fed beef
BY Jen Nathan Orris
Asheville City Market was bustling as six-year-old Levi Ager counted change beside his father at the Hickory Nut Gap Farm booth. Though a line was forming, the boy calmly thanked the customer and handed him a package of steak.
The three Ager children often help with the family business. Levi and his brother Nolin, 9, recently spent the day moving a "slew of baby pigs" to a new pen while Cyrus, 11, mowed the grass.
"They are getting to the age where they can be a real contributor to overall productivity," said their father, Jamie Ager.
Agriculture is a multigenerational affair at Hickory Nut Gap Farm, which has been in the family for a century. Jamie grew up there in the 1970s and 1980s, milking cows and putting up bales of hay. Over the past 16 years, though, Jamie and his wife Amy have transformed a modest family business into one of the region's largest suppliers of pasture-raised meat.
Hickory Nut Gap Farm's products, which include grass-fed beef, pastured pork, and free-range chicken, can be found on restaurant menus, in the butcher case at Whole Foods Markets, and sold with a side of friendly banter at tailgate markets.
As local meat—along with other forms of sustainable agriculture—has moved from a specialty product into the mainstream in Western North Carolina, Hickory Nut Gap Farm has led the way.
One hundred years ago, Jim and Elizabeth McClure were freshly married and on their honeymoon, exploring Appalachia in a Hudson automobile. "They were just driving through and they found this farm and sort of fell in love with it," Jamie Ager said of his great-grandparents.
Ager described his great-grandfather, Jim McClure, as a "young, idealistic minister from Chicago" who sought a new life with his wife, Elizabeth, a cultured woman who had studied art in France.
In 1920 McClure founded the Farmer's Federation, a cooperative designed to help local farmers build profitable farm businesses. The federation purchased agricultural supplies in bulk and helped its members find regional markets for produce and livestock.
"We always had a progressive bent," Ager said of his family's agricultural efforts.
Jim and Elizabeth McClure had six grandchildren—one of whom is Annie Clarke Ager, mother of Jamie and husband of John Ager, a state legislator. The grandchildren now jointly own the Hickory Nut Gap Farm property in Fairview.* In 2008, working with the Southern Appalachian Highlands Conservancy, the family put the land into a conservation easement, which protects the 600-acre property from any commercial development other than the on-site farm store.
"It would have really torn the family up to develop this place," Ager said. "It was a tough family conversation for a number of years there."
Though Jamie and Amy Ager had already spent years building the business and improving the property, they couldn't fully commit to expansion until the easement was official.
"That gave me the assurance that this is always going to be in agriculture," he said, allowing him to "start really putting true investments on the land and build opportunity here for future generations."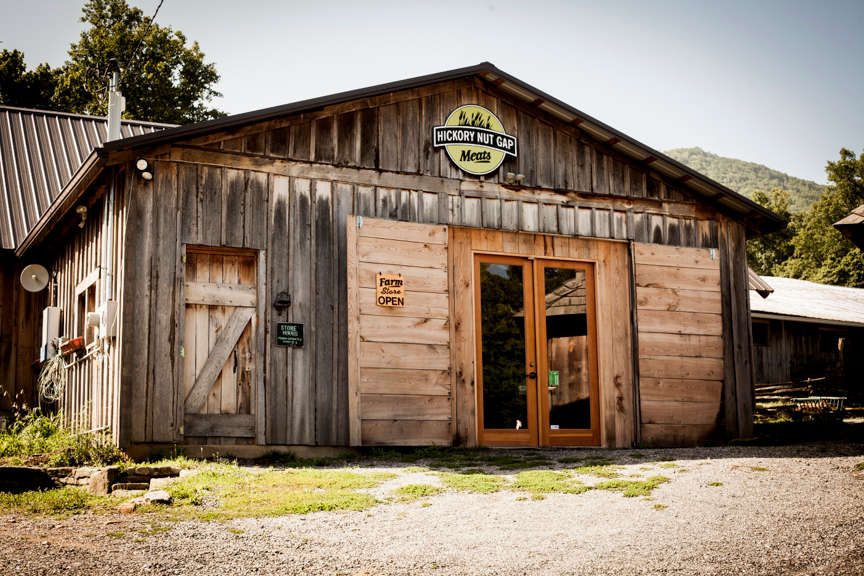 Hickory Nut Gap Farm was an outlier when Ager embarked on his beef business in 2000. Only two grass-fed beef farms were listed in the 2002 edition of the Local Food Guide, a directory published by the Appalachian Sustainable Agriculture Project. By contrast, the 2016 guide lists 62 farms producing grass-fed beef in the Southern Appalachians.
"It really was with the rise of the local food movement here that things started to shift" towards grass-fed beef production, said Allison Perrett, a researcher at ASAP.
The Agers helped open a path for others to follow by promoting their products, offering tours of their farm, and hosting workshops and classes. "I see them as playing a very influential role in the way that the grass-fed beef market has evolved here," Perrett said. "They've been increasing the demand for that kind of product through the education that they've been doing."
Ager estimates that 170 cows and calves spend their days chewing cud on Hickory Nut Gap's properties, which include the Fairview farm and another in Rutherford County. His supply chain, though, includes more than 3,000 head of cattle.
Hickory Nut Gap is a "producer group," or aggregator, which means it not only raises cattle but also purchases beef raised by other producers—a business model not unlike the one adopted on a larger scale by the national meat company Niman Ranch.
The company has a network of 20 partner producers in Western North Carolina, southwest Virginia, and upstate South Carolina. The partners benefit by securing a fair price without having to handle marketing or distribution. The meat from these farms is sold under the Hickory Nut Gap brand to wholesale accounts, including regional grocery stores and dozens of restaurants. The meat Ager sells at farmers markets is exclusively from his own pastures, as is most of that stocked at the farm store in Fairview.
Ager said the aggregator approach was born out of necessity as the company grew. He and his wife Amy—who leads the business's robust marketing efforts—spent several years selling primarily at farmers markets, which Ager describes as a "pretty exhausting proposition."
By the early 2000s Asheville's chefs were eager to add grass-fed beef to their menus, but they needed a reliable supply.
"The restaurants need a consistent product every week," Ager said. "When you tell them you're out of product, then they go somewhere else and the whole thing falls apart."
As Hickory Nut Gap expanded its supply chain, it gained the capacity to take on an even bigger account. The Agers began selling grass-fed beef to Whole Foods in 2011 and currently sell eight to twelve head of cattle per week to the chain. The beef is available at eight Whole Foods stores in North Carolina, South Carolina, and Alabama.
Working with Whole Foods offers HNG several advantages: a wider and more reliable market for its products, increased visibility, and skilled butchers who can break down an entire side of beef.
The chain is "easy to work with because they use whole animals, so we don't have to inventory a bunch of rib eyes and strips," Ager said.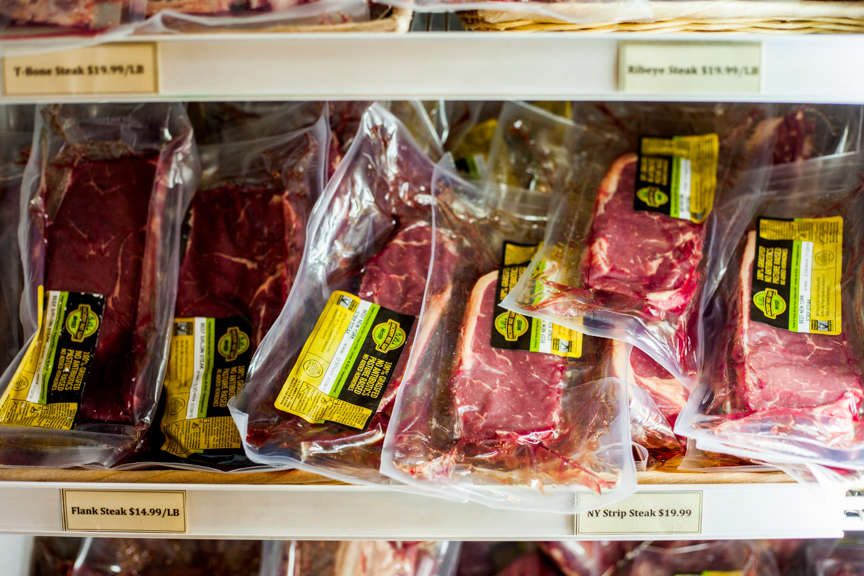 When Ager met Sam Dobson 10 years ago through an agriculture leadership program sponsored by N.C. State University, both saw the untapped potential of raising beef on a larger scale while staying true to their ethical ideals.
Dobson is now Hickory Nut Gap Meats' production coordinator, and he also raises cattle for the company on his certified organic farm near Statesville, north of Charlotte. He works with Ager to evaluate partner producers before they enter the supply chain and visits each partner producer at least once a month.
"We have a belief system," Dobson said. "We have goals on what we're trying to do with the animals, what we're trying to do environmentally, and we're just trying to match all those principles up with our producers."
Hickory Nut Gap requires that all cattle from partner producers be entirely grass-fed and that they be given no hormones or antibiotics. The ethical treatment of animals drives the farm's brand and business model, Ager said.
These requirements are monitored through what Dobson called "boots on the ground" measures, including farm visits and third-party audits required by wholesale accounts. Whole Foods, for instance, hires IMI Global and Earth Claims to perform on-farm inspections, which are conducted every 15 months.
"The reason it's not done every 12 months is because they want to go to the farm at different times of the year," said Joel Kutner, Whole Foods' associate meat coordinator for the South region. "They want to make sure that in the summer there's plenty of water, (and that) in the winter when it gets cold there's plenty of bedding and access for the animals to get out of the weather."
Hickory Nut Gap is certified as a "pasture-centered" operation through Global Animal Partnership, which monitors the treatment of animals on the farms as well as the transportation and processing of animals. The cattle are slaughtered at May's Meats in Taylorsville, North Carolina.
Hickory Nut Gap is also transitioning to meet the USDA's National Organic Program standards.
"Agriculture is way too complicated to be described in one word like organic," Ager said. "But it also has huge market value."
As Jamie Ager sees it, building the business while remaining committed to ethical standards is the best way to ensure Hickory Nut Gap Farm thrives for another 100 years.
Ager's sons tell him they want to be farmers when they grow up, yet Ager's goals for sustainable agriculture go beyond his family.
"If we can provide opportunities for people on farms to get a premium and to create a value for a more humane, sustainably raised, environmentally friendly livestock production methods, then everybody wins."
Jen Nathan Orris is a freelance writer and audio producer and the host of "Growing Local," a radio series and podcast supported by ASAP. Contact her at jenathan@gmail.com and follow @jenathan.
Save
Save
Save
Save
Save
Save
Save
*Because of an editing error, an earlier version of this story incorrectly described the line of descent in the family. We regret the error.
*Because of an editing error, an earlier version of this story incorrectly described the line of descent in the family. We regret the error.Save
Save
Save
Save
Save
Save
Save
Save
Jamie Ager at Hickory Nut Gap Farm.