THE FLAVORS OF NC TOMATOES
Presented by the NC Department of Agriculture and NC Tomato Growers Association
…
TOMATO, SPINACH AND FETA GALETTES 
By Alexandra Winters 
.
3 sheets of frozen butter puff pastry*
1½ packages frozen spinach, defrosted and drained or 1 pound fresh spinach chopped, cooked, cooled and drained 
1¼ cups feta cheese, crumbled 
1 cup grated Parmesan cheese 
Freshly ground pepper to taste 
2 large North Carolina tomatoes 
1 egg, beaten 
Preheat oven to 390°. 
Defrost spinach, or cool if using fresh, and squeeze out as much moisture as possible. Mix spinach and feta together in a bowl. Add the parmesan and season with ground pepper to taste. Line your baking pan with parchment paper. 
Ensure that your pastry is still chilled, cut into 5-inch squares and place onto the baking pan. Spread spinach mixture on each pastry square, flatten slightly, leaving ½ inch around edge. Top each with a slice of tomato and season with pepper to taste. Brush edges of each pastry with beaten egg. Fold over each side of the pastry and brush with more beaten egg. 
Bake for 15 minutes, or until edges become golden. 
*Gluten-free puff pastry is also available.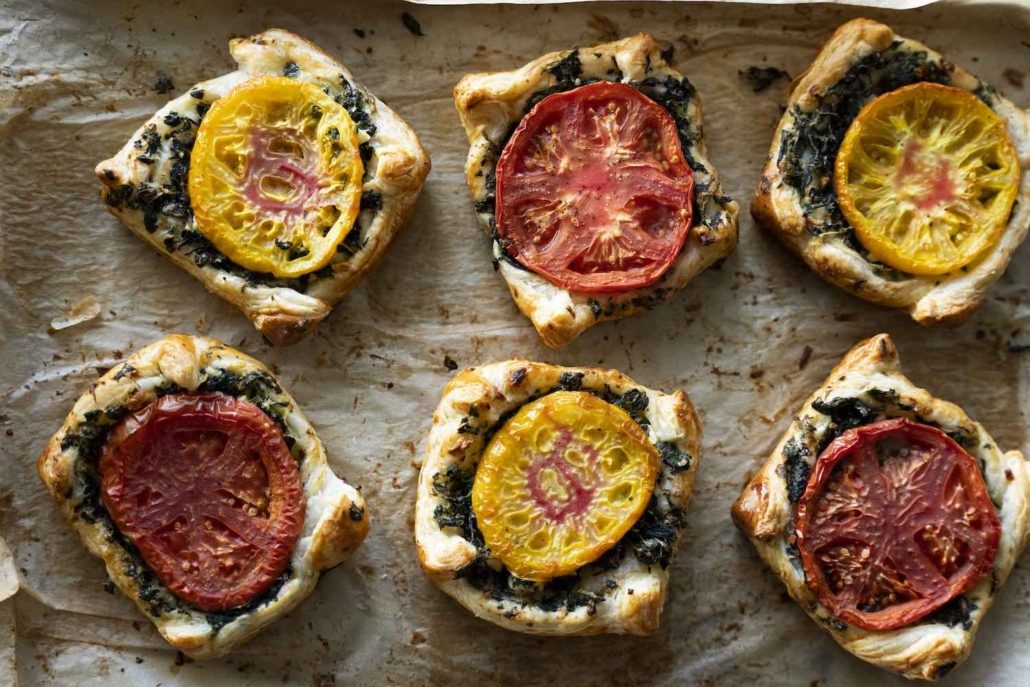 THE BEST HOMEMADE SALSA 
By Melskitchencafe.com 
10 cups peeled, chopped and drained North Carolina tomatoes 
3 cups chopped onion 
1¾ cups chopped green bell pepper 
5 jalapeños, finely chopped, membranes and seeds removed (or leave in for extra spice) 
7 cloves garlic, finely minced 
2½ teaspoons ground cumin 
2½ teaspoons coarsely ground black pepper 
2½ tablespoons canning or pickling salt 
⅓ cup chopped fresh cilantro 
⅓ cup sugar (optional, depending on sweetness of tomatoes) 
1¼ cups apple cider vinegar 
16 ounces tomato sauce (not optional, this is necessary for safe canning/ proper pH) 
12 ounces tomato paste (optional if you want a thicker salsa) 
Combine all the ingredients in a large pot and bring to a boil. Reduce the heat and simmer for 10 minutes, stirring often. 
Fill sterilized pint-size canning jars within ½ inch of the top. Wipe the rim of the jar clean and seal with a lid and ring. 
Process in a water or steam bath canner for 15 minutes (add 5 minutes if you live at 1,001 to 3,000 feet; add 10 minutes for 3,001 to 6,000 feet; add 15 minutes for 6,001 feet to 8,000 feet). 
Remove the jars carefully from the water or steam bath and let cool to room temperature. Check to make sure the jars have sealed correctly (lightly press the top of the lid; it should be firm—if the center bubbles up and down when you press on it, it hasn't sealed correctly and will need to be refrigerated or reprocessed). 
.
CRISPY PARMESAN TOMATO CHIPS 
By Brenda Bennett 
6 cups thinly sliced North Carolina tomatoes (Romas work well; not as juicy) 
2 tablespoons extra virgin olive oil 
2 teaspoons sea salt 
1 teaspoon garlic powder 
2 tablespoons fresh chopped parsley 
2 tablespoons grated parmesan cheese 
Gently drizzle and toss the sliced tomatoes in the olive oil to coat slices. Place slices without overlapping onto dehydrator shelves or on a baking pan. 
If you are baking, preheat the oven to 200°. In a small bowl, whisk together the remaining ingredients. Sprinkle mixture over each slice. Depending on how thick the slices are, dehydrating could take from 12-24 hours. If baking, check every 30 minutes until edges show some charring, could take 4-5 hours.
Save
Save
Save
Save
Save
Save
Save
Save
Save
Save
North Carolina farmers have found the best-tasting varieties of tomato plants and use growing techniques that encourage life-giving air movement around the plants.