MOUNTAIN TROUT CROQUETTES WITH SUMAC AIOLI
Recipe by Terri Terrell | Styling by Michele Gentille
Photos by Erin Adams
***
As a cook who's committed to sourcing local food, I've discovered many ways to prepare Sunburst Farms Trout, a terrific local product that is both delicious and beautiful to serve. These croquettes are finished with an aioli (don't skip the Duke's!) that's brightened with dried sumac, a citrusy berry that grows all over our region.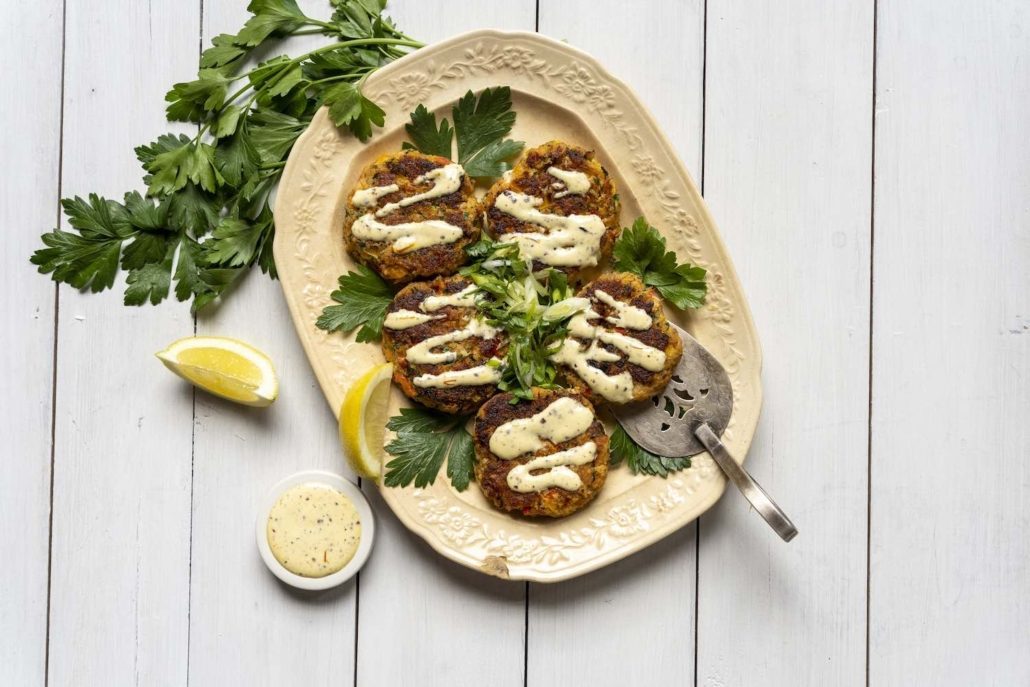 Makes 4 servings as an appetizer or 2 servings as a main dish
4 fillets Sunburst Farms trout, 4-6 oz each 
1/4 cup Duke's mayonnaise 
1 tablespoon Creole mustard 
3 dashes Louisiana Hot Sauce 
2 tablespoons minced red bell pepper 
2 tablespoons chopped fresh chives 
1/4 teaspoon dried basil 
1 teaspoon ground cumin 
1/2 teaspoon ground coriander 
1/4 teaspoon Creole seasoning 
1 teaspoon white pepper 
1/4 cup dry breadcrumbs, preferably homemade 
Salt and pepper to taste 
2 tablespoons high-heat cooking oil such as grapeseed Sumac aioli (ingredients and instructions below) 
2 tablespoons chopped green onion for garnish
Preheat oven to 350°F. 
Pat dry and season trout fillets with salt and pepper and place them skin down on parchment-lined baking sheets. Bake the fillets for 10 minutes or until they flake when tested with a fork. Remove from oven and let cool. 
Meanwhile, combine remaining ingredients up to salt and pepper in a non-reactive mixing bowl. Add large flakes of the fish to the bowl and gently combine. Taste and adjust seasonings. Shape into 2-inch or 4-inch patties about 3/4" thick. Place on a fresh parchment-lined baking sheet and refrigerate for 30 minutes or until ready to cook. 
Heat a large skillet (I use cast iron) over medium heat and add the 2 tablespoons of high-heat cooking oil. Make sure the oil coats the entire surface of the skillet. 
When a drop of water added to the skillet sizzles, it is time to add the cakes. You do not want to brown them too fast. Slowly cook on both sides to get a crisp golden brown while still heating all the way through, about 3-4 minutes on each side. 
To serve, drizzle with the aioli and top with chopped green onion. 
SUMAC AIOLI 
1/4 cup Duke's mayonnaise 
2 tablespoons thick yogurt 
Juice of half a lemon or more to taste 
1 garlic clove, finely grated 
1/2 teaspoon smoked paprika 
1 teaspoon dried sumac 
Whisk all ingredients in a non-reactive bowl and refrigerate. Can be made up to 3 days prior to serving.
Save
Save
Save
Save
Save
Save
Save
Save
Save
Save
This recipe for mountain trout croquettes pulls flavor from chives and red bell peppers, and an aioli dressing.