Life is Sweet
Chocolate making is a creative journey for three local artisans
BY JARRETT VAN METER
As Roald Dahl writes in Charlie and the Chocolate Factory, "There is something about very cold weather that gives one an enormous appetite." While this may be true, suitable substitutions for very cold weather can also include a post-holiday lull, quarantining, and, well, the human condition. To satisfy local appetites for chocolate, three Asheville-area makers offer their own unique takes on one of life's sweetest indulgences. 
Mandala Chocolate 
As a child growing up in Cary, North Carolina, Mandala founder and CEO Rob Lenfestey believed he was allergic to chocolate. So he had his first taste on a hiking trip at age 20 out of sheer caloric necessity. Instead of an allergic reaction, he discovered a new passion. 
Lenfestey delved into the study of chocolate and chocolate making, living on cacao plantations in Costa Rica and Hawaii while exploring a fascination with tropical superfoods. An interest in ecology and sustainability also kept the Appalachian State University graduate traveling around the globe as he learned about permaculture and food forest systems. Ultimately, though, he felt called to return to his home state and settled in the Barnardsville area, starting Mandala Chocolate in 2008 on 67 acres in the Big Ivy area of Pisgah National Forest. 
As a Certified B Corporation with a focus on sustainability, the company offers a variety of raw, non-GMO, certified organic chocolate bars, all made with ethically sourced, stone-ground cacao and certified organic adaptogen and healing herbs, such as ashwagandha and licorice, and medicinal mushrooms, including reishi and chaga. Of the seven raw chocolate bars Mandala produces, two of them—Appalachian Wild Chai and Cacao Alchemy—are sugar-free and prebiotic. The rest are low-glycemic, sweetened only with coconut sugar. There's also a pepper-mint-honey bar sweetened only with sustainably sourced honey. 
Lenfestey grows some of the herbs used in his products, and he notes that Mandala has spearheaded an effort to get surrounding public forest lands certified organic for wild herb and mushroom harvesting. He's also worked to achieve organic certification for specific species—including chaga and ganoderma tsugae mushrooms and spice berries—that are included in his bars. 
"Basically, the product that we're creating is inextricably linked to this land," he says. "It creates a really beautiful bridge between these indigenous communities around the world—especially in South America— and the southern Appalachian Mountains and the magic we have here that's only now just starting to come into its time and space, where people actually understand the foods and medicines that are right under their nose here in this region." 
For more, visit mandalanaturals.com. 
Rob Lenfestey of Mandala Chocolate 
Conjure Craft Chocolate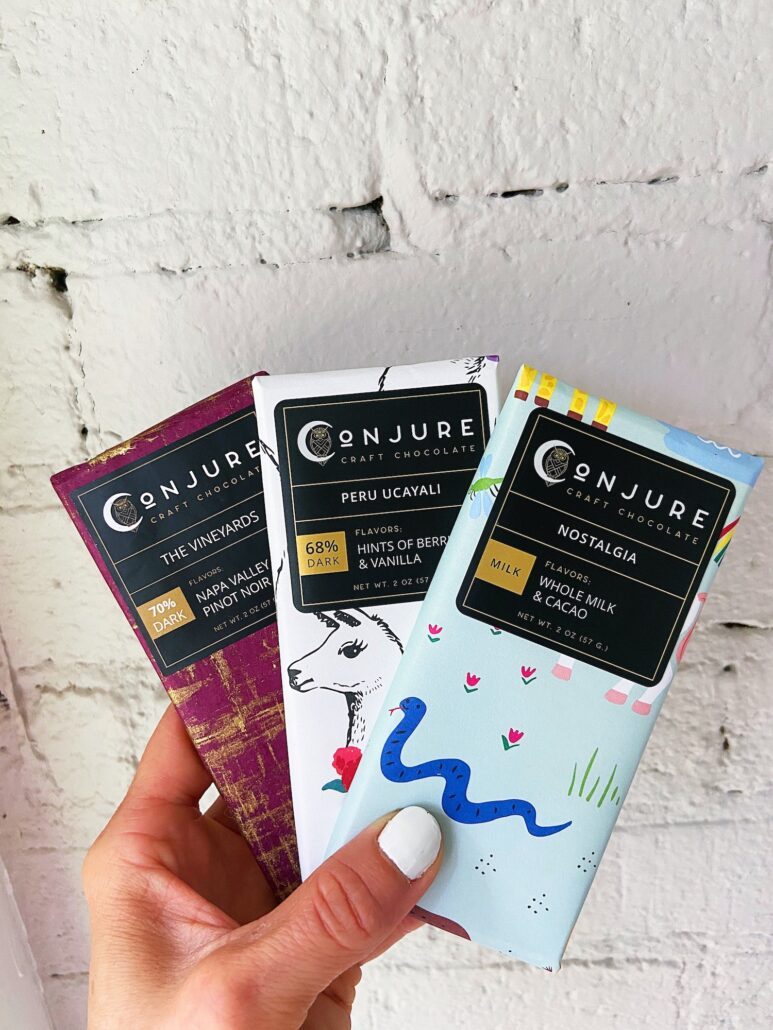 For Connecticut native Marjory Rockwell's small-batch, bean-to-bar outfit, it's all about the name. "With every Conjure bar, you're supposed to be conjuring something … a place, a feeling, or a memory," the Connecticut native explains about her business, Conjure Craft Chocolate. "That's essentially how I try to separate myself from other [chocolate brands]." 
Rockwell's timeless whole milk and cacao Nostalgia bar comes wrapped in paper decorated with unicorns and giraffes. The Smoky Mountains bar is flavored with Jack Daniel's Tennessee whiskey and honey. Winter seasonal flavors include Cold Snap, made with homemade gingersnaps, and Winter Wonderland is a white-chocolate take on eggnog spiced with nutmeg, cinnamon, and cloves. 
Rockwell moved to Asheville after graduating from culinary school at Le Cordon Bleu in Ottawa, Canada, and holding a variety of restaurant jobs up and down the East Coast. While visiting a friend in Kenya in 2018, she learned the basics of making chocolate and was inspired to make a professional about-face. 
After two months of researching chocolate-making techniques, she moved to Asheville to be closer to family that had relocated to the area, as well as to take advantage of the city's unique commercial culture. "Asheville is very open to small businesses and local products and everything," she says. "That has been incredibly helpful. The community has been very supportive compared to other places I have lived." ◊◊ 
For more, visit conjurecraftchocolate.com. 
Silvermoon Chocolate 
Raw foods enthusiast Aradhana Silverman first began making chocolate when raw ca- cao powder and butter appeared in her life like a cosmic loophole around 2007, when the products began showing up in co-ops and health-food stores. 
"It was most exciting because I hadn't eaten it for so long," Silverman says, noting she had always loved chocolate prior to adopting a raw food diet. "Most cacao beans are roasted at really high temperatures, so that's the difference—[raw cacao is] unroasted." 
Silverman, who was living in Los Angeles at the time and working as a musician with her husband in their band, I,Star, began experimenting with making raw, vegan cacao creations, including a drinkable liquid. She soon started selling the treats at I,Star shows. "I learned that it was really great to have people under the influence of my chocolate while they were listening to our music," she says with a laugh. "As far as marketing, it was just a great association for people to hear our music and then to realize that we were also creating this incredible, high-vibe chocolate—it was just kind of like a two-for-one thing." 
When she and her family relocated to Asheville in 2012, Silvermoon Chocolate came with her but transitioned to a more traditional retail model. Silverman became a staple at local tailgate markets and eventually began selling Silvermoon products at Earth Fare, Dobra Tea, and other locations. A best-selling product is the Medicine Ball, a base of almond butter, stone-ground cacao butter, and coconut oil sweetened with raw honey and enhanced with about 20 superfood ingredients, including spirulina, bee pollen, and hemp seeds. Silvermoon's line of raw cacao bars includes a popular rasp- berry-vanilla blend and a mocha bar made in partnership with Dynamite Roasting Co. 
Through her business, Silverman also embraces a more spiritual side of chocolate. "Cacao is a heart opener, a heart medicine, so it's powerful to use it in the ways of connecting to spirit and to each other," she explains. She has long hosted ceremonial "cacao circles" and weekly Chocolate Church events, serving a strong cacao elixir to complement meditation, music, and energy work. Details are posted on the Silvermoon Chocolate Instagram page (@silvermoonchocolate), and Silverman creates Facebook event pages for each Chocolate Church. 
For more, visit silvermoonchocolate.com. 
Jarrett Van Meter is a writer based in Asheville. His work has appeared in such publications as Charlotte Magazine, The Boston Globe, and Portland Monthly Magazine, among others. He is the author of How Sweet It Is, a nonfiction book about high school basketball in his home state of Kentucky. Follow him on Twitter and Instagram at @jvanmeter31. 
Save
Save
Save
Save
Save
Save
Save
Save
Save
Save
Rob Lenfestey of Mandala Chocolate