LET US ENTERTAIN YOU
After putting a pause on gatherings at their cozy West Asheville bungalow, Kathy and Tom Leiner—a dancer and musician who are frequent dinner party hosts— are eager to emerge from the pandemic cocoon.
BY KAY WEST | PHOTOS BY ERIN ADAMS
Kathy Leiner is a dancer, choreographer, and chair of fine arts and dance program director at a local private school. She is also a gardener who delights in setting an artful tableau using her own fresh-cut flowers and foliage, as well as a vast collection of vintage china, glassware, and silver she amassed as owner of a now-closed party rental company.
Tom Leiner is a wine representative, as well as a musician working with several local bands. As a talented cook, Tom de- votes the same care and planning to a dinner for two as he does to an event for 20.
Not surprisingly, an invitation to gather for wine and dinner at the Leiners' cozy West Asheville bungalow—whether around the dining room table, on the patio, under the gazebo, in the garden, at the firepit, or beside the small pool—is usually welcomed by friends and colleagues.
Edible Asheville: Although some mask and distancing requirements are still in place, many people are feeling more comfortable with socializing this summer and bringing back old traditions. What would a pre-pandemic gathering look like at your home?
Tom: We did a lot of dinner parties. Outside we hang out while I'm grilling; we're all having wine. We have a big farm table on the patio, and inside we took down a wall to extend the kitchen and make room for a long, narrow table that can comfortably seat 10. When needed, we have small tables we can add to the big table for more seating. We cross-pollinate our groups of friends—my wine and musician friends; her dance, theater, and school friends—and invite some newbies, too. We like to do culinary-themed dinners. We go all out.
Kathy: For an Italian dinner, we made name tags with Italian names and had everyone pick their own name. I chose a different china pattern for each place setting to match each guest's personality and tied rolled napkins with a sprig of lavender and a name card.
Tom: We almost always start with Champagne, and I pair wines for each course. We would do five or six courses and a dessert. After dinner, I'd bring out instruments for the musicians to play. It's just the most fun thing in the world.
Kathy: The last dinners before COVID were with two other couples, and the hosting house would invite a few other people. We did Spanish tapas and Spanish wines at our house; the next couple did Italian small plates and Italian wines at their house. That's all the further we got until COVID.
EA: Will you start to entertain again this summer—and, if so, what will that look like?
Kathy: [During the pandemic], we entertained ourselves by talking about ideas for entertaining! Most people we know are vaccinated now, but some still have little kids who can't be. So I think, for the time being, people prefer being outside. The garden is filling in, the weather is beautiful, and it's so nice in our yard. We talked about starting off with a cocktail supper, using a two-hour timeframe to come and go. People can pick up a glass of whatever, a small plate, and distance themselves as they like.
Tom: We came up with lots of ideas. Pairing courses with performances—musical and dance—would be fun. We want to resume the culinary globe trot one country at a time and pair courses with wines from different regions of that country. Or we might set up different parts of the yard as countries with food and wine from that country—and, of course, international music. You don't have to leave home to travel.
Kathy: I am pushing hard for a progressive dinner in the yard. When guests arrive at the top of the driveway, we pour some Champagne and have a little nosh. Then go to a little spot by the pool and the next course is there. You can wander around to differ- ent stations and be as spread out as you want to be. We can have a seating area by the pool, by the cabana, up there on the hill, one in the garden. I love the idea of creating little vignettes in each area.
Tom: We can't wait for that big, raucous, sit-down dinner, but for now we'll probably keep it smaller and more intimate with people who know each other. A colleague of Kathy's is retiring, and he loves port, so I want to do a seated dinner for maybe six or eight with food built around a really nice bottle of port I have.
Kathy: Last summer, a friend set up a screen in their backyard and hosted a movie screening, and people sat where they felt comfort- able—that's a great all-ages activity, and we also have the pool. And we definitely want to bring back our annual Fourth of July party, which is a big, pop-in/pop-out, all-day kind of gathering.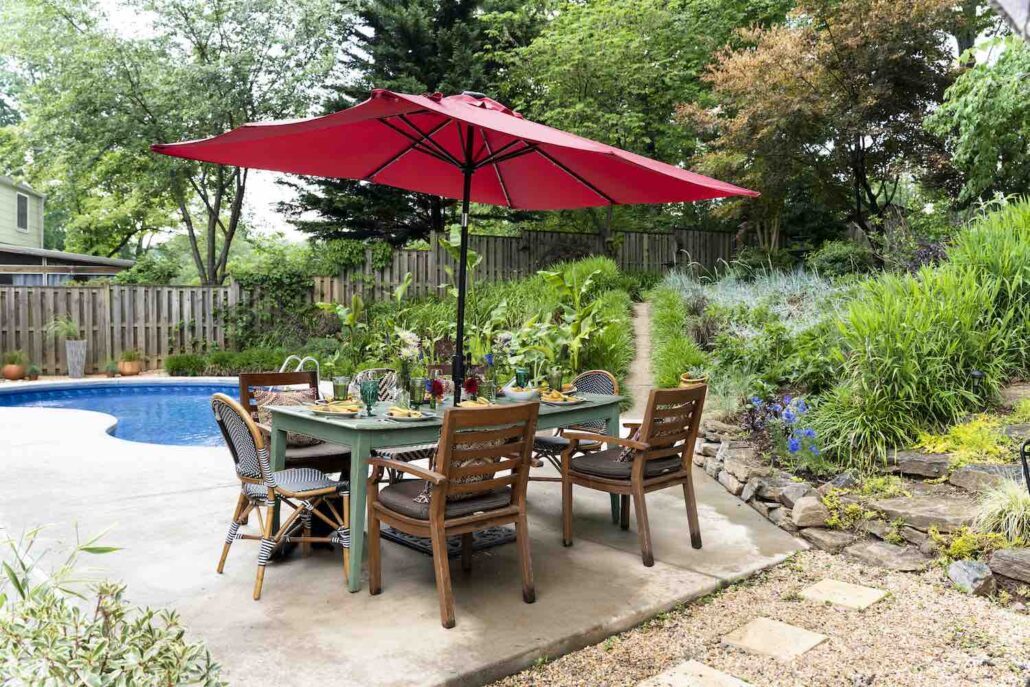 EA: Did you entertain at all during the lockdown? And if so, what was your experience?
Kathy: A couple of times, Tom said, "Let's just have a little wine tasting dinner," and I would have to be the voice of reason and say "no." It was hard on him. But he loves to cook and pair wine with food, so he kept doing that for the two of us. I am very spoiled.
Tom: You have to eat, why not make it as enjoyable as possible? Eventually, as people became more comfortable and in need of socializing, we had people over outside. We have room to spread out and would set up a big ring of distanced chairs around the fire pit, not at a table. A few times, people brought their own food, which I don't like, but it made them more comfortable. I poured wine in glasses. There was plenty of hand sanitizer around.
Kathy: One time, we decided to make the food and have people over. We set up small, distanced tables for two and had food preset on the tables. But people were still anxious then, and only one couple showed up. Later we did something for a friend who was moving and had individual plates with food people picked up and took to the fire pit. That went well.
EA: What advice can you offer for novice home entertainers? Tom: Share duties according to what you enjoy doing. Get the kids to help—it's how they learn and become comfortable entertaining.
Kathy: My mom and dad were the people in the neighborhood who entertained everyone—dinner parties, bridge club, luncheons. My mom was so into setting a table and had me help. I wasn't keen on it when I was young but learned so much from her, and as an adult I love it. And both my kids ended up being chefs and love to entertain.
Tom: If you aren't a wine pro, call the wine shop and ask for their advice in selecting wine. Prep all you can in advance, so you can spend time with your guests. Relax. People are just happy to be there. Do it with love. That's the main ingredient.
Kathy: And plenty of Champagne. It's celebratory and delicious. Champagne to start, during, and to end. ◊◊
Kay West has been writing for 40 years, covering everything from etiquette to baseball, celebrity red carpets to social justice issues, but her primary beat has consistently been all things food. She moved from New York City to Nashville, then Nashville to Asheville in January 2019. She is looking forward to resuming her exploration of town and mountains. 
Save
Save
Save
Save
Save
Save
Save
Save
Save
Save