IN APPRECIATION OF
COLORFUL ROOTS
An exploration of life below the surface
Words by Chris Smith
***
I've been thinking a lot about roots. I've been wondering if our soil-dwelling friends, in their mirror world, see root networks like we see forests. Free-living soil microbes like birds in the trees. Root-feeding nematodes like long-necked giraffes, grazing across subterranean prairies. In this world predatory nematodes and arthropods hunt for food along the forest floor. Grubs and worms nomadically roam the land. Moles are miniature apex predators, digging and hunting in eternal darkness. Do they crave the heat of the earth in this underground world just as we crave the sun? 
This level of anthropomorphism may be due to an overactive imagination, but the fact is there's an entire living world under our feet that we barely understand and rarely think about. And yet healthy soils can sequester carbon, reduce erosion, hold water like a sponge, balance and cycle nutrients and ultimately improve the vitality and resilience of our farming systems. Perhaps if we thought of the soil as an underground forest, we'd be less inclined to treat it so poorly with over-tilling, herbicides, fungicides, pesticides and soil-life homicide. 
Consider what we do know about this underground world: There is also a lot of human food that is produced under the soil in the form of roots, tubers, bulbs, corms, stems and rhizomes (collectively known as root vegetables). And these root vegetables give rise to a perplexing question: Why are they often so colorful? 
The common explanation for above-ground color is usually animal related: a rainbow array of flowers to welcome the pollinators; colorful fruits to attract hungry animals that will help spread seeds or share other mutual benefits. Kim Valenta, an evolutionary anthropologist, questions this animal-attraction theory, stating, "With the exception of a handful of other primates, no other animal on Earth sees color the way that we do." But even so, color above ground seems to make way more sense than color below ground, where darkness prevails. And yet, with a spade or fork, we gardeners lift root vegetables from the ground each year as if unearthing buried jewels. 
Carrots can be orange, yellow, red, purple and white, with multicolor cross sections that earn them names like Cosmic Purple and Atomic Red. Beets can be deep purple, orange, yellow, pink and red, with some varieties dubbed Candy Cane beets for their concentric circles of alternating colors. Radish range from black to white, with all the hues of red and pink in between. The Watermelon radish, with its green skin, white "rind" and red interior, is almost mocking in its mimicry of the sweet-fleshed watermelon. 
Potatoes come in every color too, as their names note: All Blue, Yukon Gold, Red Pontiac, Purple Majesty, Golden Wonder, Pink Fir Apple and so on. The Purple Viking potato has a skin of swirling red and aubergine patterns. Sweet potatoes may be known for their sugary orange flesh, but also have white, yellow, pink, purple and orange in their repertoire. Skin color and flesh color combinations make for a beautiful and expansive mix of varieties. Yams come in yellow, white and purple flesh. Ube is a well-known yam with deep purple flesh used in many traditional Filipino desserts. Despite being boxed into a single color on supermarket shelves, turmeric rhizomes come in blue, black, white, yellow, orange, red and green. Rarer Andean roots like oca, mashua and ulluco come in a stunning range of mixed and sometimes luminescent colors.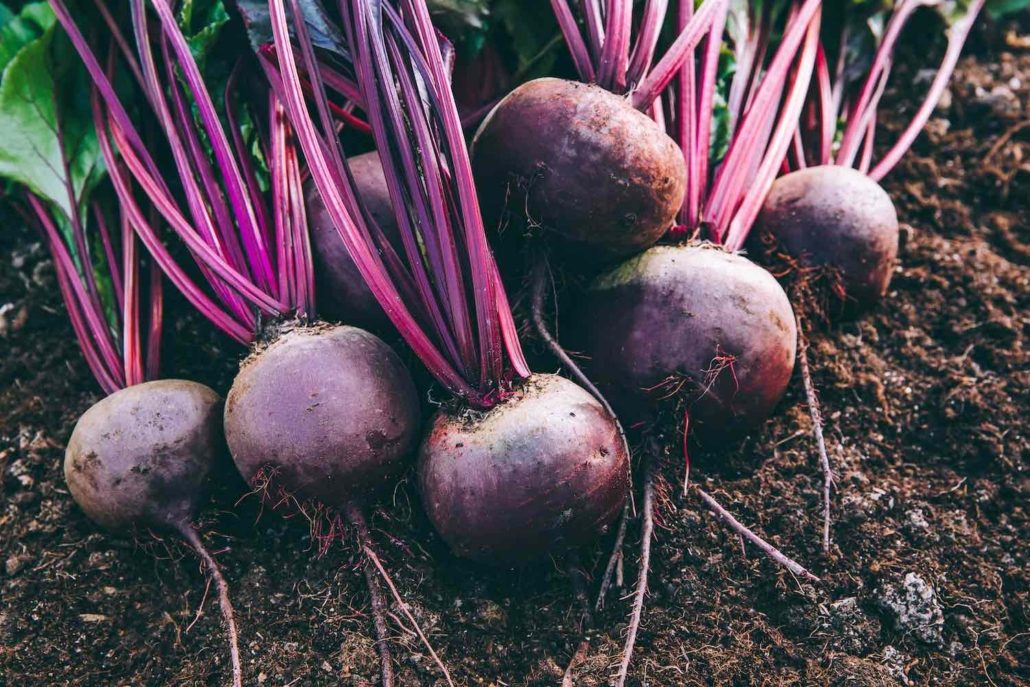 But the question of why there is such beauty below the ground remains unanswered. With above-ground colors, Valenta suggests that environmental factors play an important role, including as a type of sunscreen to protect the plants from harmful solar rays. In the field I have noticed that some okra pods turn red only when exposed to the sun. We know that polyphenols, carotenoids and chlorophylls all contribute to plant color, but they also have roles beyond aesthetic beauty. For example, anthocyanins can protect against pest pressure, which we've witnessed as purple collards remain undamaged by pests compared to their greener peers. 
Perhaps these colorful edible roots are the rainbows of my imagined underground mirror-world. I hope that the fungi and bacteria, the beetles and the bugs and the worms and nematodes all have some appreciation of the colorful display, even if they perceive it in ways we can't comprehend. 
***
Chris Smith is executive director of the Utopian Seed Project, a crop-trialing non-profit work – ing to celebrate food and farming. His book, The Whole Okra, won a James Beard Foundation Award in 2020 and he is the co-host of The Okra Pod Cast. More info at blueandyellowmakes.com and utopianseed.org.
Save
Save
Save
Save
Save
Save
Save
Save
Save
Save