HEALING HEAT
Healthy, flavorful fire cider invites kitchen creativity
BY GINA KAE SMITH | PHOTOS BY ERIN ADAMS
A little sweet, a little sour, with lots of spice and heat: Its name may evoke thoughts of fictional magic potions, but fire cider's malleable mix of apple cider vinegar, hot peppers, garlic, honey, and herbs is a real-life, immune-boosting tonic with potent flavor that crosses neatly into the culinary realm. 
Herbalist and author Rosemary Gladstar developed the basic recipe and brewed the first batches of fire cider at the California School of Herbal Studies in the late 1970s and early 1980s. "The idea was to bring medicinal herbalism back into people's kitchens, as part of their food and as a way of being, not just for medicinal purposes," Gladstar writes at freefirecider.com. 
Gladstar and a group of fellow herbal freedom fighters co-created the website in response to legal battles that erupted after a Massachusetts company trademarked the name "fire cider" in 2012. Their bid to keep the term free and generic succeeded when a federal court declared in October 2019 that the name can't be trademarked—happy news for the herbal entrepreneurs and home kitchen witches who have followed her inspiration to brew their own fiery, healing elixirs. 
The original fire cider recipe calls for grated fresh horseradish root and ginger, chopped onions and garlic, and a small amount of fresh or dried cayenne pepper steeped in raw, unpasteurized apple cider vinegar for several weeks and then strained and sweetened with honey. The steeping process allows the acidic vinegar to extract the anti-inflammatory, digestion-supporting, antimicrobial, and immune-boosting properties of the other ingredients, as well as their heat and robust flavors. 
Sister of Mother Earth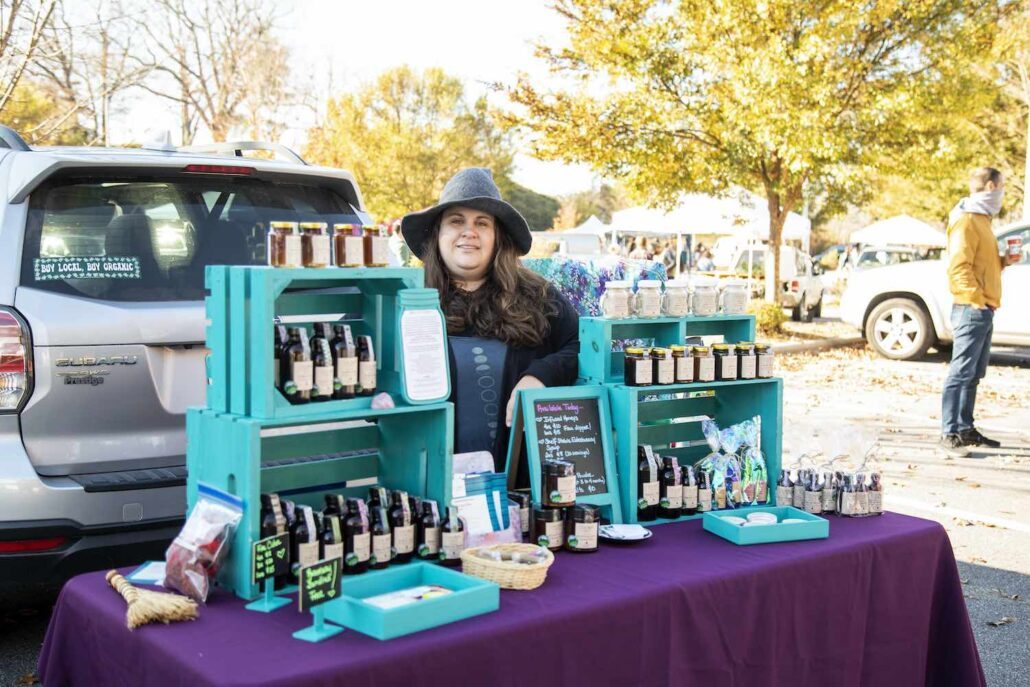 Gladstar's instructions encourage experimentation with additional healing ingredients, such as turmeric, echinacea, and cinnamon. And this freedom to get inventive is part of what makes producing fire cider fun and satisfying for Lori Jenkins, owner of Sister of Mother Earth. Jenkins started making herbal remedies for her family about a decade ago when she was living in South Carolina. Over the years, she periodically drove to the Asheville area to study with herbal medicine instructors, including Becky Beyer, an instructor at the Wild Abundance school in Asheville, Asia Suler of One Willow Apothecaries, and Juliet Blankespoor, founder of the Chestnut School of Herbal Medicine. 
Both Jenkins and her husband had attended Mars Hill College and loved Madison County, so when he lost his job in 2017, the family decided to relocate to the area, inspiring Jenkins to make a professional move as well. "When we moved here, I started to realize we have the Madison County Extension office, and we have Mountain BizWorks and all these different places that help brand-new businesses get started, so I said, 'This is it; I'm doing it. I'm going to take a leap,'" Jenkins explains about the birth of her business. 
Working from the commercial kitchen at the Madison County Extension, Jenkins creates a number of healing food and body products, including herb salts, infused honeys, salves, and elderberry syrup, using mostly locally grown and foraged ingredients. She sells at local tailgate markets, retail locations, and online via her website and virtual markets like Mother Earth Food and Patchwork Producers Alliance. Her line of fire ciders, branded Cailleach's Fire, tie with the elderberry syrup as her best-selling items, she says. 
Jenkins crafts five varieties of fire cider, each with its own unique flavor profile and healing properties, using a base recipe of raw, organic apple cider vinegar, cayenne pepper, lemon, orange, horseradish, ginger, onions, and three types of garlic, including locally made Fermenti fermented sea salt. The fuschia-colored A Heart Beets contains beets, hawthorn, and hibiscus, all of which are known for their blood pressure and heart benefits. The mild-flavored Roots and Shrooms is aimed at supporting digestion and easing inflammation with dandelion, burdock, and turmeric, as well as reishi and shiitake (the 'shrooms) to aid with stress.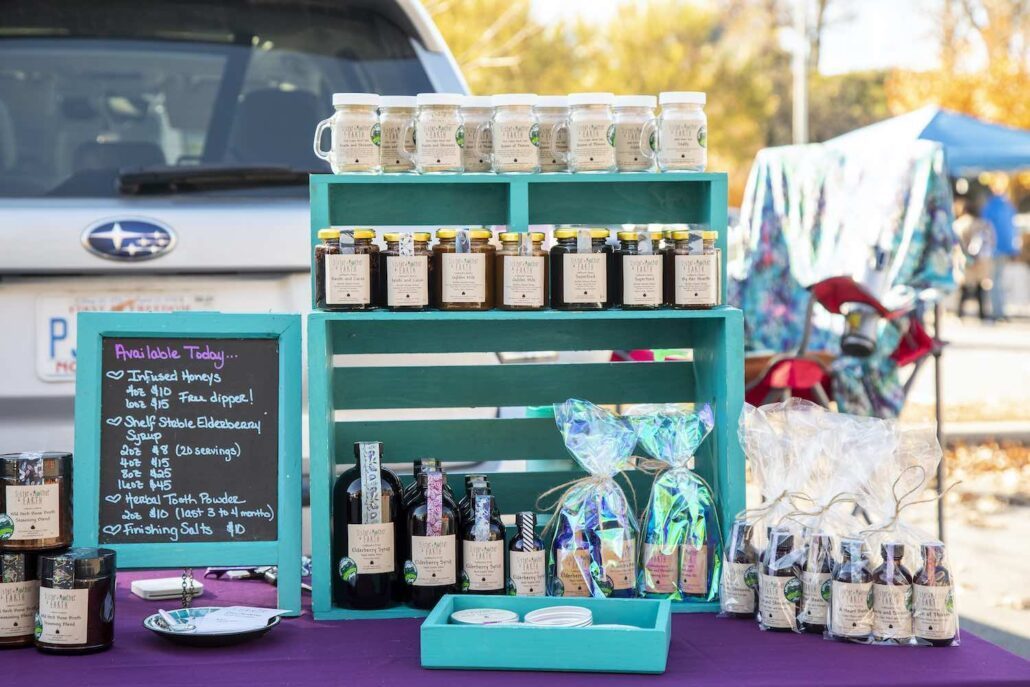 Siren's Song, blended specifically for women, includes the antioxidant-packed superfood spirulina, as well as vitamin and mineral rich stinging nettles and red clover harvested in Madison County. Her most popular variety is Queen of Thieves immunity blend, which includes sage, oregano, rosemary, basil, and fennel. "It's tasty as a condiment," she notes. "That's the one we typically keep in the pantry this time of year, and if we have a little sinus congestion or sore throat, that's the one we always turn to." 
Jenkins also does a special blend called Witch's Brew that contains basil, apple mint, white pine, stinging nettle, and ashwagandha. It's sold only at the local metaphysical shops Earth Magick, Of Wand & Earth, and Asheville Raven and Crone. "It's a really grounding blend—good for witches," she says with a laugh. 
Her blending process takes a decidedly spiritual bent as well. After chopping all the ingredients and combining them with the vinegar in 1⁄2-gallon jars, she lets the mixture steep along with calcite and quartz (minerals believed by some to bring good health and clarity) for two moon cycles, shaking and singing to each jar daily. "Because I like a little bit of stone alchemy," she says. "And we drum for them sometimes, too." Finally, the herbs and other ingredients, called the mash or the marc, are strained out and the liquid is mixed with Haw Creek Honey, then bottled. 
While she recommends taking a spoonful or two of fire cider daily, Jenkins loves that it's also flavorful enough to add to food. One of her favorite culinary uses—especially for the Siren Song variety—is to mix it with olive oil to create a vinaigrette for salad. It's also good, she says, sauteed with mushrooms, sprinkled on vegetables, potatoes, and beans, or added to bone broth. 
"My love language is food," she says. "That's just where my heart is—cooking for people and feeding people—so that's what I kind of tapped into and it just progressed." 
For details, visit sisterofmotherearth.com.
Fire Cider Vinaigrette 
Sister of Mother Earth 
1⁄2 cup extra virgin olive oil 
3 tablespoons fire cider blend (I love A Siren's Song or Queen of Thieves) 
1 to 2 tablespoons honey, more if you want it sweeter 
A little salt and pepper 
Combine in a glass jar. Cap and shake well to blend. It will keep in the fridge for seven to 10 days. 
Pure Fire Foods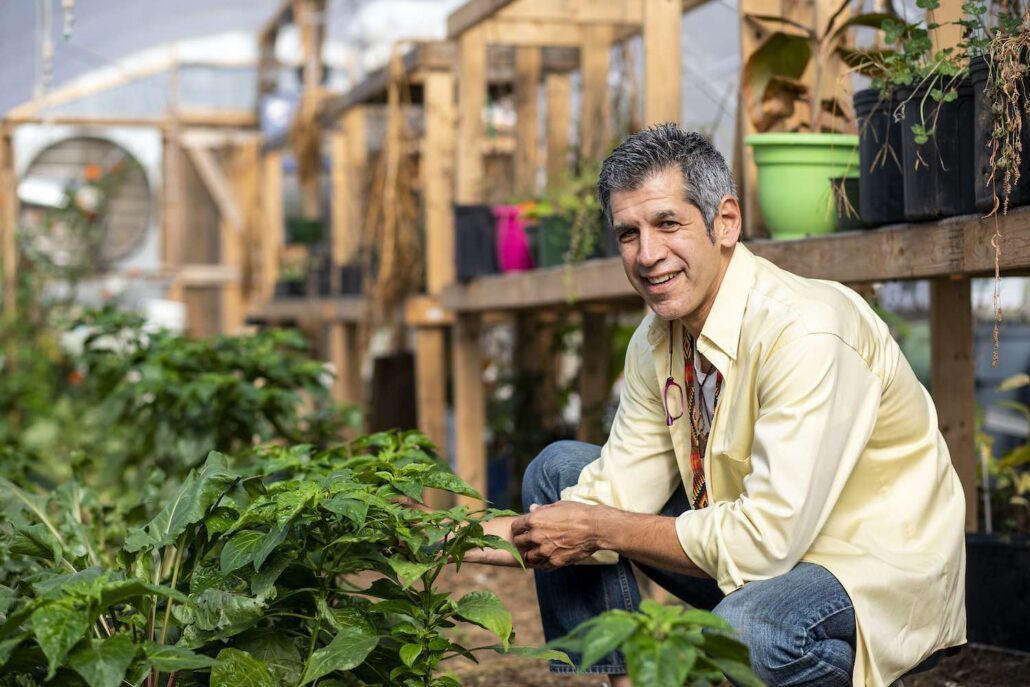 David Rosenthal, owner of Pure Fire Foods, brews his four vegan, organic fire ciders, branded as "fire tonics," specifically to be deeply nourishing medicine. But he also leans into his products' palatability. After hearing repeatedly from customers about how delicious the tonics are on food and mixed into beverages, he's started seeking partnerships with local chefs to act as brand ambassadors and create recipes for a cookbook. 
"You can use it not just as a medicine, but something to season your food with, so you don't even realize you're taking medicine," he says. In addition to using fire cider in salad dressings, he mixes it with vegetable juice for a nonalcoholic bloody mary and tosses it with grilled peaches and pineapple. His chocolate variety, he notes, makes a great steak sauce and is also tasty on ice cream. "I love the contrast," he says. "You're getting this fiery-cold feeling." 
Pure Fire's original fire tonic is a blend of 20 organic ingredients, many of them locally sourced. Black pepper, burdock root, Celtic Sea Salt, and extracts of seven medicinal mushrooms are among the components, in addition to raw apple cider vinegar, ginger, turmeric, garlic, onion, rosemary, lemon, horseradish, habanero, and cayenne pepper. The Nectar variety features the same ingredients sweetened with low-glycemic coconut nectar, and Chocolate Fire Tonic—which, he says, is the only chocolate fire cider on the market—contains Peruvian raw cacao. 
For those who shy away from hot spices, Rosenthal formulated the recently released Cooler blend, which lacks the habanero and cayenne. "There's so much more in this bottle, so much love and intention and everything else, so much more than those two peppers," he says. 
Rosenthal made his first fire cider after searching online for a home remedy for a sore throat shortly after moving to the Asheville area from Florida in 2014. He followed Gladstar's famous recipe and later shared the concoction with an acquaintance who passed it along to a friend with a stubborn sinus infection. When the infection cleared up within a couple of days, Rosenthal decided to come up with his own recipe and turn fire cider into a business. 
Seeking inspiration on what healing herbal allies to include in his blend, he meditated at the foot of a100-year-old cedar tree on the property he was living on in Candler. "I called out for whoever wanted to join me in this journey of making medicine to come into my awareness, and at the end of that meditation, this company was born at that tree," Rosenthal recalls. 
Mushrooms came to him during the meditation, prompting him to add what he calls the "Sacred Seven"—chaga, reishi, turkey tail, lions mane, cordyceps, shiitake, and maitake. The word "anti-inflammatory" also occurred to him, so he researched plants with anti-inflammatory properties, such as ginger, garlic, and turmeric.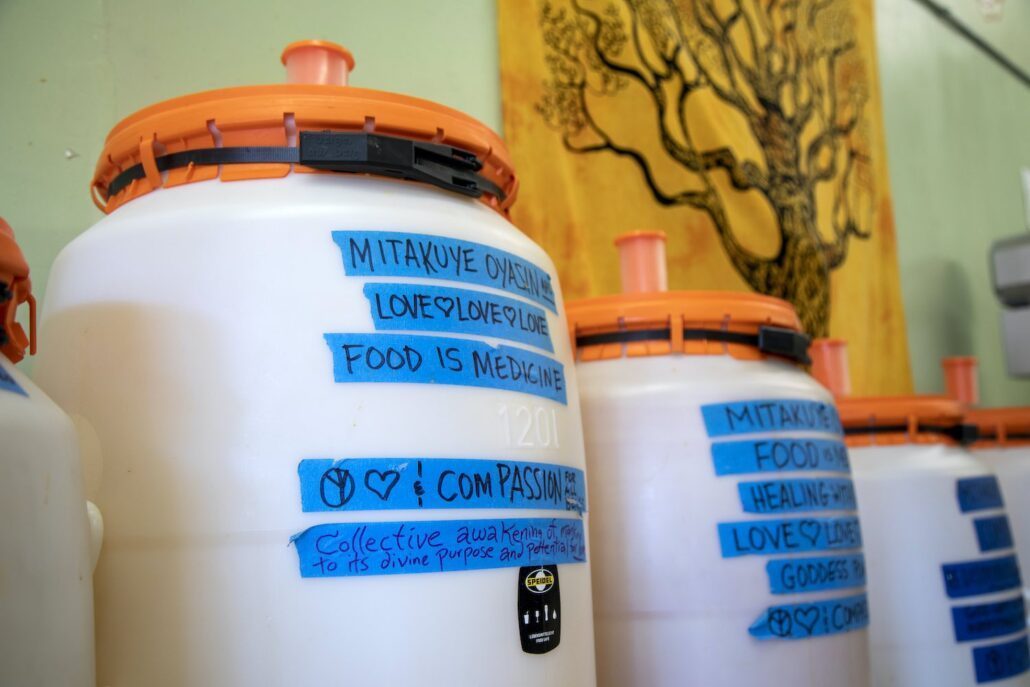 But the most important communication that came through the meditation, he says, was to make every batch intentional and from the heart. "[The message was:] Don't just put another product on the shelf—really put your heart and soul into this," he says. 
Inspired by Japanese author Masaru Emoto's research on how thoughts and intention impact the physical structure of water molecules, Rosenthal plays high-vibration music and reads a Lakota prayer for unity and coexistence over the ingredients before he mixes every batch. The nine 25-gallon barrels he uses for brewing at his North Asheville facility, Planet Kitchen, are each labeled with positive hand- lettered messages: "Food is medicine," reads one. Beneath it, "Peace, love, and compassion for all beings." 
"Everything we do is about energy frequency and vibration," he says. "It was never about scooping it from a barrel, putting it in a bottle, and putting it on the shelf. It's really coming from a good place." 
David Rosenthal's DIY Fire Cider 
1 quart (4 cups) raw, organic, unfiltered apple cider vinegar with the mother 
1⁄3 cup grated fresh horseradish root 
1⁄3 cup grated fresh ginger root 
1⁄4 cup fresh turmeric root, peeled and diced (or 2 tablespoons dried, powdered turmeric) 
Six cloves garlic, minced 
1⁄2 cup onion, diced 
One or two habanero chiles, split in half (or use cayenne pepper) 
One large lemon, sliced (rind and all) 
Two sprigs fresh rosemary 
1 teaspoon black pepper 
1⁄4 cup raw honey (or use coconut nectar for a vegan version) 
Place all of the vegetables, fruit, herbs, and spices in a clean 1-quart jar. Fill the jar with apple cider vinegar (the apple cider vinegar should cover the herbs by an inch or two). Seal the cap tightly. If the cap contains metal parts, screw the lid on over a piece of cooking parchment or a small plastic bag to keep the lid from corroding. Shake well. Let sit for five weeks to soak, shaking daily (or when you remember). Strain the plant materials from the vinegar. Sweeten with honey or coconut nectar to taste. Refrigerate and use within a year. 
NOTE: Pure Fire Foods uses only organically grown roots, herbs, and fruit to keep agricultural chemicals, waxes, or dyes from migrating into the vinegar. 
In an effort to reduce waste, Pure Fire collaborates with two other local businesses, Well Seasoned Table and Asheville Tea Co., who use his fire tonic marc in special products, such as a Smoked Fire Seasoning and By the Fireside tea. Rosenthal also recently released a healthy hot sauce made from the marc. 
Although his recipes and methods are authentically his own, Rosenthal is proud to share that Pure Fire has a special connection to Gladstar, the mother of fire cider. After meeting several years ago at a Mother Earth News Fair, Gladstar and Rosenthal formed a friendship, which eventually inspired Gladstar to write her recently published book, Fire Cider!: 101 Zesty Recipes for Health- Boosting Remedies Made with Apple Cider Vinegar. She tells this story in the book, devoting an entire section to Pure Fire Foods and featuring Rosenthal's recipe for a fire cider berry mocktail. 
Rosenthal encourages do-it-yourselfers to experiment with their own fire cider blends at home. But he reiterates the importance of intention. "Whatever it is that you do, whether it's making fire cider or cooking or whatever your passion is in life, if you come to it like we come to this medicine, it just makes such a difference in what the final product is," he says. ◊◊ 
For details, visit purefiretonic.com. 
Gina Smith is a writer, editor, and community collaborator who's been gathering and telling stories since before she could hold a pen. Her experience helping launch a community farmers market in 2011 reignited a long-time obsession with food and farms that soon dovetailed with her writing career. She served nearly seven years as the food editor at the Mountain Xpress and continues covering restaurants, food justice and farming in Western North Carolina as features editor at Edible Asheville. 
Save
Save
Save
Save
Save
Save
Save
Save
Save
Save
Lori Jenkins, owner of Sister of Mother Earth
David Rosenthal, owner of Pure Fire Foods