THE FLAVORS OF 50 MILES
How one local woman sources her family's diet within 50 miles of Asheville
Presented by Mother Earth Food
BY Mari Stuart | Photos by Erin Adams
The idea of buying local food in the deep of winter may conjure up images of a sad survival diet: shriveled root vegetables, a half-empty jar of sauerkraut, maybe some cold-hardy greens. 
What grows in winter, anyway? 
That may have been a real question for my Finnish farmer ancestors. Blanketed by snow six months of the year, the subarctic land did not yield much except for fish and game. Everything else had to be grown in the summer and preserved for the winter—hence the hard work of filling the granary and the root cellar, and the mastery of food preservation methods such as fermenting, smoking, salting, and drying. 
But here in Southern Appalachia, winters are mild enough that we can eat locally and eat well year round. Farmers and gardeners can easily grow cold-weather crops in hoop houses and under row covers. The occasional touch of frost even improves many winter vegetables, giving them a crispy bite and sweetness. Farm animals can be kept on pasture throughout most of the year, culinary mushrooms can be grown indoors, and local grain mills can keep cranking out regionally grown wheat flour and corn grits. 
So even though eating locally may be a harder sell in winter than in summer, there's an abundance of healthy foods to explore in the chilly season. Even in the coldest of months, we can create warming, nourishing meals with Western North Carolina ingredients, inventing a winter diet that looks and tastes like our region's landscapes. 
If you make your way to the ASAP Farmers Market at A-B Technical Community College on a winter Saturday morning, there's nothing sad or shriveled to be found. A rainbow of vitamins can be assembled from the brightly colored butternut squashes, sweet potatoes, beets, and vigorous leafy greens. You can also fill your basket with apple cider, eggs and meat, mushrooms, local cheeses, nut-based products, sauerkraut, and other condiments. And one can satisfy carb cravings with baked goods made with locally ground flour. 
In fact, there's a reason why humans have evolved to grow and eat particular foods in the winter: They literally help us get through the cold season. The starchy vegetables that can be harvested and kept through the winter are all rich in complex carbohydrates, which means they keep the body fueled for a longer period of time and help it stay warm. Carbohydrates also increase our levels of serotonin—the "happiness hormone"—just when darker days are making it scarce. 
So it's not an accident that when temperatures drop, we find a steaming pot of soup or hearty stew made with seasonal vegetables so comforting and nourishing. Cooking from scratch—again, something that's inevitably part of local eating—keeps the kitchen warm, too, as families and friends gravitate toward the stove and each other. 
Nuts are another warming food, full of good fats, fiber, and minerals. If you missed autumn's nut-picking season, the Acornucopia Project offers native black walnuts, nut oils, and acorn flour, foraged locally and processed at the Asheville Nuttery. 
For winter evenings, it's easy to assemble an entirely locally sourced fruit and cheese platter with crisp storage apples, cheeses, and Roots & Branches crackers. For a hot cup of something to warm the fingers on a snowy day, prepare a tea with local herbs and honey or golden milk with locally grown turmeric. And, of course, there are plenty of high-quality local meats, poultry, and fish available through the winter months. 
Here's what feeds my body and soul in deep winter: Oven-roasted root vegetables—sweet potatoes, parsnips, carrots, beets and onions—accompanying trout from Waynesville-based Sunburst Trout Farms and a side of broccoli. Hearty soups, such as potato and leek or creamy parsnip carrot, served with a loaf of bread baked with Carolina Ground flour fresh out of the oven topped with a dollop of melting butter. Butternut squash lasagna made with local grass-fed ground beef, homemade ricotta, and tomato sauce canned from my summer garden. A sweet potato tart featuring locally grown mushrooms, such as oyster and shiitake, along with a kale salad. On special occasions, I roll out pumpkin and sage ravioli sprinkled with Jerusalem artichoke chips. Dessert might be an apple crisp or a cake with wild-foraged chestnut and black walnut filling. 
In other words, deprivation is not on the local winter menu.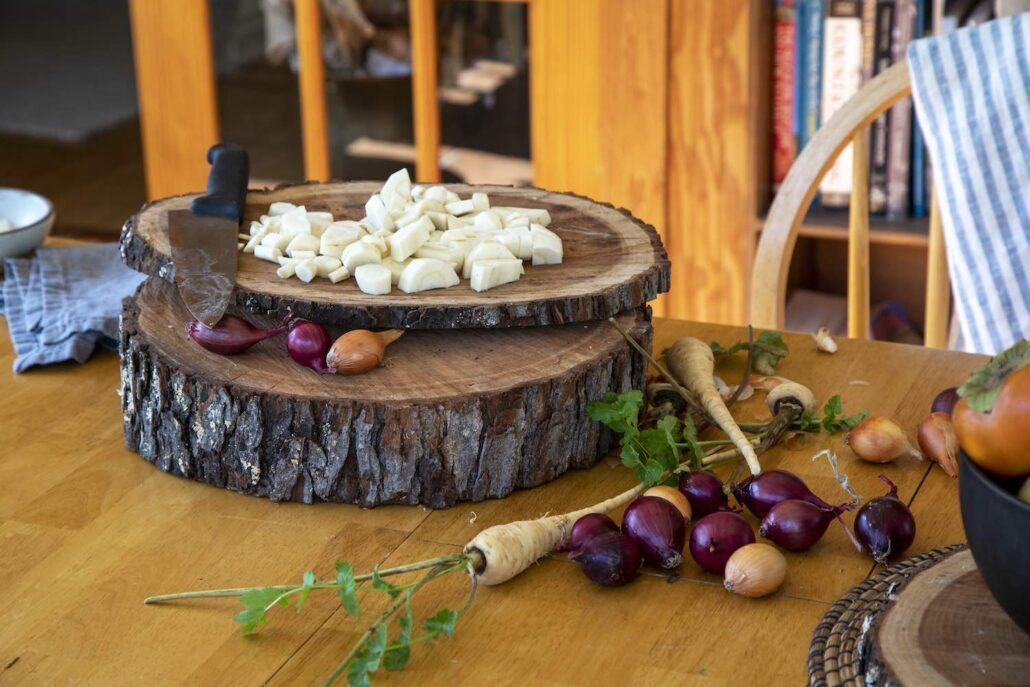 And the nourishment local food provides isn't limited to calories and vitamins alone. Sourcing locally feeds us through relationships, the feeling of belonging that comes from supporting the region's economy, and a deepening appreciation for the seasons and landscapes of the mountains. 
Local food also allows us to celebrate and preserve WNC's heritage and terroir, as our patronage helps farmers to keep working their land and ensures that heritage breeds and varieties continue to be cultivated in this region. It's also how we vote to create the food system we want—one that's transparent and truly supports farmers, farm workers, and the environment. 
But it's definitely easier to do the right thing if it tastes good, too. That's why I think the local food movement should foreground enjoyment at least as much as the ethical, economic, and environmental advantages. There is pleasure to be found in foods harvested or produced down the road that simply can't be found in packaged, imported alternatives. 
I believe knowing the stories behind the foods we eat and recognizing the resonance local food engenders between us and the landscapes we inhabit enhances our enjoyment. And I believe there are unique pleasures in store for those who eat foods in season, letting their bodies be warmed and comforted by orange and yellow sweet potatoes and squashes, or learning to appreciate that the same frost that bites your fingers and nose lends sweetness to the beets and carrots on your plate.
But trying to eat a local diet doesn't need to be onerous. To paraphrase a motto from the zero-waste movement: We don't need a handful of people doing local food perfectly. We need millions of people doing it imperfectly. This means we should simply do what we can. We can try to source at least some of our food locally; maybe a little more this year than last. 
Helena Norberg-Hodge, founder of the nonprofit Local Futures, puts it this way: Localization "does not mean that people in cold climates are denied oranges or avocados, but that their wheat, rice or milk—in short, their basic food needs—do not travel thousands of miles when they can be produced within a 50-mile radius." 
Localization is about bringing production and consumption closer together. And, as it happens, our region can provide those basic needs of wheat, rice, milk, and more. So we don't have to give up eating oranges and bananas or using special, imported ingredients when necessary. It's about mindset: planning meals around what's in season and available locally, getting to know and choosing to support local farmers and producers, and being open to developing new food habits. It's about letting where you live shape what's on your plate, being curious, and getting inventive. ◊◊ 
*The Acornucopia Project is an Asheville-based cooperative of horticultural activists, landowners, and foragers who collect and process native nuts into flour, oil, nut milk, and nut meats. In return for collecting fresh nuts for the project, members can receive money or processed nut products. Learn more at acornucopiaproject.com. 
Mari Stuart is an edible landscape designer, educator, and project manager working in sustainable agriculture. A former Humanities professor, she now teaches regenerative design and modern homesteading skills. Mari stewards an urban homestead in Asheville and writes about local food, foraging, gardening, and the connections between people and place at makegathergrow.com.
Save
Save
Save
Save
Save
Save
Save
Save
Save
Save
The author making a wintery parsnip carrot soup.