Presented by A-B Tech Community College
CULINARY ALCHEMY
DANIEL GORMAN | AAS, CULINARY ARTS (2007) 
Words by Brook Bolen | Photos by Christen Clemins
***
It's hard to imagine Daniel Gorman doing anything outside of a kitchen. His professional accolades include being named the best young chef in a 2012 international competition sanctioned by the World Association of Chefs and landing a role as the youngest chef de cuisine at the famed Inn at Little Washington in Virginia. 
But Gorman's initial plan was to study architecture. He applied to UNC Chapel Hill, but couldn't begin taking architecture classes until his second year there. So he shifted his focus to A-B Technical Community College, and "I found out they had an amazing culinary program," he says.
A Charleston, SC, native who spent most of his youth in Canton, NC, Gorman moved out on his own before graduating high school and got his first restaurant job the same day he signed up for culinary school. Gorman joined a "ragtag team of hard-core old cooks" at the erstwhile Amici Trattoria on Hendersonville Road in Asheville.
"It was a Kitchen Confidential–style awakening into the industry," he says, referencing the late Anthony Bourdain's freewheeling memoir. On his first night of service, the 18-year-old who'd grown up exposed to fare like bear jerky and squirrel and dumplings in Canton found himself making foie gras. "It was extremely humbling," he says.
After his first year at A-B Tech, Gorman interned at The Ocean Room on Kiawah Island, a life-changing experience that taught him how professional kitchens operate on organization, cleanliness and professionalism. "It was a different world," he says. "From then on, that's all I knew."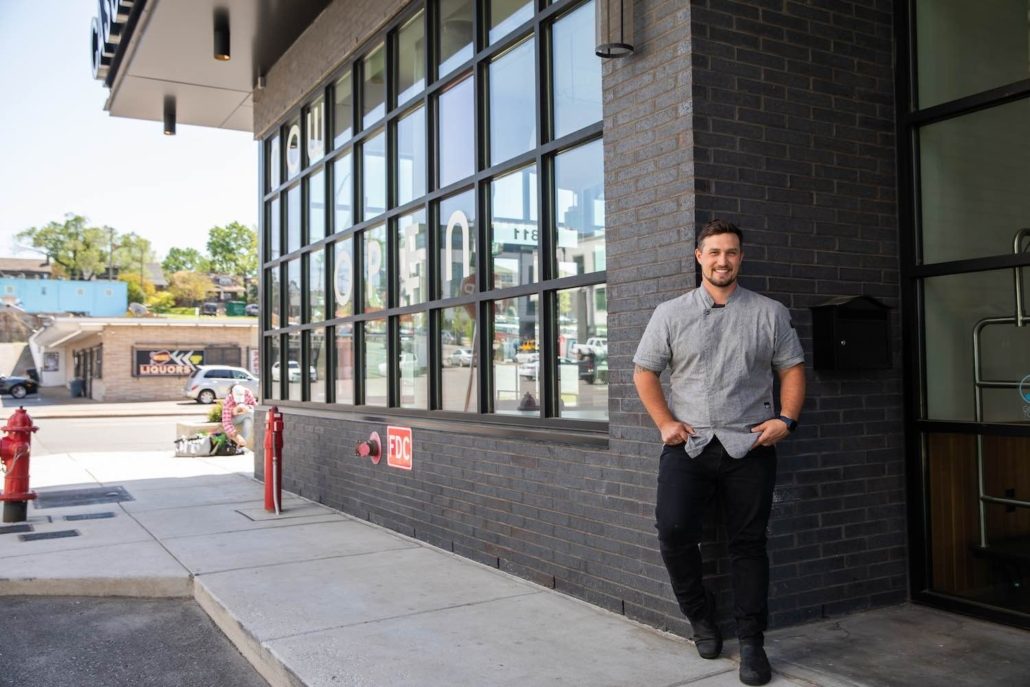 The instruction he received from teachers who were also cooks and chefs bolstered his hands-on kitchen experience and helped Gorman hone his abiding appreciation for organization. It also offered the young chef much-needed support and community. "I've been a loner for a while," he says. "School became a home for me at that time."
Naturally competitive, Gorman joined the hot foods team, where—in addition to finding friends and like-minded peers—he found prestigious professional victories: The team won the American Culinary Federation Student Team National Championship in 2007 and, a few months after he graduated that year, the team took home the 2008 ACF Southeast Region Student Team Championship.
After graduating, Gorman began working as the chef de cuisine and overseeing a team of chefs at Cherokee Town and Country Club in Atlanta. From there, he moved on to the three-Michelin-star The Inn at Little Washington in Washington, VA, where he began as a line cook and progressed to sous chef in three months. He then moved to Nashville, where he's lived for the last eight years, to open American eatery 5th & Taylor. His latest venture, The Café at boutique hotel Waymore's Guest House and Casual Club, offers eclectic Southern-inspired eats.
Along the way, Gorman has discovered that, from crafting the menu to hiring staff, he loves creating and implementing systems and processes that help his restaurants grow. And he credits A-B Tech with providing him with the "base education and vision" necessary to oversee the many different elements of the business.
Across four states and a variety of culinary styles, there are a few constants to the culinary alchemy Gorman creates in the kitchen that can be traced back to Western North Carolina and A-B Tech: "Freshness, working with farms, and cooking everything from scratch," he says.
Save
Save
Save
Save
Save
Save
Save
Save
Save
Save
Daniel Gorman's latest venture, The Cafe at boutique hotel Waymore's Guest House and Casual Club, offers eclectic Southern-inspired eats.