BRING THE HEAT
Hot Chicken Scorches its Fans with Tongue-Tingling Heat
PHOTOS BY ERIN ADAMS
***
The secret's in the sauce. Or, to be more precise, the secret is the sauce. There's a bunch of cayenne, that's for sure, and in some cases, a few tongue-tingling ghost peppers. But beyond that, it's a mystery—a closely-guarded blend of spices and seasonings, mixed with oil to create a fiery red sauce and applied with a boar bristle brush to sizzling hot batches of fried chicken. The sauce ranges from "mild" to "extra hot"—and the latter, says Rich Cundiff, co-owner of Asheville-based Rocky's Hot Chicken, is "just too damn hot."
A shroud of secrecy notwithstanding, the popularity of hot chicken is a thing unto itself. Originating in Nashville in the 1930s, hot chicken is the deliciously wicked cousin of fried chicken, a glorious blend of crispy and spicy that jolts your taste buds to attention and attracts an almost cult-like following among its fans.
Hot chicken eateries now exist all over the country, but the birthplace of the dish is roundly acknowledged to be an iconic Nashville restaurant known as Prince's Hot Chicken. And it was both celebrated and embraced in the city's Black neighborhoods years before becoming the new Southern "it" dish.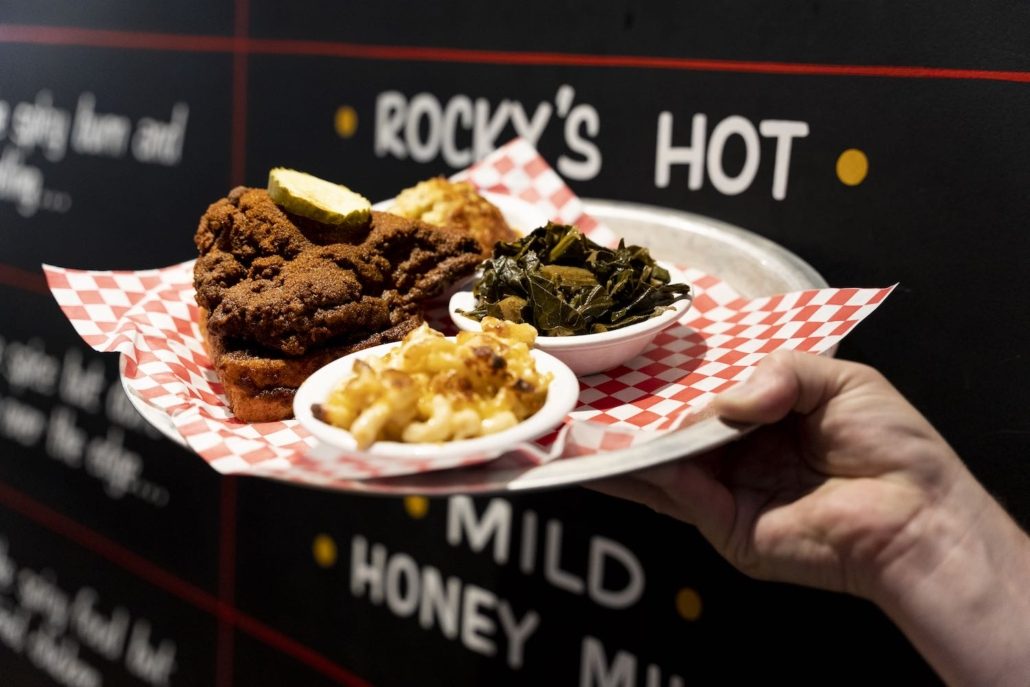 In Asheville, the place for hot chicken is Rocky's Hot Chicken Shack. That's where musician turned food lover Rocky Lindsley set up shop in a humble building on Hendersonville Road, serving lunch Monday to Friday, only to watch an eager fan base quickly coalesce around his hot chicken. "He was a one-man show," Cundiff says. "His sides were from Sam's Club and he was serving canned drinks. It was a hobby for him, but it really took off."
Cundiff and his wife, Lauren, were among Rocky's early fans. So when Lindsley shut down the restaurant, feeling overwhelmed with a demanding business, the Cundiffs joined forces with him to reopen the restaurant with a location on Patton Avenue in 2011. Lindsley passed away in 2020, but the Cundiffs are still the owners and credit his early love of hot chicken with the vision they carry on today.
The Rocky's menu offers a signature bone-in breast platter, but also options for legs, thighs, and wings—along with a popular dish of boneless tenders that work well for fork-and-knife eaters. The platter is offered with two sides (special shout-out to the mac 'n cheese poppers as well as the sweet potato casserole, whose recipe comes from Cundiff's mother) and the hot chicken sandwich is served classic style on white bread with pickles. There's bread from Annie's Bakery, coffee from Dynamite Coffee Roasters, and fresh local produce from Asheville's Mountain Food Products.
But let's not forget the sauce. Cundiff won't give up any details, only to say that it's a special blend made by a North Carolina company, arriving pre-bagged and blended at Rocky's three restaurants so that even Rocky's workers don't know what's in it.
"We've had a lot of people want to try to create this at home and even a pretty well-known local chef, who I won't name," Cundiff says. "But it's like the 'colonel's blend of 11 herbs and spices.' The whole thing's a bit proprietary."
The origin story of hot chicken is just as ornery as its fiery flavor. According to legend, the namesake of the Nashville-based Prince's restaurant was a womanizer named Thorton Prince, who stepped out on his steady gal one night, igniting her fury when she detected a hint of perfume or perhaps a smudge of lipstick on his collar. "His scorned lover wanted revenge," says the restaurant's website. "And using Prince's love of fried chicken as bait, she concocted the perfect recipe."
Prince's girlfriend thought she could exact her revenge by serving up a dish of his beloved fried chicken with an overwhelming dose of peppers and spices. But it turns out Prince loved the dish! "Much to her dismay, Prince didn't fall over weeping in pain. Nope, he asked for seconds, and at that moment, the legend was born."
The chicken at Rocky's is sourced from three regional farms within 150 miles of Asheville. After a hearty brine that lends flavor and creates tender meat, the chicken is given a buttermilk bath, breaded with flour and fried in a pressure fryer. The all-important sauce is brushed on afterward, made to order, depending on the desired heat level. The menu boasts a lot of other fowl-focused options that also wow a crowd—classic fried chicken, rotisserie chicken, chicken and waffles and a beautiful pot pie that lifts the soul in the cooler months. But the hot chicken remains the signature dish.
"There's a certain level of addiction with hot chicken; it's a euphoria," Cundiff says. "You go after some Rocky's and your head's going to explode a little bit." ◊◊
Save
Save
Save
Save
Save
Save
Save
Save
Save
Save
A hot chicken platter at Rocky's Hot Chicken Shack