ALLERGY-FRIENDLY SWEET POTATO CASSEROLE
PRESENTED BY THE INGLES TABLE
BY ANGELA RAMSEY
My inspiration for this dish came from an old family favorite. When I was younger, my parents would visit family friends at their lake house, and we would make this wonderful casserole together. Somehow everything there just tasted better. When my mother would make it at our house, usually around Thanksgiving, I always looked forward to it. When our family changed our diet due to food allergies, I knew this was one recipe I was going to miss. But slowly, I learned to substitute ingredients based on our needs and we were able to experience the joy of old favorites returning to our plate!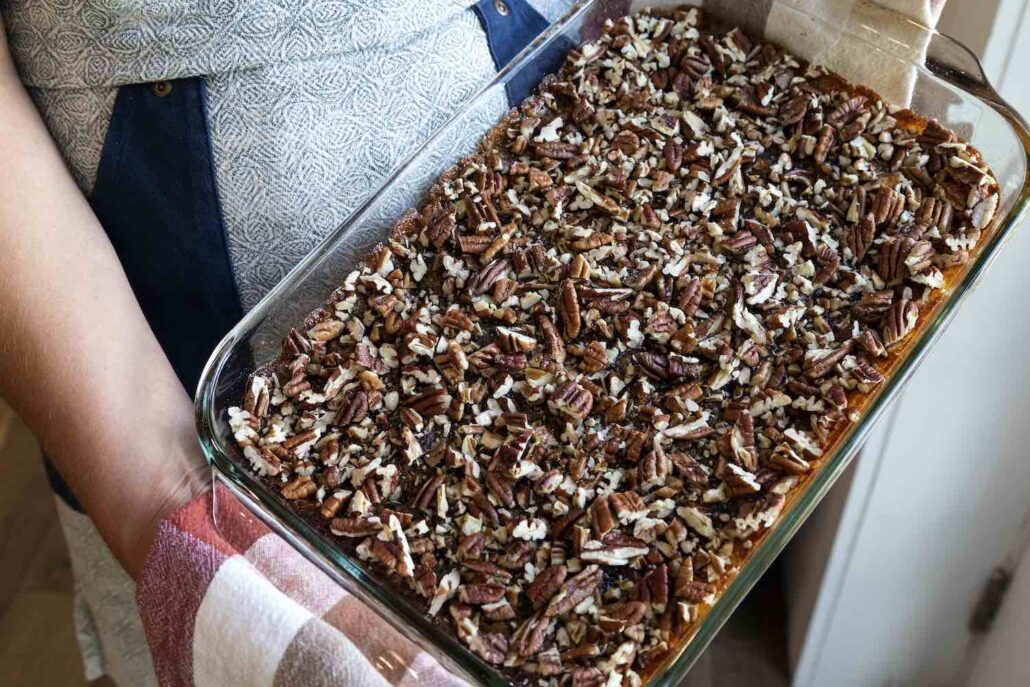 FILLING 
3 cups mashed sweet potatoes (about 4 sweet potatoes) 
¾ cups cane sugar 
½ teaspoon salt 
½ teaspoon cinnamon 
¼ teaspoon nutmeg 
4 tablespoons vegan, soy-free butter (melted) 
½ cup almond milk 
1 teaspoon vanilla extract 
2 flax eggs* 
TOPPING 
4 tablespoons vegan, soy-free butter 
1 cup brown sugar 
½ cup gluten-free all-purpose flour 
½–1 cup pecans, chopped (optional) 
Preheat the oven to 350°. Peel and cube four large sweet potatoes. Bring a large pot of water to a boil and boil the sweet potatoes for about 20 minutes. Use a food processor or immersion blender to mash them. Or use a hand masher for a more chunky filling. Mix the filling ingredients together and add to the mashed sweet potatoes. Place the filling in a 9 by 13 rectangular baking pan. Mix together the topping ingredients, then crumble and place on top of the casserole. Bake for about 35–45 minutes.
HOW TO MAKE A FLAX "EGG" To make one flax egg, combine 1 tablespoon ground flaxseed meal with 2½ tablespoons warm water. Let sit for approximately 10–15 minutes, enough to thicken. This recipe calls for 2 flax eggs, so the quantities should be doubled.
Save
Save
Save
Save
Save
Save
Save
Save
Save
Save