A FIRE IN THE BELLY
Chef William Dissen, owner of The Market Place in Asheville, is on fire
these days—tackling a near endless stream of projects and businesses, from opening restaurants and publishing cookbooks to lobbying on Capitol Hill and appearing on TV cooking shows. 
BY EDIBLE ASHEVILLE STAFF | PHOTOS BY NATE BURROWS
***
Chef William Dissen started building his culinary empire in 2009 with the purchase of The Market Place restaurant in downtown Asheville. Since then, he has opened the stylish Haymaker restaurant in Charlotte, as well as three locations of his popular Billy D's Fried Chicken eatery, including new locations at Elon University and Wake Forest University.
In his spare time, Dissen serves as an advocate for sustainable food systems and environmental policies, representing the United States at the World Food Summit and sitting on the Blue Ribbon Task Force of the non-profit Seafood Watch to advocate for sustainable seafood practices. He's twice been named a "green chef of the year" by Fortune magazine and, in 2021, faced off and won a cooking competition against celebrity chef Gordon Ramsay for his National Geographic show "Gordon Ramsay: Uncharted." 
With a boundless energy that fuels a hugely successful career, Dissen remains loyal to the Western North Carolina community and shares his thoughts on sourcing local food and creating his favorite winter dishes. 
EDIBLE ASHEVILLE: You've been very effective in using your role as a successful chef to advocate for issues that matter to you — from poverty and hunger to climate change and sustainable agriculture. Where did this passion for policy come from? 
CHEF DISSEN: I've learned over the years that being a chef provides an opportunity to be connected to the community, as well as the food system that grows the food to nourish us. At an early age, I watched my maternal grandparents work their farm in rural West Virginia. There, I noticed that they were practicing sustainable farming and sustainable homesteading practices to help feed their family, as well as to protect and preserve their land to ensure another fertile crop, year in and year out. They didn't do these things because they were buzzwords and in trend; they did it to ensure that the earth could provide to feed their family, and they realized that taking care of the environment plays an important role in farming. 
When I became a chef, I knew that supporting the model of sustainable farming and community involvement would be important to how I run my businesses. If we want delicious ingredients to cook with, we need to make sure that we, chefs, are supporting the farms in our community to help them thrive, as well as sourcing from people who are also aligned to take care of the environment. 
I think it's important for me to use my voice to help make change. This has led me to Capitol Hill many times to lobby for different food policy legislation, like the Childhood Nutrition Reauthorization Act, the Magnuson Stevens Act [dealing with the management of marine fisheries], and the farm bill, along with many other initiatives. I've also worked on a global scale as a diplomat with the U.S. State Department and its American Chef Corps to bring culinary diplomacy across the globe. It's a quiet and humble mission, and one I don't take lightly, as I understand that we can make change one plate at a time.
In this role as a "culinary diplomat" with the U.S. State Department, you've traveled around the world and prepared food for people unfamiliar with our culture and cuisine. Any stories or experiences you can share that demonstrates the ability of good food to bridge divides and foster communication between people? 
A few years ago, I had the opportunity to travel to New Zealand on a culinary diplomacy trip. I was asked to showcase "US Southern Cuisine," and I decided to make smoked pulled pork barbeque, green apple coleslaw and jalapeno buttermilk biscuits. I spent a month planning out my recipes and converting them into metric, and communicating with the event organizers about the equipment I would need, including the all-important smoker for the pork. 
I thought the communication had gone well, and I was ready to get to work when I arrived. But just as I was preparing the pork, I asked one of the event coordinators where the smoker was located, and they very proudly walked me over to an outdoor grill, thinking that's what I had meant. We had a good laugh about things getting lost in translation, and I then ran around the city of Wellington trying to find a smoker. Most restaurants that I inquired with looked at me cross-eyed, but I finally found a Spanish restaurant with a smoker in their rear courtyard and begged them to use it. They obliged, and I was able to get the meat on the smoker at the last minute to ensure it would be ready in time for my event. 
While this was a comedy of errors and a miscommunication, it allowed me to meet many new people and talk about the beauty of bringing people together cross-culturally through food. While I appeared as the wide-eyed chef from the States, I soon found myself in kitchens meeting the cooks and dishwashers who fed the people of a community in another country across the world. 
For me, the opportunity to travel has helped to make me more of a global citizen and to break down barriers. When we travel, it's good to push yourself to go somewhere you don't always fit in, to meet new people who don't look like you or speak the same language as you, and to eat food that you are not accustomed to. The comfort of home and the fear of things foreign begins to diminish, and you start to realize we are all more similar than you would think, no matter where we are from. 
Okay, we have to ask: how on earth do you find the time to do all of these things? 
How does that Beastie Boys song go? "No sleep till…"
Jokes aside, I learned early on about one of the most important characteristics of a chef—and that is mise en place, which is a French phrase meaning "everything in its place." Being organized and having things in your life in their place allows for stability, which can create more time for mindfulness and for being a more effective person. I feel very fortunate to have had the opportunity to open my own restaurant, and I don't take that for granted. Each day, I wake up and work to be the best person I can be. I'm fortunate to have a loving family at home, and a team of colleagues who are a lot smarter than I am! Without my team and my family, I would not be here today. I'm grateful for them and all they do! 
You're often described as a "green chef." What does that mean? 
I have often wondered a lot about that, too. I don't consider myself a "Greenpeace warrior." Rather, I was raised to take care of the earth so it can continue to provide for generations to come. 
As a chef, I work to eliminate food waste as any waste equates to dollars going into the trash. As a restaurant owner, I understand that restaurants inherently produce a lot of waste. So I consider it a best practice to downsize and eliminate as much of that waste as possible. We use solar power, energy efficient refrigeration, water-powered HVAC, and reused building materials to help mitigate our effect on the environment. I believe that if we can all be more thoughtful cooks, then we will be able to make a difference in ourselves, our community, and the world around us. 
If you had to identify one thing that chefs or restaurant owners could do to become better stewards of the planet, what would it be? 
Become a thoughtful cook. Take a moment to understand the seasonality of where you live. Eat seasonally and buy locally. This small change in your operations is going to create ripples across your business and your community.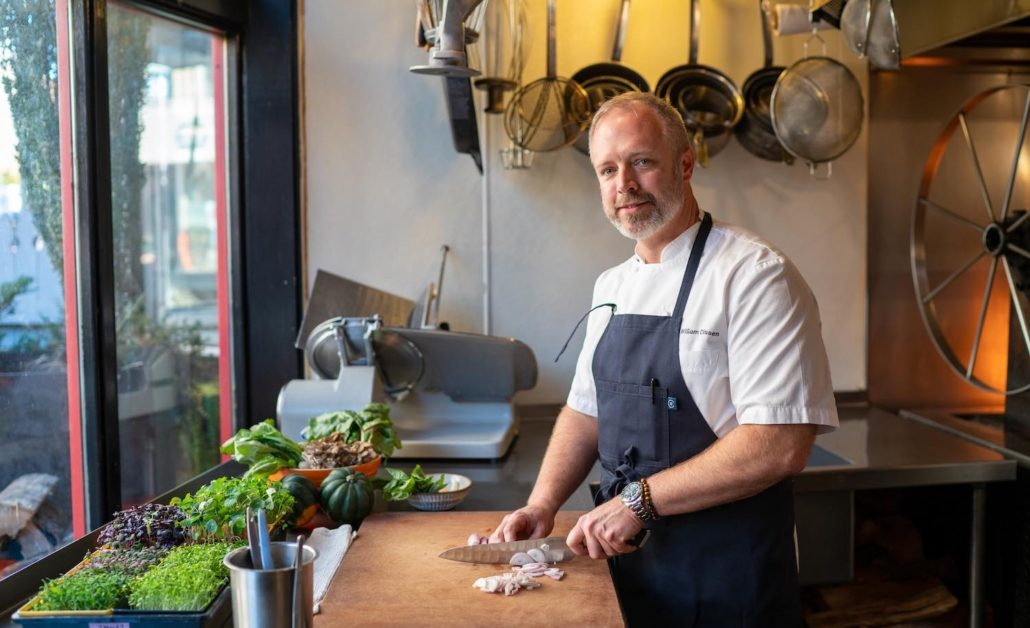 You've been involved in Asheville's restaurant scene for nearly 15 years. What have you seen change since you first arrived here? 
When I first moved to Asheville, it was a very seasonal tourist town. Summers and the month of October were busy, and the rest of the year, we were a fun and funky little town tucked away into southern Appalachia. There's been a wonderful food community here for decades, and our mountains provide fertile soil and wild food to fuel our vibrant and ever-growing food community. As the word got out about "Beer City USA," a murmur soon turned into shouting from the rooftops about our equally vibrant and delicious food scene. 
The OG chefs I first met, like Elliott Moss, Jacob Sessoms, Brian Canipelli, Meherwan Irani, Mike Moore, and Suzy Phillips were young and full of amazing, creative ideas. While the recession stretched us all thin, I also watched it bring us together. We shared ingredients and ideas, we cooked together at events like the Blind Pig Supper Club and at guest chef events. We all became friends and revered each other's ideas and spent time eating at each other's restaurants. We created a food community unlike anything I've ever experienced. These relationships were fundamental to me, and it's been beautiful to watch everyone grow. As our city grows, I believe it's also important to remember our roots and our core values of being a local, delicious food community. The future is bright! 
The Market Place is known for its seasonal menu that relies pretty heavily on local meats and produce. Who are some of the farmers or ranchers you like working with? 
We work with so many local farmers! There are always new farmers who come to market every year. Some of our favorites are Gaining Ground Farm, Sunburst Trout Farm, Brasstown Beef, Looking Glass Creamery, Craig Hastings Mushrooms, Moonsprouts, and Full Sun Farm. 
What are some of the dishes you look forward to serving at The Market Place in winter? 
Wintertime is often cold in the mountains, and I like to create comfort food that helps our guests feel at home, while adding flavors that are fun and exciting. 
Some of the dishes I love on our winter menus are: Slow-roasted pork shoulder with field pea stew, olive oil-braised kale, cider jus and crispy shallots; hand-cut pappardelle with red wine-braised lamb shank, roasted oyster mushrooms, arugula, confit tomatoes, preserved wild ramp pesto, and parmesan cheese; and crispy NC shrimp with labneh, kohlrabi and local greens, lemon dill vinaigrette, and aleppo oil. 
Your resume is already pretty impressive, but what's next for you? What would you like to be doing over the next 2-3 years? 
I'm currently working on a cookbook called Thoughtful Cooking and hope to publish it by late 2023. I'm working with the local and renowned photography team of Johnny and Charlotte Autry and am very excited about what we're putting together for my upcoming cookbook! I am also launching a new restaurant called Little Gem in early 2023 that will focus on seasonal and locally sourced salad bowls and rice bowls. I hope that 2023 will also bring the opening of more Billy D's Fried Chicken restaurants and hope to eventually bring one to Asheville! 
Over the next 2-3 years, I am also hoping to travel more around the globe, and continue to spend quality time with my family exploring our beautiful region of Western North Carolina.
Save
Save
Save
Save
Save
Save
Save
Save
Save
Save
William Dissen of The Market Place