Cut and Come Again
Why the collard is king in the lowland South—but not in the mountains
BY Mark Essig
"A forkful of collards contains more Southern history than any other bite," Edward Davis and John T. Morgan write in their recent book Collards: A Southern Tradition from Seed to Table. And they back up that claim in compelling detail, at least with regard to the lowland South. In the mountains, however, the story gets more complicated.
Colonists arrived in America with the seeds of the collard in the 17th century, according to the authors, both geography professors at Emory & Henry College in southwestern Virginia. Back in England the collard grew scarce by about 1830, as people there developed a puzzling preference for its close relative, cabbage. Southerners, though, recognized a key advantage of the collard: as you kept harvesting, it kept growing, which is why the collard came to be known as "cut-and-come-again." In the mild climate of the South, it kept growing right through the winter.
Enslaved African-Americans—who did much of the cooking—recognized the collard as culinary gold, nutritious and prolific, and took the lead in making it the most important vegetable on the Southern table. In the Northern states, by contrast, collards were virtually unknown, and Appalachia served as a sort of vegetal DMZ—a place where collards shared garden space with turnip and mustard greens, as well as kale and cabbage.
The humble green, it turns out, can unlock some of the mysteries of the mountains, as Davis explains in a conversation with Edible Asheville.
Edible Asheville: Back when people grew most of their own food, greens played a far more important culinary role than they do now. Why is that?
Edward Davis: Two reasons, in my opinion: first, people ate less meat, so they had room for more vegetables; and, second, they were eating with the seasons, so in fall and winter and early spring, greens were more easily grown or gathered than other foods.
EA: Southerners in the lowlands loved collards in part because they could be harvested through the winter. But Appalachia offered a shorter growing season. Did this affect which greens were grown in the mountains?
Davis: The Southern Appalachians do show a preference for cabbage, kale, turnip greens, and some other vegetables. Kale and cabbage can do better in the mountains than collards, depending on the variety and the exact location. But if you're asking why collards don't dominate the Appalachians as they do the lowland South, that could be for cultural and historical reasons, not geographic and climatic reasons.
EA: What sort of cultural and historical reasons?
Davis: Immigrant streams in Appalachia in the 19th and even early 20th centuries were very disorganized and diverse. German, Swedish, Scottish, and free African-American families moved into small valleys. Italian, Irish, and Polish people were brought to certain company towns to produce coal or timber. The greater cultural diversity meant a wider range of leafy greens could compete for pride of place on the table. And then there is the nature of the mountains themselves. Maybe the complex terrain of Appalachia has allowed refuge zones for subcultures and thus encouraged the survival of minority foodways.
EA: What kinds of greens do you find in the mountain South?
Davis: Mustard greens are popular in some mountain counties, but creasy greens are eaten among older folks in many areas. Turnip greens often show a stronger popularity, particularly in Tennessee and Kentucky. That could be because the settlement of that region came at a time when livestock—I believe both pigs and cattle—were being fed turnips and turnip tops. And there's a long history of cabbage exports from Appalachia to the northeast, which could have led people in Appalachia to eat more of it at home.
EA: Your book points to evidence of early collard adoption by the Cherokee Indians. Can you tell us about that?
Davis: We have a 1791 report by a traveler who says he found collards in the gardens of a Cherokee town in North Carolina. At that time almost no Europeans were found out there. Trade with Charleston was going on, so it is interesting to speculate that slaves acquired by those Cherokee might have brought the collard seed with them. We also found a document from the 1850s mentioning collards among the garden crops grown by the Cherokee who had been forcibly marched to Oklahoma. Maybe they had adopted the trait while back in North Carolina.
EA: Kale became trendy a few years back. Why haven't collards had their moment of glory?
Davis: The collard-kale battle on the national stage has been won by kale with almost no one watching. Kale has a modern advantage similar to that enjoyed by spinach: most varieties are pretty tasty in a salad without any cooking at all. With collards, that simply isn't true. The recent explosion of interest in authentic regional foods has given some life to collards outside the South's traditional collard belt. But as older folks die off, I suspect that other greens, including spinach, will continue to rise above my favorite green.
EA: Why are collards your favorite?
Davis: I think properly prepared collards have more bite than other greens. Eating the limp and frail cooked leaves of mustard greens can be too much like eating wet green paper. The substance of collards is greater, so the mouth is more satisfied. A good side of collards leaves one with a strong memory. All of this very personal, of course. But this is not nostalgia on my part: I was unwilling—or perhaps psychologically unable—to eat cooked greens until I reached adulthood.
EA: In the book Animal, Vegetable, Miracle, Barbara Kingsolver describes a birthday party where "a geographer friend brought Portuguese collards." Is that you?
Davis: Yes, Barbara Kingsolver has been a good friend. Her husband, Dr. Steven Hopp, teaches at Emory & Henry College with me, and their daughter grew up as one of our son's best friends. She and I talk a lot about food and farms and life, and the seeds I gave her on that birthday some ten years ago now produce the collards that are served sometimes at the Harvest Table restaurant near us, which Steven started with the earnings from Animal, Vegetable, Miracle.
EA: I love Harvest Table! It's been an oasis for me during many long drives to and from Asheville along I-81. You're a geographer. How does that shape the way you see food?
Davis: The land in every region has meanings due to its long history, and these meanings show up in the landscape, if you learn how to see them. A collard patch has real meaning in parts of the lowland South, the same way an old-timey string band jam session has meaning in parts of the upland South. The patch lasts five months, the session lasts three hours, but both create a kind of Southern place.
Mark Essig, Edible Asheville's managing editor, is the author of Lesser Beasts: A Snout-to-Tail History of the Humble Pig.
Save
Save
Save
Save
Save
Save
Save
Save
Save
Save
Save
Save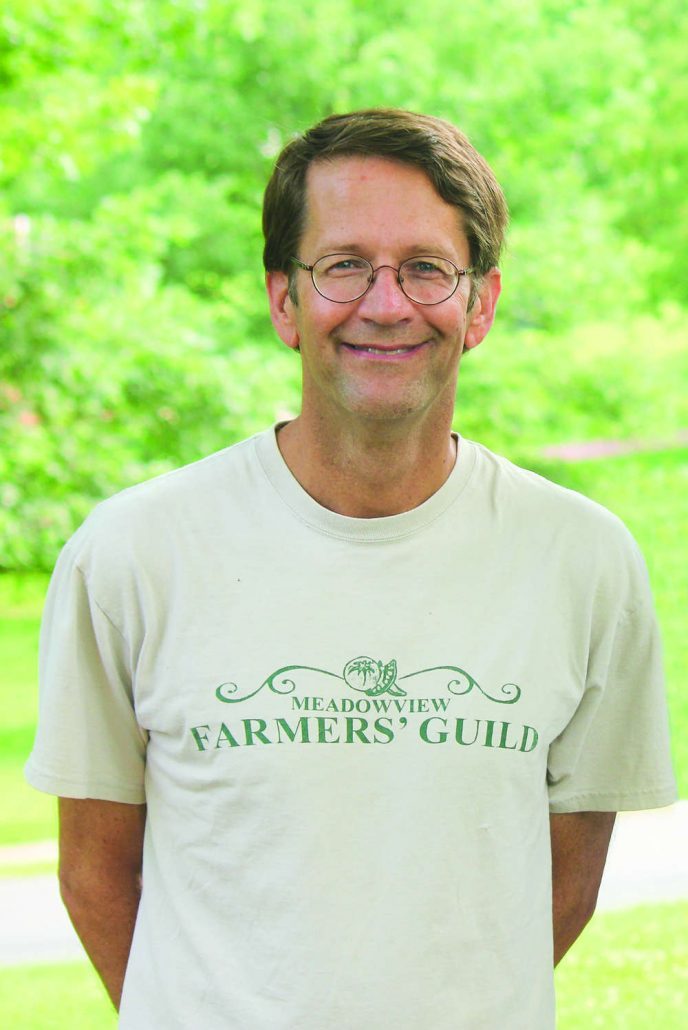 Edward Davis, the coauthor (with John T. Morgan) of Collards: A Southern Tradition from Seed to Table.