THE WORLD OF PORK
Asheville restaurants are serving up everything from East Asian specialities to Western North Carolina traditions
By Jason Gilmer | Photos by Erin Adams
Pork is a North Carolina staple that has caused many arguments over the years, mainly quarrels over the virtues of barbecue in the western part of the state versus its counterpart in the east. While eating it smoked is one of the more popular ways to enjoy pork, three Asheville restaurants are celebrating it in ways that reflect the meat's history in other cultures and popularity in the present day.
Reza Setayesh, Chef and owner, BimBeriBon
When Reza Setayesh, former owner of Rezaz in Biltmore Village, visited New York City several years ago, he found inspiration for his next restaurant venture in an unusual place.
It wasn't a Michelin-rated eatery with white linen tablecloths; it was a street vendor cooking jianbing, a handheld Chinese food. It offered all the pleasures of a crêpe, and it was a great showcase for slow-cooked pork.
"There was a guy there making this cool-looking crêpe, so I stood there and watched him. I then Googled jianbing and found out it was a street food," Setayesh says as he stands behind the bar at BimBeriBon, the eatery he opened in West Asheville in 2017. "As people go onto the train, they grab one. There's protein and wheat, and it's a perfect breakfast. I wondered how I could do something with that."
Setayesh modified the dish to suit the gluten-free menu at BimBeriBon, drawing on another international food—India's dosa. Made from rice batter, a dosa is cooked much like a crêpe or thejianbing he admired in New York.
The two dishes may be similar in format, but their sauces make them different, and Setayesh wanted to offer both on his menu. Because BimBeriBon is relatively small—occupying a space on Haywood Street that was once home to Burgermeister's and Barleycorn—Setayesh had to move some of his cooking into the front of the restaurant. Contemplating the limited kitchen space and fast-casual approach of BimBeriBon, he wondered, "How can I make both dosa and jianbing with the same batter?"
Setayesh ultimately found a way to use the batter for both a crispy dosa and the soft shell wrap essential to jianbing by changing the temperature at which they're cooked. For the jianbing, the batter is poured onto the grill, and an egg is cracked and poured over the surface. A bacon-and-eggs version is a fixture on the breakfast menu, and a variation offered as a special at lunch and dinner includes braised pork, egg, greens, cilantro, sesame seeds, scallions, chili sauce, hoisin, and crisps.
"There's a really romantic and cool thing about holding something flavorful in your hand," says Setayesh. "Jianbing allows you to do that, or you can dig in with your utensils. Every time we put it on the specials list, it becomes our most popular item."
The pork shoulder, which comes from Hickory Nut Gap Farm in Fairview, is brined in salt and coconut sugar for 24 hours before being slowly roasted and pulled apart. "We go through the whole traditional process, except we don't barbecue it," Setayesh says. "We can smoke it, but we don't need to. It works with a really nice hoisin sauce that we make which is garlicky, sweet, and sour."
The jianbing has become a big hit with diners. "It's become one of our flagship items, and I never thought that would happen," says Setayesh. "I thought [the top seller] would be something that we spent hours on in the back in a sauté pan creating a creation, not a humble crêpe that has the egg on the outside like someone forgot."
Katie Button, Executive chef and owner, Cúrate
Since its opening in 2011, the celebrated tapas restaurant Cúrate has been showcasing mouth-watering dishes from Spain. Now, its menu features new pork sausages sourced locally and made in-house, including butifarra con mongetes, a staple of Catalan cuisine, and chistorra.
"We've been serving someone else's sausages for years, and it was a really great product," says executive chef and owner Katie Button. "Now there is this sense of pride that comes into serving the dish and saying that we make it in-house."
Recently named one of the 40 most influential restaurants in the past 40 years by Food and Wine magazine, Cúrate added housemade sausage to its selection of imported Spanish specialities thanks to the passion of cook Jonathan Pridgen, who learned to make sausages as a butcher at Porter Road Butcher and as a cook at The Catbird Seat, both in Nashville.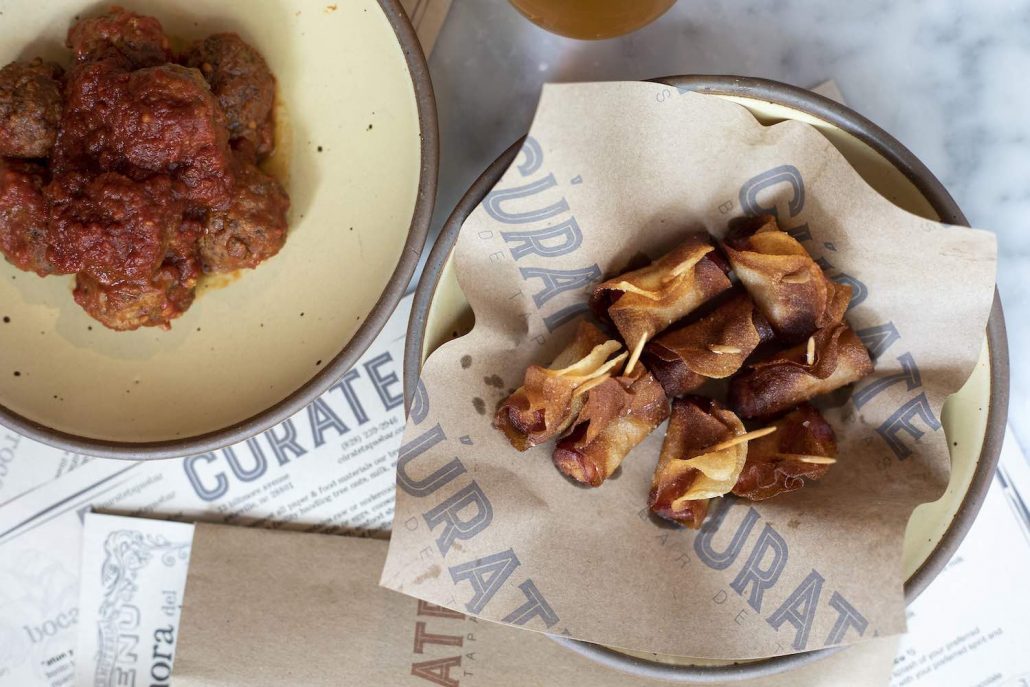 Committed to encouraging the talents of those who work in her kitchens, Button said she noticed that Pridgen, who returned to Cúrate after a stint at Button's recently closed Nightbell restaurant, had a passion and skill for preserving meats.
"Jonathan is very talented and skilled in understanding the different grinds to achieve the texture that you want. Just making a fresh sausage, it's not a given," Button says. "It can easily go mealy. It's got to be a good balance, so when you cut the sausage, it has a snap, and when you put it in your mouth, it is juicy."
Skill is just one aspect of making good sausage. High-quality ingredients, including fresh meat with the proper lean-to-fat ratio, are a must. After a search for the perfect pork, Button chose to work primarily with Dry Ridge Farms in Mars Hill, a family-owned, 10-acre farm that primarily raises Berkshire crosses that feed on hickory nuts, walnuts, and grubs. Dry Ridge Farms has upped its production so Cúrate can purchase more for its growing sausage operation.
"I don't like making sausages that are heavily spiced," Pridgen says. "The meat is what you want to shine. It's hard to make a great sausage without great products. With Dry Ridge Farms, you can tell that owner Wendy Brugh cares a lot about her pigs. They really pay attention to what they are feeding their hogs, and you can tell that through the marbling of the meat."
That meat has made its way onto the menu in the form of butifarra con mongetes, which is a mild pork sausage served with sautéed white beans and aioli. It is also feature in an appetizer, "Chistorra and Chips Jose's Way." A small chorizo is wrapped in a thin potato slice and deep fried. "It's like a more elegant version of pigs in a blanket," says Button, who adds they've also made a blood sausage using Dry Ridge Farm's pork.
The restaurant uses 12 to 13 front quarters for sausage each week, and there's a week-long process to break it down. Pridgen is particular in the way he separates lean meats, cartilage, and fat, and how he processes the fat and uses it in his sausage recipes.
"He's passionate and excited about it and good at it, and this is something we can work on together," Button says. "It's a win-win situation."
Cúrate's relationship with Dry Ridge Farm marks an important step in its ongoing efforts to source locally, despite a menu that is rooted in the cuisine of a different continent.
"Because our menu is mostly Spanish, I think it makes it hard to see how many local farms we use. It's a huge priority with us," Button says. "We're constantly pushing ourselves to increase our local purchases each year. The direction of our pork program is really big and important for us."
John Fleer, Executive chef and owner, Rhubarb
Years before John Fleer opened his flagship Asheville restaurant, Rhubarb, he served as executive chef of the top-rated resort Blackberry Farm in Tennessee. And when he first added a pork belly dish to the resort's menu, there was a bit of reluctance among the diners to try it. These days, Fleer can't keep pork belly on the menu of Rhubarb for more than a few days before it's gone.
"The pork belly dish will last as long as two bellies will last," says Fleer, a five-time finalist for the James Beard "Best Chef in the Southeast" award. "It goes on the menu most weeks on Thursday and is sold out by most Sundays. It very rarely makes it until Monday."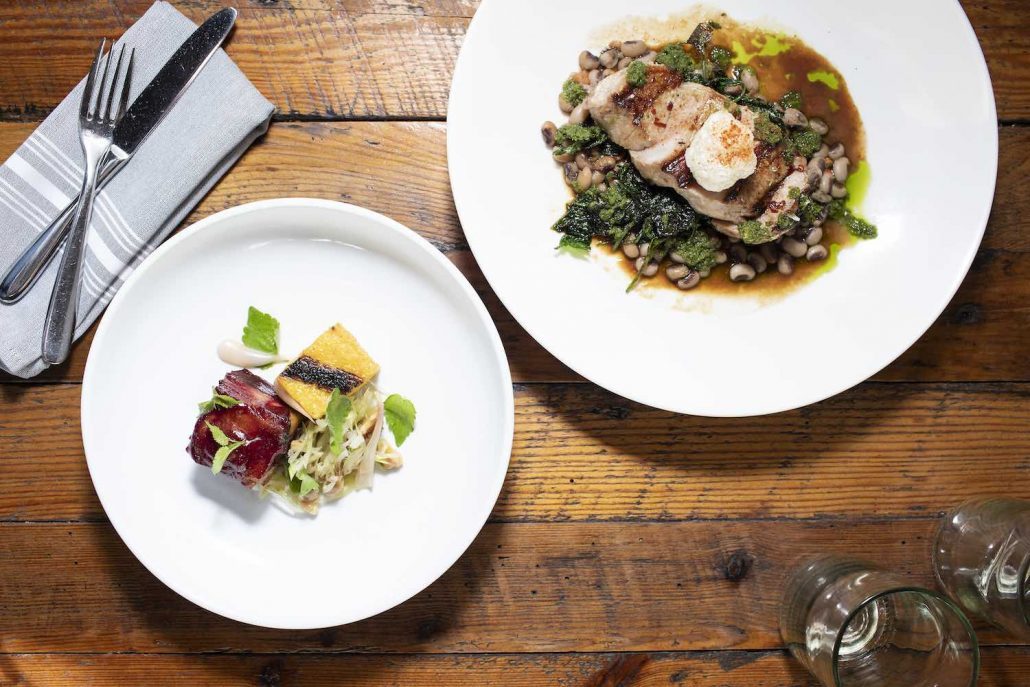 Pork belly's popularity stems from its robust flavor and texture—with its alternating meat and fat layers—that give chefs a variety of ways to prepare and present the meat. It is cut from the same meat that produces bacon, found on the underside of the pig. The differences between the delicacies? Pork belly isn't smoked or sliced like bacon, and pork belly has more complexity in its taste.
The pork belly served at Rhubarb, located near Pack Square in downtown Asheville, comes from heritage-breed hogs raised at Nashville's Bear Creek Farm, which prides itself on humane and sustainable practices. And with weekly deliveries to restaurants in Greenville, Charleston, Raleigh, and Asheville, the farm follows a delivery route that minimizes its carbon footprint, which farmers, chefs, and restaurant owners are becoming increasingly sensitive to.
Each Tuesday, Fleer receives a whole hog, and his staff starts to dress the hog on Wednesday. The cuts are shared among Fleer's three local restaurants. In addition to Rhubarb, which represents Fleer's contemporary take on Appalachian fine dining, he owns the casual café and bakery The Rhu, while Benne on Eagle, his newest venture, celebrates the history of Asheville's African American community and serves as an all-day restaurant for the Foundry Hotel.
"It makes sense to use the whole pig," Fleer says. "We now have outlets for all of the parts, and our volume is high enough that we know we won't be sitting on, or having to freeze, lots of pork. We don't want the whole menu [at Rhubarb] to be pig-based. Now we can send some to Benne and do breakfast sausage for brunch and use it in The Rhu's breakfast sandwich and have pork meatballs on our dinner menu. There's enough variety in what we do that we can use the whole [pig]. It's a good equation."
At Rhubarb, Fleer offers a pork shoulder dish, and his kitchen makes head cheese, a stock from the bones, and confit from the collar muscle. He recently added a pork shank-for-two as an occasional weekend special on the menu there. Benne on Eagle, meanwhile, features a liver pudding.
The crowd-pleasing pork belly at Rhubarb is cured with salt and brown sugar, and then braised. The cooked belly is pressed—"we put it on a pan, put another pan on top of it, and place heavy objects on it," Fleer says—so it is easier to cut. Once ordered, the pork belly is seared and finished in the wood-fired oven.
"You can be pretty forward in how you use flavor because [pork belly] has that richness and that depth of flavor. Not everything will stand up to pickled ramps," Fleer says. He likes to serve it with seasonal ingredients, but "we keep the belly itself neutral.
We may glaze it with something, but we let it be the center-piece and express its quality."
Early on, customers complained about the fat-to-meat ratio for pork belly dishes. But the meat has been growing in popularity in recent years, appearing on more menus across the South, and there's a higher percentage of diners who trust the chef's ability to prepare it correctly.
"Then you have the people who will never change their minds—'why would I eat thick bacon that hasn't been smoked and dried and cured?' And that's OK," Fleer says. "There's definitely a fan base for pork belly that isn't going to go away. In order for us to use the whole pig, we need that, because you can only make and use so much bacon."◊◊
Jason Gilmer is a stay-at-home dad who enjoys pork in many forms, including bacon as a dessert option. He writes for several local magazines and regional newspapers.
Save
Save
Save
Save
Save
Save
Save
Save
Save
Save
Reza Setayesh, chef and owner of BimBeriBon, found inspiration for a popular pork dish from a New York City street vendor.
Katie Button, executive chef and owner of Cúrate, has overseen the creation of housemade pork sausages.
Rhubarb's chef/owner John Fleer says pork belly dishes last only a few days on the menu before they're gone.