PLEASURE
 

PRINCIPLE

 
At Plant, Jason Sellers transforms ingredients and changes minds with a vegan menu
BY C.A. CARLSON | PHOTOS BY ERIN ADAMS
If you've overcome an early distaste for the canned and pickled beets that may have shown up on your childhood plate, you've likely settled into a groove of roasting and slicing the round, red roots for salads, delighting in the earthy taste or at least the sense of virtue that comes on the side. 
What if those beets were grilled, though, to deepen that earthy taste? What if they were served warm, with a tumble of fried onions and a big handful of herbs and a swoop of a horseradish sauce? You might have to see the beet not as a supporting player in a salad, but as the lead who steals the dinner show. 
This is the kind of star treatment given to beets and so many other vegetables at Plant, a 50-ish seat restaurant on Asheville's Merrimon Avenue. Like many restaurants operating at the time this issue went to press, Plant has had to make adjustments in the era of COVID-19 and is now offering takeout and patio dining. But the menu is still so compelling, you may not even notice what's missing: meat, dairy, or animal products of any kind.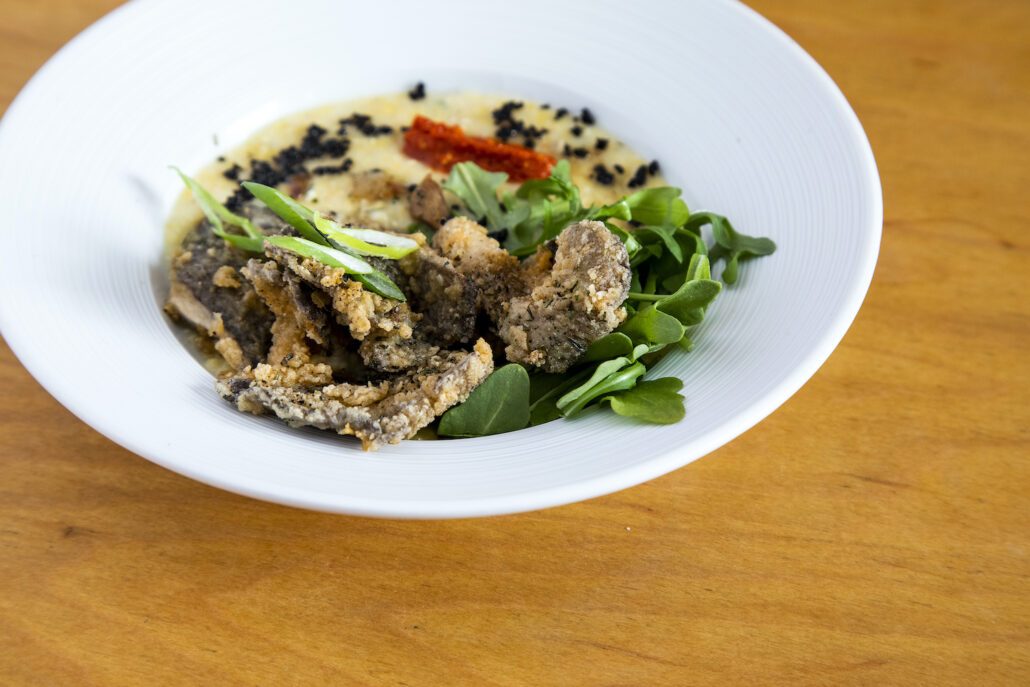 Since 2011, chef and owner Jason Sellers has been serving up vegan cuisine that's all about pleasure, not deprivation. With influences from Italy to India, Plant offers a refined, chef-driven take on produce and proteins that come directly from the earth, and it refutes every stereotype of vegan cooking. There are no bland bowls of chickpea stew here. Instead, there's a small plate of potatoes that lives up to its menu description as "actually crispy," a slice of sweet potato brioche topped with pomegranate molasses and turnip that happily announces itself as "Toast!" 
"You don't need a vegan restaurant in your life as sustenance; you need it as entertainment," says Sellers. "It's an ethically underpinned entertainment, but it's not without frivolity. We're here for the times when you want to go out, celebrate, experience food in a way that maybe you wouldn't prepare it at home… People sometimes think that vegan food only cares about the ingredients and that it doesn't attempt to be something special, something nuanced. We try to use sound culinary technique to make our plates not just a dish, but an experience." 
Plant is a chance for Sellers to cook the food he dreamed of when he first became a vegetarian as a teenager in the 1980s. Growing up in an Italian family, he was a picky eater who drove his parents nuts. "I hated food," he says. "I was the kid who always knocked his glass of milk over on purpose, so I wouldn't have to drink it." His appetite finally kicked in right around the same time that he decided to stop eating meat for ethical reasons. The vegetarian options available then didn't delight him, though. 
"The first time I had tofu, I thought, 'What is this?'," recalls Sellers. "It didn't make any sense to me, and I knew I could do it better." After a few years of working in restaurants, he detoured into other careers as an academic and a medical writer, but he came back to cooking. In 2005, Sellers landed in Asheville with a culinary degree from the Natural Gourmet Institute for Health and Culinary Arts, and he spent six years in the kitchen at downtown Asheville's pioneering vegetarian restaurant Laughing Seed Café before opening Plant in 2011. 
"I knew that there was only one kind of restaurant I could have, and that would be a restaurant serving no animal products," says Seller. "And I wanted a small restaurant where I could pay close attention to quality in everything from the food to the infrastructure to the staff."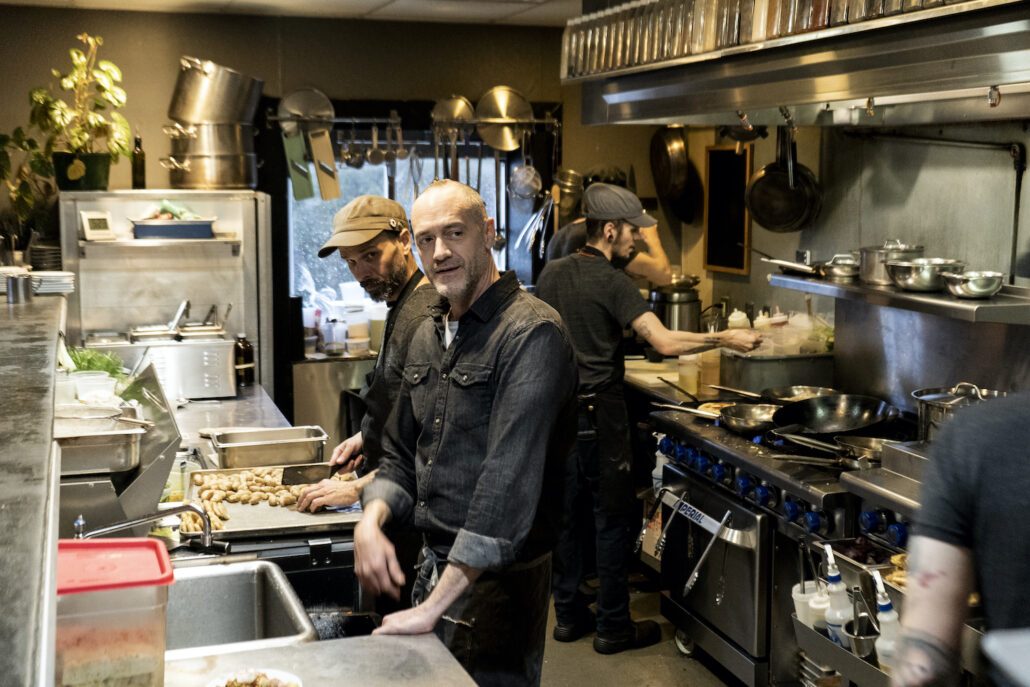 You can see that care in action on any given night at Plant, when the softly lit dining room is filled with a mix of locals and destination diners. "Vegans will travel somewhere just for the food," says Sellers. The customers are savoring meals inspired by his own travels, like a bowl of ramen with kelp noodles, smoked tamari broth, and Brussels sprouts. Sellers often re-creates dishes that he didn't get to eat, too. On a trip to Savannah, he was intrigued by a grits dish that featured shrimp and cheese. Back in Asheville, he created a version that delivered the richness with tofu-based "cream cheese" and mushrooms fried seafood-style. 
Sellers sometimes tries to ease old favorites off the menu to make room for innovations like that. "I've been threatening to change our seitan dish, which has been on the menu for years," he says of his tamale stuffed with the wheat-based protein. "The customers say that they'll revolt, though." The "cheese" board is a more recent addition, but it's quickly developed a cult following of its own. The Plant crew uses nut milks to create the taste and texture of aged Gouda, fresh ricotta, and other cheeses, and they're plated with pickled vegetables, black garlic oil, and other refined touches. 
With a glass of wine from the restaurant's biodynamic and organic list, it's utterly indulgent, and it's one of the dishes that draws not just vegans but meat eaters to the restaurant. "Most of our regulars are omnivores," says Sellers. "They choose us in a town with a million options because they're okay with not eating animals for that meal or that day, and they like what we're doing here. I love it when people say, 'If I could cook like this, I would be vegan.'" ◊◊ 
C.A. Carlson loves to start a dinner at Plant with the Crook's Keep cocktail, a rye concoction that's smoked tableside, and end it with the crème brûlée, proving that a vegan meal can be decadent indeed. She lives and writes in West Asheville, and she is the features editor of this magazine. 
Save
Save
Save
Save
Save
Save
Save
Save
Save
Save
Jason Sellers, chef/owner of Plant